A Guide To Achieve 2022 Hair Care Resolutions
Hair fall and hair loss are common complaints among men and women across all age groups. Following an appropriate hair care regimen consistently can go a long way in protecting your hair health while enhancing its appearance and feel.
With the help of this article, you can now set hair care resolutions for 2022 and achieve them successfully!
How To Build A Long-lasting Haircare Routine?
Several factors cause hair damage and hair loss, and it is critical to diagnose the root cause and treat it to improve your hairline. Also, each hair type is unique, and it helps to identify and embrace your natural hair and curate a hair care regimen suitable for you.
Factors That Can Affect Your Hair Health Include:
Heredity: A positive family history remains the primary cause of balding, hair thinning and a receding hairline, especially among men.
Hormonal Changes: Pregnancy, menopause, birth control pills, childbirth, hysterectomy, insulin resistance, PCOS and thyroid disorders can trigger premature hair loss in women.
Poor Lifestyle: Stress, poor lifestyle habits, and nutritional deficiencies are other common factors that trigger premature hair loss.
Medication: Certain medicines like chemotherapy can cause hair loss as a side effect.
Tight Hairstyles And Chemical Treatments: Opting for tight ponytails and using heat styling tools frequently can trigger temporary hair loss.  
Other Causes: Crash diets, rapid weight loss, infections, unsuitable hair products, nervous hair pulling, seborrheic dermatitis or psoriasis of the scalp can also cause hair loss.
When you follow a custom-made hair care routine using suitable products consistently, you can minimise hair loss to a large extent. It will also help enhance and maintain your hair health in the long run.
DISCLAIMER:

It is best to consult an experienced dermato-trichologist to identify your hair type, analyse your hair concerns and customise the hair care regimen that includes using suitable products to boost your hair health.
A regular hair care regimen includes the following steps:
A suitable shampoo to cleanse your scalp. The frequency of shampooing depends on your hair and scalp type.
Regular use of conditioner helps moisturise your hair and improve the texture. Make sure you do not apply conditioner to the scalp.
After gently patting your wet hair with a soft towel, let it air dry.
If you have acute hair fall, do not panic. Instead, seek the attention of a qualified dermato-trichologist immediately as early diagnosis and treatment can prevent irreversible hair loss.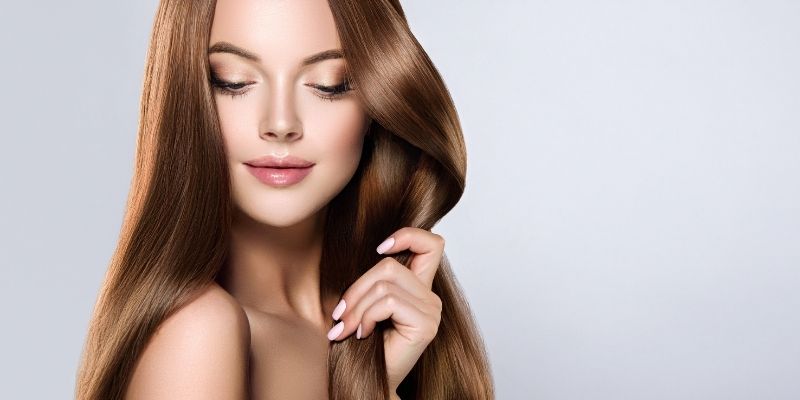 Based on the type and cause of your hair loss, he may recommend the following:
Customised hair care regimen
Dietary advice or supplements to improve your hair health
Oral medicines like anti-androgens
Hair strengthening serums for a topical application like minoxidil and capixyl
Advanced treatment options like Platelet-rich Plasma Therapy or PRP, corticosteroid injections or hair transplant
Remember that following a hair care regimen will not show instant results, but consistent efforts will help you achieve visible improvement in your hair growth and density. It will also help you lower the risk of having common hair concerns like hair thinning, excessive hair fall, and premature balding.
Tips To Successfully Achieve Your Hair Resolutions:
Here are some simple tips to achieve your hair goals 2022:
Set some time aside every week or twice a week for your hair care regimen, depending on your hair's needs.
Store all your hair care products where you can easily access them. You will likely be motivated to use them as per your pre-planned schedule when you see them.
Indulging in a hair care routine can be highly relaxing, helping you de-stress after hectic schedules. Setting time aside regularly and enjoying its soothing effect can keep you motivated.
Track the improvement in your hair volume and texture by clicking pictures regularly. Hair care is a life-long commitment, but visible improvement in your scalp coverage and hair health can positively affect your appearance and encourage you to keep going.
Be patient, and don't stress if you do not see instant results. Remember that stress can aggravate any hair-related concern you may be having. If you do not see any improvement in your hair health even after regularly following a hair care routine for a couple of months, it means it is time for you to seek medical help.
If you have been down with COVID-19 in the recent past, you may experience acute hair fall after a few months of recovery. Please do not panic, as it will trigger a vicious cycle of stress-induced hair loss. Although the hair fall due to sickness may subside naturally within six months, any underlying nutrient deficiency may worsen it. Having a nutrient-rich diet, practising meditation and using hair strengthening serums as advised by a qualified dermato-trichologist can help you effectively manage your hair loss concern.
Don't be hard on yourself if you miss your regimen on some days. It is okay for everyone to miss a routine a couple of times. Resume as soon as you can.
Dos And Don'ts To Achieve Healthy Hair:
Follow this list to restore your hair health.
Choose the right hair care products. Consult a dermato-trichologist for guidance.
Don't overuse products. Use a mild shampoo to cleanse the scalp and a conditioner to moisturise your hair.
Be gentle when you dry your hair. Avoid combing hair when it is wet.
Eat nutrient-rich meals, hydrate yourself, exercise regularly and sleep well, as a healthy lifestyle contributes to good hair health.
Consult a dermato-trichologist to check for any underlying health concerns if you experience sudden or abnormal hair fall. This helps in improving your overall well-being.
Avoid tight hairstyles.
Limit chemical-based hair treatments like hair colouring, straightening or curling to minimise structural damage. Embrace your natural hair type and nourish it accordingly. If you like to experiment with your hair's look and feel, make sure you follow the post-care advice diligently.
Trim your hair regularly to reduce breakage and get rid of split ends. It also gives your hair a healthy look.
With the help of this article, we hope you can easily achieve your 2022 hair care resolutions. Being patient and consistent helps you build a healthy hair care regimen that goes a long way in preventing hair damage and hair loss. In case of any hair-related concerns, visit Oliva Skin & Hair Clinic and get the best care possible from leading doctors with an impressive track record of completing more than 85,000 hair loss treatments to date.
Stay tuned for more hair and skincare tips from top dermatologists!