PRP Hair Loss Treatment In Visakhapatnam
Every individual wish to have a good crop of hair as it enhances their appearance. But not everybody is lucky enough to flaunt their hair as a lot of them have to deal with the dreaded problem of hair loss. The hair loss problem can be triggered due to a number of reasons and the best way to deal with it is to visit a trichologist who can determine the cause as well as recommend the right treatment to get rid of the problem successfully.
Hair Loss Problems And Solutions
Alopecia or hair loss as it is known commonly is a condition in which you start losing hair from either your head or any other body part. This problem of hair loss greatly affects your personality, making you feel uncomfortable, insecure, and awkward in social gatherings. There are different causes of hair loss such as:
• Hormonal changes
• Diseases
• Genes
• Physical/Emotional Stress
• Infection on the scalp
• Anaemia
• Insufficient protein
• Pregnancy
• External conditions such as pollution, harsh sunlight, etc.
What Is PRP Hair Treatment And How It Work's
When it comes to hair loss treatments, the Platelet-rich Plasma Therapy (PRP) Treatment is considered as one of the best and effective treatment. This treatment has been successful in the regeneration of lost hair. The first step of the treatment involves taking a blood sample from the patient's arm. The sample blood is then put into the centrifuge which is responsible for separating the platelets and plasma. An injection is then used to inject the platelets infused with growth factors on all the affected areas of the scalp. These injected platelets help in the stimulation of the dormant hair follicles, which results in the growth of hair.
What Are the Advantages Of PRP Hair Treatment?
The PRP treatment is popular not only for its success art but also for other benefits such as:
• No use of harmful chemicals
• It is a non-surgical treatment
• Downtime is less than an hour
• Compared to other hair loss treatments, PRP treatment is less painful
• Compared to hair transplantation, PRP treatment is more cost-effective
• The success rate is much higher as compared to other hair regrowth treatments
• Perfect for individuals who are in the first stage of hair loss
• Boosts the growth as well as volume of hair
Who Is The Ideal Candidate For PRP Hair Treatment?
Individuals suffering from hair loss problems and who are 18 years and above are eligible for this PRP treatment as it is effective in treating both male pattern and female pattern hair loss. The below individuals are not eligible for the treatment:
• Pregnant women
• Lactating women
• Chronic smokers
• Those who are on anticoagulant drugs
What Kinds Of Results Can Be Expected?
On average, you would require at least 4-6 sessions complete the treatment. You will start observing positive results after 2-3 sessions itself. Not only will you notice a reduction in your hair loss but between the first and fourth injection, you will also notice an increase in your hair count.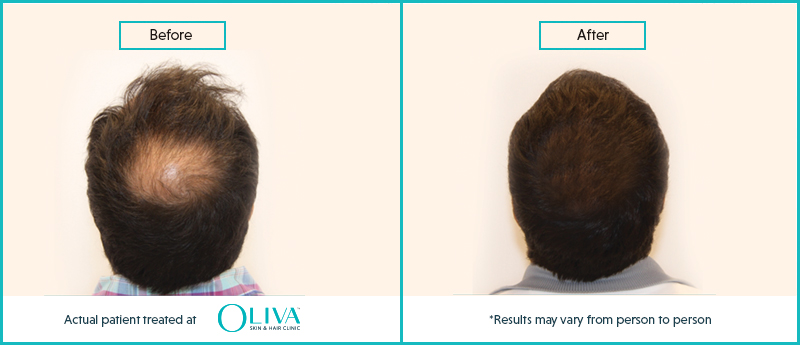 What's The Average Cost Of PRP Hair Treatment In Vizag?
A PRP treatment in Vizag can cost, on an average, Rs. 7,500 for each session. But the actual cost will depend upon factors such as equipment used, the dermatologist's experience, the number of sessions required, hair loss cause, and treatment of scalp area.
Why Should We Choose Oliva Clinic Vizag?
Oliva Clinic is the ideal clinic to get a hair growth treatment in Vizag because:
• High standardized protocols are maintained
• Strong ethical values are maintained
• Dermatologists and technicians who are certified and well-experienced
• Equipment approved by US-FDA
• Strong customer base of more than 1 lakh satisfied customers
How To Get Started?
For the best hair loss treatment in Vishakhapatnam, book an appointment with Oliva Clinic by visiting their website or call on their toll-free number 1800-103-3893.
PRP Hair regrowth treatment is an effective and ideal treatment for you to deal with your hair loss problems. So go ahead and consult a trichologist so that you can also flaunt your hair with style and élan!