Best Laser Hair Removal Treatment In Kochi: Cost, Benefits & Results
Excessive hair growth on any part of your body may not be aesthetically pleasing. Therefore, the practice of removing hair has become an integral part of personal hygiene for both men and women. There are a number of different products and treatments available which makes it quite easy to get rid of all your unwanted hair.
Unwanted Hair Problem And Its Solutions
The common causes of excessive hair growth might be hormonal imbalance, genes, PCOS, medication, Cushing's syndrome, etc. It's generally observed that as we age, we get hair at undesirable locations. This problem affects both men and women in different age groups and can stay lifelong. However, if the cause of the condition is treated, one can easily get a long-term solution to excessive hair growth. The hair removal products/treatments available are:
While temporary solutions are easy to follow, it removes hair from only the surface for a limited time. Also, the cause of unwanted hair growth is often left unchecked. Therefore, you need to repeat the procedure regularly. However, laser hair removal offers a holistic solution because a trained dermatologist treats the cause of excessive hair and reduces undesirable hair growth.
Laser Hair Removal Treatment
In a laser hair removal treatment, a laser with a specific wavelength of light is used to target the skin's surface. This light energy gets converted to heat energy once it comes in contact with the pigment which in turn makes it possible to destroy the stem cells of the unwanted hair. Lasers will tremendously slow down the hair growth resulting in finer hair with each session leading them to shed, thus providing a convenient solution.
Must Watch:
What Are The Benefits Of Laser Hair Removal?
Benefits of laser hair removal are:
Long lasting results
Painless procedure
No damage to the surrounding skin
Treatment can be done on a body part or the full body.
No side effects of infection or scar formation
Cost-effective when compared to other traditional hair removal methods
Short treatment duration
Must Read: What Is The Best Hair Removal Method For Males?
What Laser Hair Removal Packages Are Available In Kochi?
Skin clinics offer different laser hair removal packages based on client needs such as:
Who Is A Suitable Candidate?
Anybody who wishes to get rid of their unwanted body hair can opt for this treatment. Clinics offer packages for both males and females. However, pregnant women and people in their puberty stage cannot opt for this method.
Must Read: Best Hair Removal Methods For Females
What Kinds Of Results Can Be Expected?
After the treatment you will be able to flaunt hair-free and smooth skin confidently. Typically, 6-8 sessions of treatment are required though the number of sessions will depend upon the body part being treated. Where you earlier had a patch of unwanted hair, you will see that there is visible reduction of the unwanted hair after the laser hair removal treatment.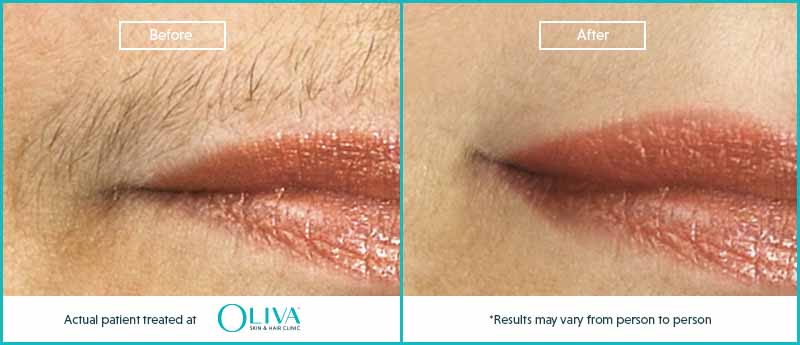 What Is The Cost Of Laser Hair Removal In Kochi?
On Average, laser hair removal cost in Kochi starts at Rs 2,000 per session. This cost may vary based on different factors like the cause of hair growth, hair density and texture, skin type, choice of laser, and the body area to be treated.
Must Read: How Much Does Laser Hair Removal Cost In India?
Why Consider Oliva Clinic For Laser Hair Removal?
Certified and experienced team of dermatologists
US-FDA approved equipment
Highly standardized protocols
Strong ethical values
More than 2,50,000 happy customers
Begin Your Unwanted Hair Removal Journey At Oliva Clinc In Kochi

Call us on our toll-free number 1800-103-3893 or visit the website to book an appointment for laser hair removal treatment to enjoy smooth, hair-free skin for a longer period of time.