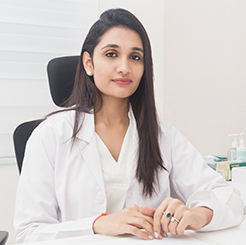 Dr. Navya Sri Kadiyala
Consultant - Dermatologist
MBBS, MD - Dermatology, Venereology & Leprosy
Reg No. 70108
Dr. Navyasri Kadiyala is a working Consultant – Dermatologist at Oliva Skin and Hair Clinic. She is an MBBS graduate from Dr. NTR University of Health Sciences in 2010 and an MD in Dermatology, Venereology, and Leprosy from Bhaskar Medical College in 2015. Her track record is a living testimony to her skills and talent.
Dr. Navyasri practices at the Jubilee Hills branch of Oliva Clinic in Hyderabad. During her practice, she has come across some of the rarest cases and has been able to solve them all in some way or the other. Her resilience and will to succeed, make her stand apart from the crowd.
Services
Laser Hair Removal
Acne Treatment
Acne Scar Treatment
Hair Fall Regrowth Treatment
Skin Lightening Treatment
Pigmentation Treatment
Dull Skin Treatment
Skin Whitening Treatment
Anti Ageing Treatment
Dermal Fillers Treatment
Stretch Marks Removal Treatment
Mole Removal Treatment
Wart Removal Treatment
Melasma Treatment
Weight Loss Treatment
Specializations
Dermatologist
Trichologist
Aesthetic Dermatologist
Hair Transplant Surgeon
Education
MBBS - Dr. NTR University of Health Sciences Andhra Pradesh - 2010
MD - Dermatology , Venereology & Leprosy - Dr. NTR University of Health Sciences Andhra Pradesh - 2015
Registrations
Andhra Pradesh Medical Council - 2011
Client Reviews
Read below what our esteemed clients have to say about us and what makes us the premier provider of skin and hair care services.
No hidden charges
The best part about Oliva is that there are no hidden charges as they are very transparent about the costing. The packages they have for the Laser hair removal for arms in my opinion is worth it and is very justified.
Must visit for laser hair removal
If you are in Jubilee Hills, Hyderabad and are looking for hair removal clinic, Oliva is a must visit. The latest equipment and the best doctors complement each other in a very good manner. The staff is very professional and the laser hair removal was done within no time, with no side effects at all. It was worth the visit.
Kind doctors and cordial staff
The doctors at oliva are very kind and very soft spoken. They have a very cordial staff and the latest equipment for hair removal.
Very pleasant experience
Oliva is one of the best skin clinic for laser hair removal treatment. I went for underarm laser hair removal and it was a very pleasant experience. They have a very cordial staff and Dr. Sanky Divya made sure that I was comfortable during the procedure. The clinic is very clinic. Good job guys.
Best doctor for lhr
The laser hair removal treatment at Oliva might look an easy one but it takes precision to conduct it. Dr. Ramya at Oliva clinic is the best for this treatment in my opinion.
Satisfied with the service
My honest suggestion to you would be to not visit Oliva clinic without any prior appointment, especially on a weekend. There is always a rush and without any prior appointment. All the time invested was worth after I got clarity on the treatment and how it would affect my skin. The clinic is super clean and the ambience is also very welcoming.
Treatment with no side effects
Post the skin lightening treatment, I was worried about the side- effect but Dr. Meghana assured me that nothing would happen. I am really satisfied with the treatment I got.
Great consultation experience
The interaction with the doctors regarding the laser toning went really well. They are ready to answer any doubts that you have regarding the treatment and gave me a glimpse of how the treatment would work. They set real timelines which in still more confidence in the process and in the staff. The technicians are very cordial and answer every query you might have. more
Got laser toning for sun tan
The doctor was super nice with me and provided me some post treatment tips to increase the longevity of the laser toning treatment I got for my sun tan. The way the front desk manages all the appointments is very commendable, also everyone is cordial. One can always trust Oliva as a brand as they have set high standards in the market.
Best clinic for pigmentation
Oliva is the best clinic when it comes to laser therapy for pigmentation treatment. I love how the staff is so friendly and the doctors are simply amazing. They have best doctors for the treatment and I am grateful for Dr. Neena's honest opinion.
Treatments were affordable
Oliva has the best of services to offer when it comes to pigmentation. The custom treatments available at the Himayat nagar clinic were affordable and did not burn a hole in the pocket. The latest technology and the skilled professionals complement each other perfectly and have helped me to get a much fairer complexion that I was looking for.
Best pigmentation treatment
The pigmentation treatment I received was probably the best I have got at any skin clinic. Dr. Khayati was the best in her in her approach and had a fabulous approach. I am surely going to recommend Oliva to my friends.
Entire treatment process is painless
I simply love Oliva clinic. The clinic is located at a central location and it gives a very calming vibe. They have a modern facility which has all the latest equipment for laser toning process which helped me to get a much improved skin color. The entire process is painless and was conducted smoothly by the highly skilled and very warm professionals here. more
Oliva is a result oriented
Oliva is a result oriented and so much customer friendly clinic. The front desk make the appointment scheduling as easy as it could get. The doctors customise the skin lightening treatment as per the requirements of your skin. In my opinion, this is the best clinic in Hyderabad to get a clear skin.
Best medical-aesthetic experience
Oliva provides you with the best medical-aesthetic experience. I have had couple of sessions of skin lightening treatment and they were pain free and went so smoothly.