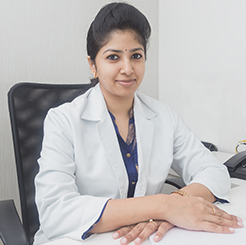 Dr. Suma Divya V
Consultant - Dermatologist
MBBS, MD - Dermatology, Venereology & Leprosy
Reg No. 74291
Dr. Divya Venkumahanty Suma is an experienced Dermatologist and Trichologist having expertise in Aesthetic Dermatology as well. She is an MBBS graduate from Dr. NTR University of Health Sciences, Andhra Pradesh along with MD in Dermatology, Venereology, & Leprosy from the same institute. Having years of practical experience in these fields, she upholds the true spirit of customer satisfaction and professionalism.
She is currently practicing at Secunderabad branch of Oliva Skin & Hair Clinic in Hyderabad. In her experienced career, she has already dealt with numerous patients with severe and complex skin & hair concerns, and treated them successfully.
Services
Laser Hair Removal
Acne Treatment
Acne Scar Treatment
Hair Fall Regrowth Treatment
Skin Lightening Treatment
Pigmentation Treatment
Dull Skin Treatment
Skin Whitening Treatment
Anti Ageing Treatment
Dermal Fillers Treatment
Stretch Marks Removal Treatment
Mole Removal Treatment
Wart Removal Treatment
Melasma Treatment
Weight Loss Treatment
Specializations
Dermatology
Aesthetic Dermatology
Trichology
Education
MBBS - Dr. NTR University of Health Sciences Andhra Pradesh - 2011
MD In Dermatology , Venereology & Leprosy - Dr. NTR University of Health Sciences Andhra Pradesh - 2016
Registrations
Andhra Pradesh Medical Council - 2012
Client Reviews
Read below what our esteemed clients have to say about us and what makes us the premier provider of skin and hair care services.
My own natural healthy skin has been restored.
I had laser toning treatment done from Dr. Meghna at Oliva. My age spots have faded and the radiance that I have does not look artificial. It is as if my own natural healthy skin has been restored. Really satisfied with the treatment!
Got a peel based treatment
Oliva has got the best dermatologist. Dr. Meghana analysed my skin and has suggested me to go for the peel based treatment. looking forward for further consultations.
Quality of services is unbeatable.
Dr. Brahmaiah is a very accomplished doctor and absolutely down to earth and humble soul. He has a great deal of knowledge about anti-aging procedures and he performs the same with commendable precision,. Oliva sure has the best of doctors available that is why its quality of services is unbeatable.
Delighted with the outcome
Highly appreciate the latest technology at Oliva. Dr. Suma Divya treated me for dull skin, and my skin was rejuvenated by the end of the treatment. I am delighted with the outcome that I have received from this treatment.
I now have flawless skin
The services and treatments at Oliva Skin and Hair Clinic, Secunderabad, Hyderabad are excellent. Dr. Meghana ensured the safety and answered every concern patiently. The treatment gave me amazing results. I now have flawless skin, all thanks to the post-care efforts of the doctor.
Place to visit for LHR
If you want a full consultation on laser hair removal treatment in Secunderabad, then Oliva clinic is a place to visit. The staff and the dermatologist guide you in a perfect manner and do a thorough analysis before suggesting you any treatment
I am full of praise for Oliva
Hygiene was never an issue whenever I visited Oliva for weight loss concerns. I had a fantastic time, and the staff was also up on their toes to help and even reminded me of appointments one day prior. I am full of praise for Oliva.
Quality of the clinic is superlative
I scheduled a consultation with Dr.Soumya at Oliva due to sagging skin. She discussed the Intragen treatment in detail with me. I will be opting for it because I can see the quality of the clinic is superlative and all equipment and technology are updated as well as FDA approved.
I am happy with the result
I got fillers for the 2nd time. Last time I got from another clinic but I was very disappointed with the results. It's been 5 months I am happy with the result.