PRP Hair Treatment In Vizag: Cost, Procedure and Results
Excessive hair loss can be distressing and progresses as you age. Without timely intervention, it can lead to partial or complete baldness. Studies show that this affects even young people, sometimes as early as their 20s. The most effective solution is to walk into Oliva Clinic at Dwaraka Nagar to get the best PRP hair treatment in Vizag.
Our highly-experienced dermatologists provide customized PRP hair treatment based on your unique hair loss needs.
Hair loss or alopecia is a common problem among men and women and, if left unattended, may result in partial or complete baldness. Our hair growth happens in phases and it is natural to lose around 100 hairs per day, but if you lose more than that or notice hair thinning, making the hair on your scalp appear scanty, you must visit a dermato-trichologist immediately.
The most widespread type of hair loss is androgenetic alopecia, or patterned hair loss that progresses with time. Thus, you must attend to it as early as you can.
What Is the Holistic Approach To Hair Loss?
A holistic approach to hair loss entails a customised treatment plan that treats the root cause of your concern, thereby giving you the desired, long-term results.
At Oliva Skin & Hair Clinic, the no.1 chain of skin and hair clinics in the country, the holistic treatment approach begins with an experienced dermatologist conducting a thorough analysis to pinpoint the root cause of your hair loss, along with the type and severity. Based on this comprehensive diagnosis, they will customise a treatment plan that includes topical/oral medications and a specific number of in-clinic sessions.
How Do We Diagnose Hair Loss At Oliva Clinic, Vizag?
Here is an overview of how Oliva's doctors in Vizag diagnose hair loss:
One-on-one Consultation: The first step is a personalised consultation with a dermato-trichologist, who will study your genetic and medical history, food habits and lifestyle for a proper diagnosis of your hair loss and to ascertain the root cause.
Trichoscopy And Tests: Then, using a specialised tool, the doctor will study your scalp and hair health. They may also ask for blood investigations to identify any hormonal imbalances and nutritional deficiencies that may be triggering your hair loss.
Tailor-made Solutions: Following this, you will receive a unique treatment plan that is a combination of different procedures best suited for your hair loss condition.
What Are The Different Hair Loss Treatment Options Are Available at Oliva?
Hair loss treatments at Oliva are designed keeping every client's unique requirements in mind.
These include the following:
PRP Hair Treatment: 

Our doctors are exceptionally trained in performing the non-surgical PRP (Platelet-rich Plasma) treatment in Vizag effective in reversing male/female patterned hair loss. This treatment helps natural hair regrowth with no side effects, resulting in improved hair thickness. 

 

Oral And Topical Medications: Our doctors prescribe oral medications like Finasteride that can increase hair growth on the scalp. They also give you peptide-based serums, which help in hair strengthening or Minoxidil, a topical applicator in spray or foam form.
Special Injections: If the cause of your hair loss is an auto-immune disease like alopecia areata, then our doctors give you specialised injections in the affected areas.
Specialised Haircare Regimen And Nutritional Advice: A good haircare routine is essential to keep your hair healthy and strong. Our doctors will prescribe suitable products with a special haircare regimen that will help prevent your hair loss from aggravating. They will also give you dietary advice to help correct nutritional deficiencies.
What Is PRP Hair Treatment And How It Works?
Platelet-rich Plasma Therapy (PRP) is among the best and most effective hair loss treatments and is proven to be successful in the regeneration of lost hair. The first step of the treatment involves taking a blood sample from the patient's arm to extract platelets rich in growth factors. Using USFDA-approved centrifuge technology, the medical expert separates platelets from the plasma. They then inject this platelet-rich plasma onto the affected areas of the scalp, stimulating dormant hair follicles and resulting in hair growth.
What Are the Benefits Of PRP Hair Treatment?
The PRP treatment is popular not only for its success rate but also for other benefits, such as:
• No use of harmful chemicals
• It is a non-surgical treatment
• Downtime is less than an hour
• Compared to other hair loss treatments, PRP treatment is less painful
• Compared to hair transplantation, PRP treatment is more cost-effective
• The success rate is much higher as compared to other hair regrowth treatments
• Perfect for individuals who are in the initial stages of hair loss
• Boosts the growth as well as the volume of hair
What To Expect From PRP Hair Treatment At Oliva?
Oliva's dermato-trichologists perform the in-clinic treatments following FDA-approved standards and protocols.
You will begin to notice a reduction in hair loss and hair thinning as soon as you complete a few of your prescribed sessions. As the sessions progress, you will see a significant improvement in hair density and scalp coverage. You will get the desired results when you follow post-care instructions as your doctor recommends.
Why Choose Oliva Clinic For PRP Hair Treatment In Vizag?
You must consider Oliva for your PRP hair loss treatment in Vizag for the following promising reasons:
We have more than 100+ dermato-trichologists who are highly experienced and trained to offer specialised solutions for all kinds of hair concerns.
The top doctors in Vizag include:
Our doctors have a holistic and personalised treatment approach to every client and do not provide blanket solutions for all. This ensures real, long-lasting results.
Our treatments are advanced, 100% safe and USFDA-approved and our clinics house the most sophisticated technology in the world.
Our Vizag clinic, with state-of-the-art, modern facilities, is at the most easily accessible location in Dwaraka Nagar.
We have more than 3,00,000 happy clients with a 91% satisfaction rate.
The Times of India has named Oliva the No.1 chain of skin and hair care clinics in the country for its excellent dermatology services.
For a personalised hair fall consultation with the best dermatologists in Vizag, you can walk into our clinic in Dwaraka Nagar. You can also fill out the 🔗Book An Appointment form and our team will help schedule an appointment at your convenient time. You can also call us on our toll-free number 📞1800-103-3893 for hair fall treatment options.
We are located at:
Ground floor, plot no. 244A,
next to Bajaj Electronics,
Diamond Park Road, Dwarakanagar,
Visakhapatnam, Andhra Pradesh – 530016
If you are experiencing excess hair loss or notice hair thinning on your scalp, we recommend seeing a dermato-trichologist as soon as you can. Early assessment and treatment of hair loss is the only way to prevent it from worsening and resulting in complete baldness. Visit Oliva Skin & Hair Clinic immediately!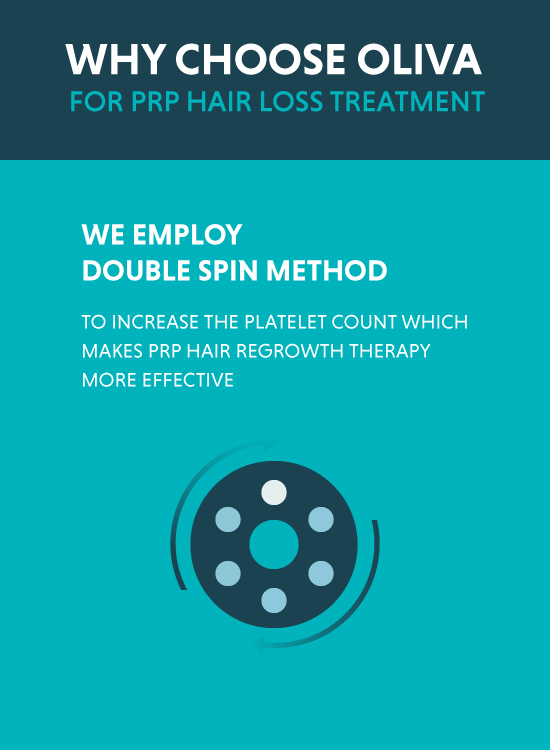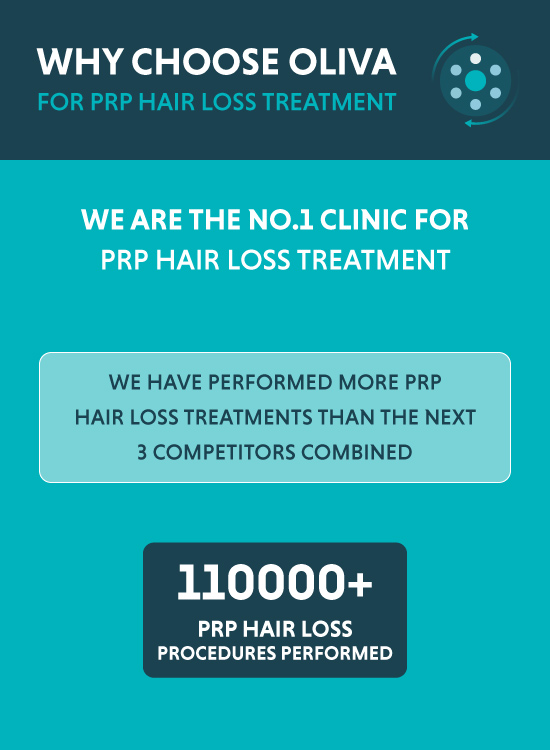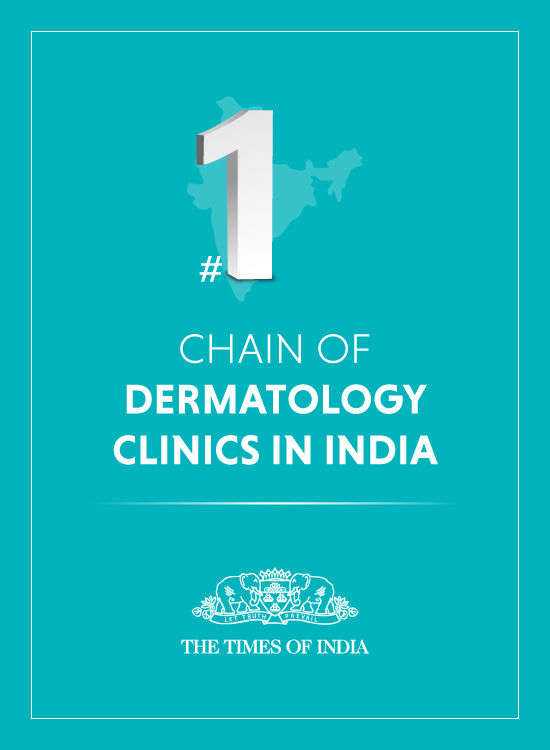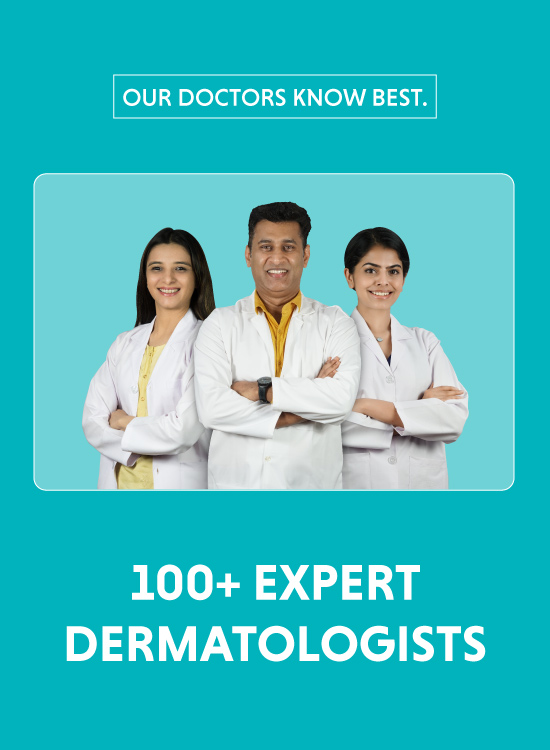 PRP Hair Treatment Procedure Explained By Dermato-Trichologist
Watch this video to get a better understanding of the types of hair loss and customised PRP treatment we offer from Oliva's experts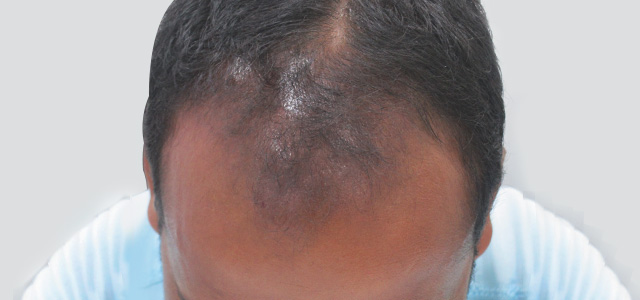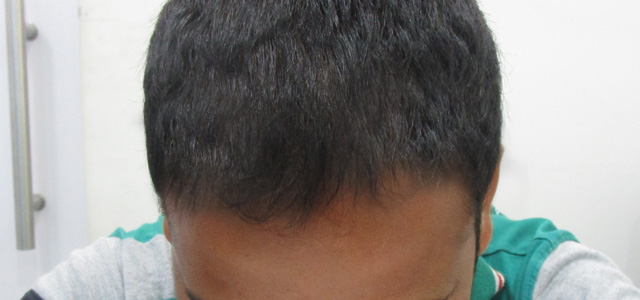 *Images are from real clients, and results can be subjective
Before & After Results Of PRP Treatment
Before and After Results
Take a look at the before and after images of Oliva's clients, who experienced great results with Oliva's PRP hiar treatment!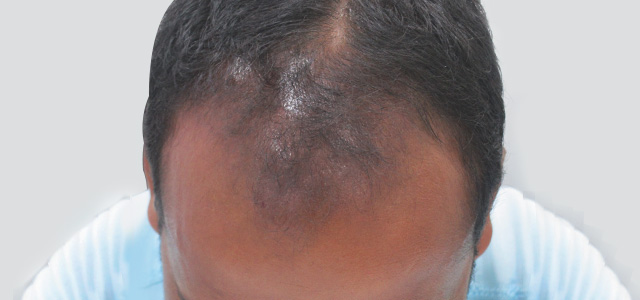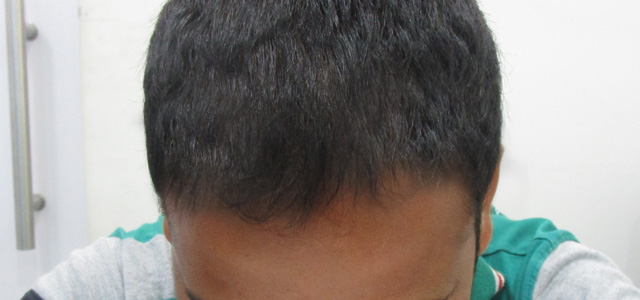 Treatment results may vary from person to person
FREQUENTLY ASKED QUESTIONS