Safe & Effective Stretch Mark Removal Treatment
Most-Advanced Treatment to Get Rid of Stretch Marks Permanently
Stretch marks  are caused for different reasons such as weight gain, pregnancy, adolescent growth spurts, and even genetics. Stretch marks are not limited to gender; they can happen in both men and women. They can also appear on young teens as well as adults. Stretch marks happen because of tear in the resilient deep tissue in the skin which imparts support to the skin. This happens due to breaking down of collagen and elastin fibers (supporting proteins) secondary to excessive expansion of body tissues. They start as red or pink lines but gradually turn into silver or white streaks.
Thanks to the advancement of modern science, the removal of the dreaded stretch marks is now achievable with next generation radiofrequency machine Secret. Oliva Skin And Hair Clinic offer a promising technology called Secret radiofrequency for stretch marks. Secret radiofrequency ensures new collagen production and remodeling in the deeper layers of the skin without any downtime, thus improving the stretch marks. The treatment is a completely safe and non-invasive procedure which brings back your flawless skin.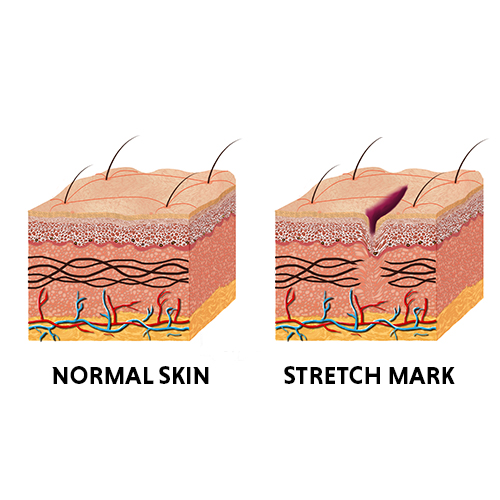 Stretch Marks Removal Procedure Explained By Dermatologist
Oliva offers advanced treatments for stretch mark removal. Check out the details on our procedures and gain deeper insights into how the treatment proceeds, under an expert dermatologist.
Why Oliva
Experienced in-house team of
Certified Dermatologists

Comprehensive one-to-one
consultation with the doctor

Advanced US-FDA approved
equipment

Well trained and certified
therapists

Served 3,00,000 happy customers
and counting

Stringent guidelines and set
protocols for better service efficacy
Frequently Asked Questions on Stretch Marks Treatment