Safe & Effective Wart Removal Treatment
FDA-Approved Procedures to Remove All Kinds of Warts
Our skin may get affected by different types of infections based on different factors around us. A common occurrence among those is warts. These are basically growths on human skin which are caused by the human papillomavirus (HPV) infection. Sometimes, these growths become prominent enough to cause social embarrassment.
Warts are of different types such as –
Filiform warts
Common warts
Plantar warts
Flat warts
Periungual warts and others
They can occur at any area of the body more often being seen on hands, feet, and face. There are warts affecting the private areas which are transmitted sexually, caused by other varieties of HPV. Though the warts tend to disappear on their own, they may take a lot of time which may vary from one person to another. Sometimes, they may recur following certain modes of treatment. They are brown to black in color and may vary in size from 2-4 mm.
Warts are considered to be contagious, but it is possible that only a single member of the family can have them without other members getting affected.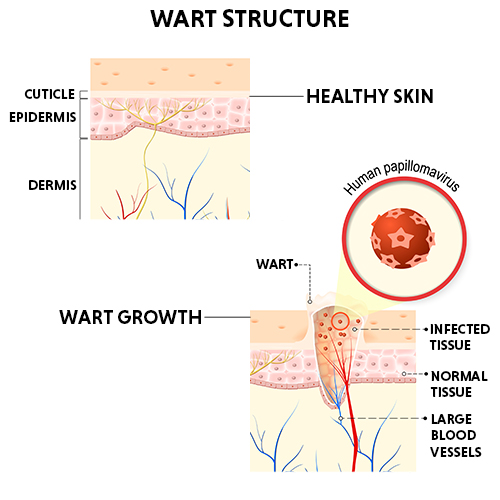 Why Oliva
Experienced in-house team of
Certified Dermatologists

Comprehensive one-to-one
consultation with the doctor

Advanced US-FDA approved
equipment

Well trained and certified
therapists

Served 3,00,000 happy customers
and counting

Stringent guidelines and set
protocols for better service efficacy
Frequently Asked Questions On Warts Removal Treatment