Best Dermatologist In Hyderabad
When it's about skin and hair treatments, you deserve nothing but the best professional care! Our medical team in Hyderabad led by the Area Medical Director consists of reputed consultant dermatologists.
Area Medical Head

MBBS, MD - Dermatology, Venereology & Leprosy

Reg No. - 46517

Area Medical Head

MBBS, DNB - Dermatology & Venereology

Reg No. - 79538

Consultant - Dermatologist

MBBS, MD - Dermatology, Venereology & Leprosy

Reg No. - 74291

Select a location from Hyderabad

What is a dermatologist?

A dermatologist is a medical doctor specialising in skin, hair and nail concerns. In addition to treating related concerns, they also give medical advice to safeguard your skin from external damage, premature ageing and reduce ageing signs. They are also adept at providing  medico-aesthetic solutions using highly-advanced technologies to improve and maintain the health of your skin, hair and nails.

What does a dermatologist do?

Apart from identifying and treating skin, hair and nail concerns, dermatologists are also instrumental in helping you diagnose underlying diseases. Most often, symptoms of health complications like hormonal fluctuations, for example, manifest on the skin. When you visit a dermatologist, they can help diagnose them correctly and give you appropriate care. They also treat skin and hair concerns like acne, acne scars or genetic hair loss that can negatively impact your self-esteem, confidence and self-worth. They provide aesthetic solutions like chemical peels, hair transplantation, fillers to improve the quality and appearance of your hair, skin and nails. They can also perform surgical procedures like skin biopsies, mole and wart removal etc.

What are the qualifications of a dermatologist?

Bachelor of Medicine and Bachelor of Surgery (MBBS) – 5 years.
Doctor of Medicine (MD) in Dermatology, Venereology and Leprosy – 3 years/ Diploma in Dermatology, Venereology and Leprosy (DDVL) – 2-3 years.
Registration with the State Medical Council.

What concerns do dermatologists treat?

The most common skin, hair and nail concerns that dermatologists treat include:

Ageing signs – wrinkles, fine lines, dull, dry and saggy skin, crow's feet, age spots, turkey neck, sunken cheeks, loss of volume, creases, folds  etc.
Hyperpigmentation concerns -- dark spots, sun spots, suntan, dull skin, Melasma, freckles etc.
Rashes and skin irritation
Abnormal skin growth
Unwanted hair growth
Dandruff, dry and itchy scalp
Fungal infection, discoloured or thickened cuticles
Excessive sweating
Moles, birthmarks
Allergic reactions
Skin cancer

They also help you protect your skin and hair with timely consultation and preventive care.

When should I visit a dermatologist?

Most people believe you must visit a dermatologist only when you have a severe skin or hair concern. While that is the natural course of action, consulting a skin specialist at an early age can help you understand your skin type and its needs early. Identifying what your skin and hair require can help you maintain their health in the long run. Your dermatologist will recommend a suitable skin and haircare routine to prevent damage from sun exposure, harsh environment and other factors. Timely care can also slow down ageing. Some common concerns that need a visit to a dermatologist include extremely dry, itchy, flaky or oily skin, skin breakouts(acne/pimples), rashes or irritation, discolouration, dark spots, scars, skin injuries, skin growths like moles, warts, skin tags, ageing signs – wrinkles, fine lines, dull and rough skin, excessive hair loss or hair growth, hair thinning, hair damage, itchy or dry scalp and dandruff. It is advisable to visit a dermatologist when you notice any changes in your skin, hair or nails for timely treatment. Better be safe than sorry!

How do I choose the best dermatologist?

Every individual's skin and hair type is distinct and requires personalised care. Your dermatologist's approach should be client-centric and they should be patient and qualified to answer all your queries to give you the best results.

Here are some things you can consider before choosing a dermatologist:

Make sure the dermatologist is experienced and works for a reputed clinic.
Check the number of patients they have treated and the unique treatment procedures they completed. This information is easily available on the internet.
Read reviews of other clients online, but make your own decision as every person's experience will be different.
Find out if the clinic offers advanced, USFDA-approved solutions for varied skin and hair concerns.
A good clinic must follow hygiene protocols, hence you must consider this before making a choice.

Your comfort and safety should be the priority. Find out if the doctor/clinic offers tele-dermatology/online consultations.

What is the dermatology consultation fee in Hyderabad?

The consultation fee varies based on the doctor's expertise, reputation and location of the clinic. However, the average consultation fee for a dermatologist in Hyderabad is between Rs. 400 and Rs. 1500.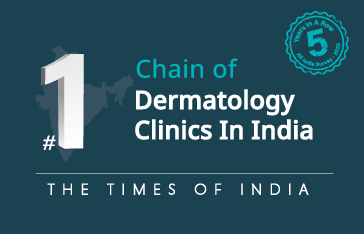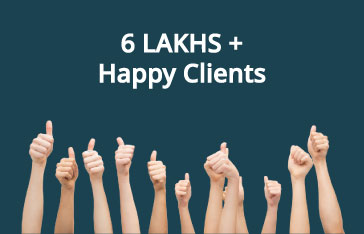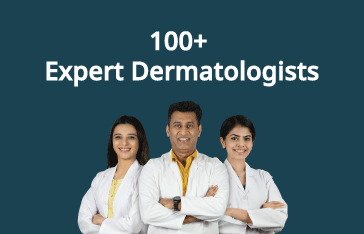 Client Reviews
Read below what our esteemed clients have to say about us and what makes us the premier provider of skin and hair care services.