Highlights
Laser treatment for facial hair removal is an advanced aesthetic procedure that can revolutionise your grooming regimen! It is a quick, safe, hassle-free and painless way to reduce the unwanted hair on your face permanently!
Laser hair removal for face is a new-age grooming solution that caters to both men and women leading hectic lifestyles. It is a super quick and convenient method to get rid of unwanted facial hair that guarantees long-lasting results. Unlike waxing, shaving and threading, laser hair removal is a pain-free and safe method that does not adversely affect your sensitive facial skin.
While laser hair removal from the upper lip, chin, cheek or sidelocks are popular services among women; men too opt for beard-shaping services and specialised treatment to get rid of excess hair on the nose, mid-brow and forehead to achieve a well-groomed look. Laser treatment for facial hair removal is a smart and sure-shot way to end your weekly salon trips and curb your endless grooming expenditure. Read on to know all about laser hair removal treatment for face – the procedure, technology, benefits, and side-effects to make an informed decision.
How Does Laser Hair Removal Treatment Work On The Face?
Experienced dermatologists at Oliva use Soprano ICE the top-rated USFDA-approved laser technology that offers a multi-wavelength platform. They specialise in providing customised laser hair removal treatment based on the skin and hair tone and type, and underlying hormonal condition. Our medical experts effectively treat the widest range of clients and hair types by carefully selecting suitable laser wavelengths and technologies. They target the unwanted facial fuzz with absolute precision and perform painless hair removal, causing zero –damage to the delicate facial skin. The cooling tip of the Soprano ICE device minimises the discomfort and eliminates the risk of burns and thermal injuries.
🔗 Oliva's Laser Hair Removal Treatments
Doctors at Oliva advise an interval of four to six weeks between each laser hair removal session to systematically eradicate unwanted facial hair in every growth phase to give you optimal results. Opt for laser hair removal at Oliva to enjoy a pain-free and permanent reduction in the growth and density of your facial hair.
Check out the video to know more about the advanced laser facial hair removal procedure at Oliva:
What Are The Benefits Of Laser Facial Hair Removal?
Here are the top benefits of laser facial hair removal and why you should consider opting for it instead of the conventional hair removal methods. Waxing, threading and shaving are tedious, painful and expensive methods of hair removal in the long-run that involve a high risk of side-effects to offer temporary results. Laser hair removal for face scores over them because of the following reasons:
Super Safe And Ultra Effective Option: USFDA-approved Soprano ICE is the top choice of leading dermatologists for laser hair removal as it has the highest safety profile for treating all Indian skin and hair types. It offers customisable fluencies and parameters to eliminate excess hair growth in both men and women. It is ideal for laser facial hair removal for men as it can reduce coarse beard hair growth effectively. It is also the safest bet for women as it can gently eradicate unwanted hair from the sensitive areas of the face without damaging their delicate skin. By opting for laser hair removal treatment for the face, you can attain silky soft hair-free skin minus pain, burns, bumps, cuts, ingrowth and infections.
Precise Procedure Performed By Certified Professionals: Experienced dermatologists at Oliva undergo rigorous training keep abreast with technological innovations. They use customised laser wavelengths to precisely destroy the unwanted hair follicles in the smallest and most sensitive areas of the face. They can safely reduce excess hair growth in the upper lip, cheek, nose, forehead and chin without affecting the delicate skin of your face adversely.
Cost-effective Solution For Permanent Hair Reduction: Laser is an affordable treatment option in the long run as it offers long-lasting results. It is a skin investment worth making as it guarantees a permanent reduction in both hair growth and density. Temporary hair removal methods involve recurring expenses for a lifetime.
Pain-free Lunch-hour Procedure: Laser facial hair removal at Oliva is virtually a painless, and super quick procedure with zero downtime. A session of laser hair removal for the upper lip area may take only up to 25 minutes. You can easily opt for it during your lunch-break and get ready to enjoy long-lasting results!
---
Informative Resources:
---
What Are The Popular Packages For Laser Facial Hair Removal?
Oliva Skin & Hair Clinic offers a variety of laser facial hair removal packages based on the distinct grooming needs of men and women, which include–
Packages For Women: Women can opt for laser hair removal treatment for full-face or specific areas like mid-brow, forehead, cheeks, chin, hairline, jawline, lower face, lower lip, side locks and upper lip.
Packages For Men: Men can opt for beard shaping services and specialised laser hair removal treatment from specific areas of the face like mid-brow, forehead and nose.
Besides the above, laser hair removal service for the full neck is also widely popular among both men and women.
Before & After Results
Check out the before and after images of real clients who enjoyed a visible and permanent reduction in facial hair growth and density after completing laser facial hair removal treatment at Oliva.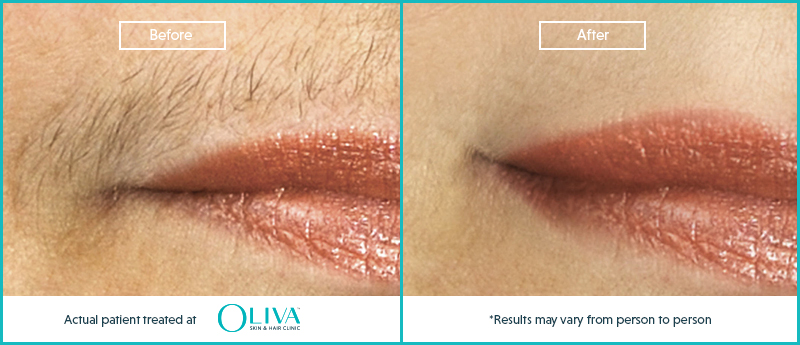 What Are The Side Effects Of Laser Facial Hair Removal?
There are no significant risks associated with laser facial hair removal treatment at Oliva. Our experienced doctors use the latest USFDA-approved laser technology to provide customised treatment and minimise discomfort. They follow stringent protocols and share post-care precautions to ensure a virtually painless and comfortable experience for our clients. Most of our esteemed clients state that at Oliva laser hair removal treatment for face does not hurt. Instead, it feels like a relaxing hot stone massage!
However, some of you may experience marginal side-effects like transient redness that usually subsides in less than an hour. Our trained therapists apply cold compresses to alleviate it at the earliest.
Now, you know all about laser facial hair removal treatment! If you have excess hair growth on your face, why choose obsolete, cumbersome and painful methods for getting rid of it?
---
Delivering World-class dermatology solutions is our mission! Redefining the quality of care is a passion!
How to get started? 
Book Appointment or 
1800-103-3893 to enjoy the best results!
---
Common Questions
Is laser hair removal safe for face?
Laser hair removal at Oliva is 100% safe. It can gently remove the unwanted hair from your face without harming your delicate skin.
How much does laser hair removal cost for the face?
At Oliva, we recommend that you seek a consultation with our medical experts to know the exact cost of your personalised treatment plan.
How many sessions do doctors recommend for removing facial hair?
Our experienced dermatologists usually recommend six to eight sessions of laser facial hair removal treatment to achieve the best results. However, you may need more sittings based on your skin and hair colour and type, and the underlying cause.
How do I prepare my face for laser hair removal?
Your dermatologist at Oliva will share pre-care guidance to ensure you avoid threading, plucking or waxing 15 days before your first session.
Can laser treatment remove facial hair permanently?
Laser hair removal for face can give progressive results. You will achieve a permanent reduction in both the growth and thickness of your hair as you complete the treatment.
You Might Also Like