Nonsurgical Body Contouring Treatment
Body Sculpting Solution Powered By Ultrasound & RF
Body Contouring treatments enjoy enormous popularity due to our eternal desire to look and feel good. However, fat bulges and saggy skin may result in a poorly defined body shape that may adversely affect our appearance and curtail our outfit options. Fret no more! Many non-surgical, safe and scientifically-backed procedures are now available for effective body sculpting that offer visible and sustainable results!
Challenges Of Getting Back Into Shape
Here are the top reasons why most of us need to opt for professional body contouring treatment at clinics:
Many of us struggle to lose stubborn fat from specific body areas despite a vigorous workout and strict dietary regimen.
Poor results cause demotivation, as most fitness routines are strenuous and not sustainable.
Acute weight loss in obese people or post-natal cases may result in sagginess and pendulous fat deposits due to loss of elasticity of the skin and toning the body is impossible naturally. This explains why the "Mommy Makeover" service is in great demand at reputed body contouring clinics.
Need to seek expert help to interpret the results of Body Composition Analysis (BCA) and avail a customised body contouring treatment based on the assessment of fat, sag and cellulite in the target area.
Benefits Of Body Contouring Treatment
Body sculpting can help you achieve the following:
Slender waistline, flat belly and sculpted flanks are attainable by eliminating stubborn fat bulges and love handle.
Slim thighs with circumferential reduction, sag correction and cellulite treatment is a possibility now.
Toned arms and smooth back due to fat loss and reduced skin laxity eliminates visible bra fat, armpit bulge and "bingo wings."
Decreased abdominal obesity and correction of unhealthy waist-hip ratio helps prevent metabolic disorders.
Holistic body contouring improves the overall shape and well-being by reducing unhealthy body fat. It does not focus on just attaining the ideal BMI.
Breakthrough Technology For Effective Body Sculpting Minus Surgery
With Oliva's Body Contouring treatment, you're one step closer to the natural-looking, sleek and toned appearance you've always wanted. Powered by Accent Prime, Body contouring treatment at Oliva is a customised solution to correct undesired body fat, reduce sag and eliminate cellulite from specific areas of the body. It can help you add more definition to your belly, back, thighs, arms and waist non-surgically to improve your overall shape visibly.
Leading dermatologists at Oliva use the USFDA-approved combination of ultrasound and radiofrequency (RF) technologies. The ultrasound heats and destroys stubborn fat and cellulite permanently, precisely and painlessly, leaving the surrounding tissue unharmed. While radiofrequency energy helps minimise skin sag after fat loss for a more toned body contour than ever before!
Why Choose Oliva For Body Contouring Treatment?
Here are the top reasons why you should opt for Oliva's Body Contouring treatment:
It is an evidence-based procedure that involves no massages, no magic pills and no dubious machines.
Top dermatologists excel at performing customised treatments based on their fat, sag and cellulite assessment in the target area to offer visible body sculpting results.
Driven by cutting-edge USFDA-approved Accent Prime equipment with dual ultrasound and radiofrequency technology and defined by stringent protocols, the procedure is 100% safe, painless and non-invasive.
Cost-effective solution for permanent fat loss in limited sessions with no hidden costs of consumables involved.
In-clinic, lunch-time procedure without blood loss, cuts, hospitalisation, complications, downtime and excessive expenditure.
Additional skin tightening benefits of RF technology boosts collagen production in the treated area and prevents skin sagging after fat loss.
Complimentary dietary counselling to ensure you enjoy sustainable results.
Optional "Beyond Weight Loss" program available to inculcate healthy lifestyle changes and prevent metabolic disorders related to obesity.
Our Fat To Sleek Approach – Body Contouring Procedure At Oliva
If you enrol for Oliva's Body Contouring treatment here are the steps you can expect:
One on one consultation with an experienced dermatologist
Assessment of the "metabolic fingerprint" and the fat distribution, laxity and cellulite in the target area
Checklist for contraindications to assess the suitability for the procedure
Medical investigations suggested for cases with abdominal obesity and suspected hormonal imbalance
Customisation of a time-bound treatment plan with realistic goal-setting for a targeted fat loss instead of just measuring the results in terms of kilos
Measurement and photographs of the target area and Body Composition Analysis before starting every session.
Customised Body Contouring sessions as planned
Dietary counselling at the time of sign up, before the first procedure and after every session
Diligent follow-ups and tracking of progress
You can book an appointment online or over the phone by dialling 1800-103-3893. Our customer care team will schedule an appointment with an expert dermatologist at your preferred time and location.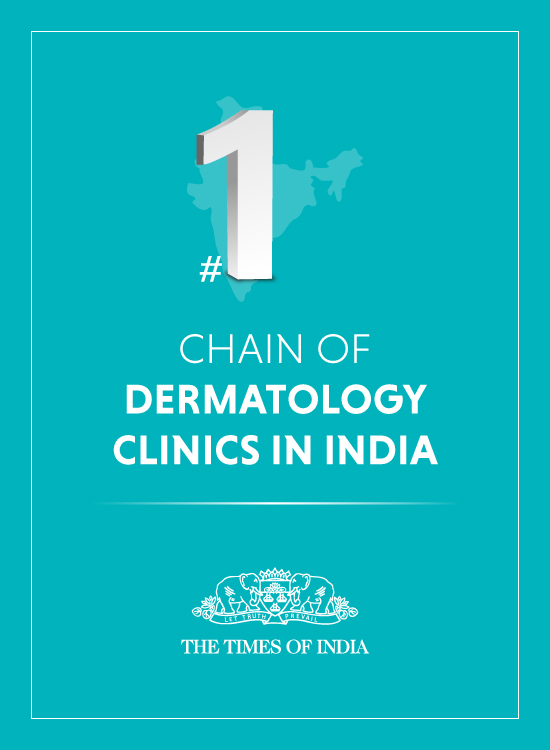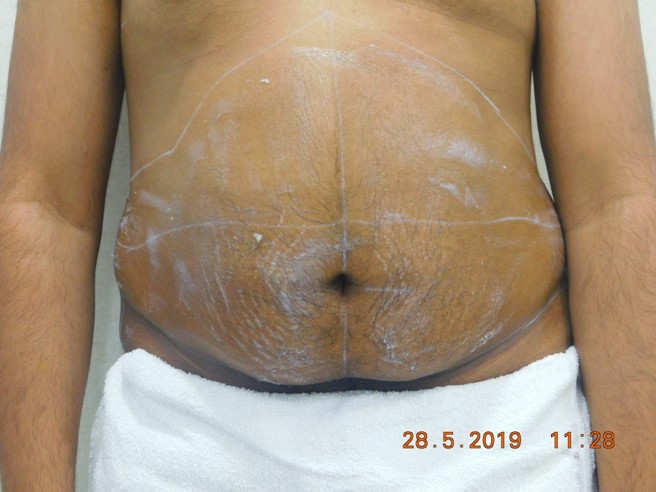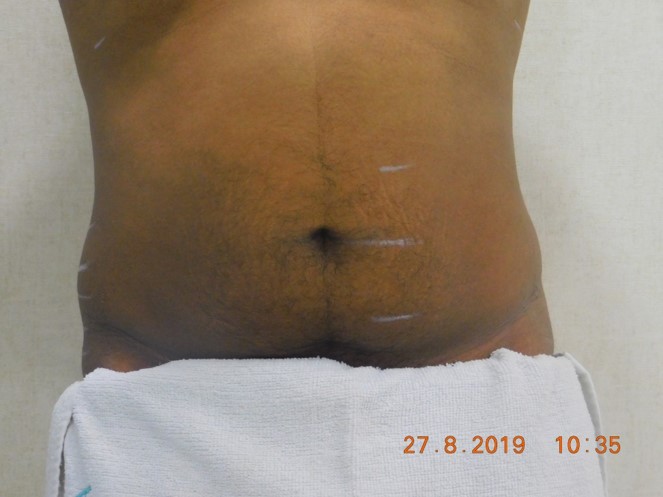 *Images are from real clients, and results can be subjective
Body Contouring Treatment Before And After Images
Check out real images of our clients before and after the sessions of Body Contouring Treatment at Oliva.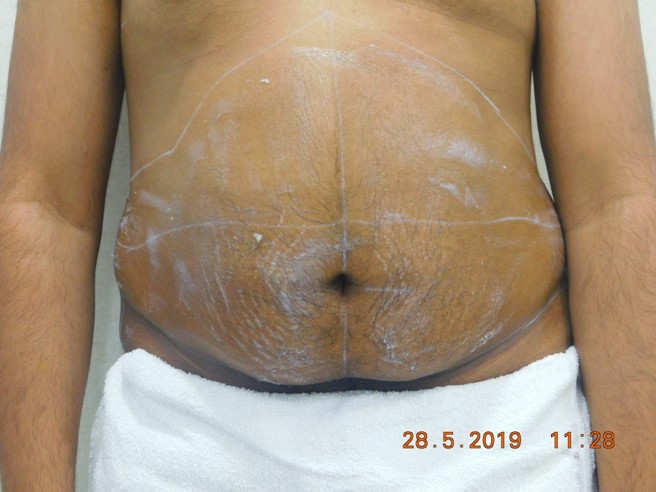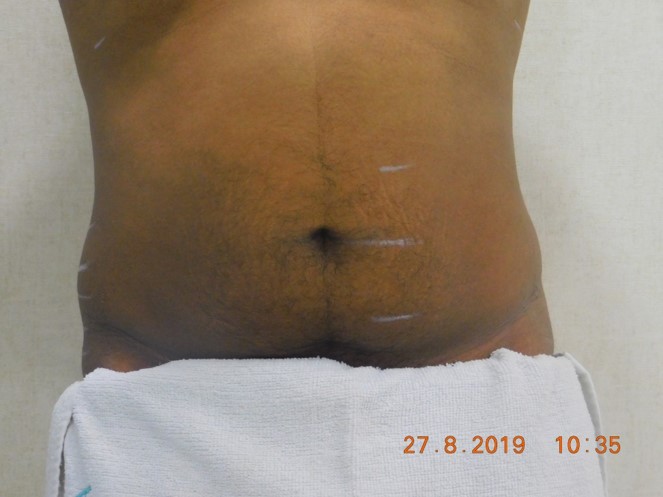 Treatment results may vary from person to person
Why Oliva
Experienced in-house team of
Certified Dermatologists

Comprehensive one-to-one
consultation with the doctor

Advanced US-FDA approved
equipment

Well trained and certified
therapists

Served 3,00,000 happy customers
and counting

Stringent guidelines and set
protocols for better service efficacy