Non-surgical Inch Loss And Permanent Fat Reduction Clinics
Advanced Body Contouring Treatment Near You
If you are looking to get a slim and sculpted body, it doesn't always mean you need to lose a few kilograms. If you want to get rid of excess fat and achieve a toned and shapely physique without dieting, or extensive surgery, then Inch loss treatment is what you need!
Inch loss treatment is a non-surgical procedure aimed at fat-reduction with the help of ultrasound and radiofrequency technology. It helps in getting rid of excess fat deposits in terms of body's circumference (or inches) not kilos. This is an effective treatment to shed stubborn fat storage from areas such as the waist, the tummy, arms and thighs without weight loss, dietary regimes or any strenuous physical activity.
Here are the top 7 reasons you should opt for inch loss therapy if you want to get back into shape –
Helps to get rid of unwanted fat cells from any area of the body, primarily from the abdomen, thighs, upper arms, bra fat, flanks and waist.
The instant inch loss and targeted fat reduction give a desired shape to the body with a more toned and firmer look than before.
Improves the skin laxity by working on producing more collagen in the target area and prevents the problem of saggy skin after eliminating extra fat.
It is a non-surgical body reshaping and contouring procedure that delivers sustainable results.
It has no downtime or side effects.
The treatment is safe and painless and does not involve any significant discomfort.
Offers long-lasting satisfaction and helps in future weight management.
The traditional body contouring treatments like a tummy tuck or liposuction are invasive procedures and involve surgical removal of fat under anaesthesia. On the other hand, inch loss treatment program at Oliva is a non-invasive procedure that burns excess fat and helps to lose inches with the natural elimination of fat cells. The inch loss process at Oliva facilitates the loss of accumulated fat from target areas, which remain unaffected despite strenuous workouts or strict dieting and enhances the body shape.
The fat loss process starts when the body burns stubborn fat and converts them into usable energy which, in turn, causes fat cells or adipocytes to shrink. The lymphatic system helps in the disposal of destroyed fat cell membranes, as the fat gets discharged between the cells. With the help of some biochemical steps and enzymes, the fat converts into protein. It further converts into free glycerol and fatty acids before it completely breaks down to a single triglyceride molecule for metabolism in the liver and eventual excretion from the body after decay.
Inch loss treatment at Oliva uses ultrasound technology and offers a non-surgical solution aimed at diminishing excess fat and cellulite from any target area of the body. The guided impulse waves of ultrasound energy with varied frequencies target and destroy subcutaneous fat cells beneath the skin. By creating massive oscillations and microscopic implosions, the fat cells expand and burst, resulting in their discharge into the lymphatic system. The subsequent application of radiofrequency causes further tightening of lax skin because of the heating of the deeper layers.
Belly Fat Removal – Inch loss treatment is highly effective in getting rid of excess belly fat, especially if one has a high waist circumference – over 90cm for men and over 80cm for women.
Other Body Fat – The treatment helps in body contouring to get a firmer and more toned physique than before minus surgery. It helps in instant inch loss from some problematic areas of the body such as love handles (flanks), saddlebags (outer thighs), upper arms, inner thighs and bra fat with zero downtime. There is no incision, blood loss, scarring or any significant discomfort during or after the treatment.
Inch loss treatment at Oliva may involve the below steps:
It begins with a one on one consultation with an experienced doctor and a thorough assessment of the target area that helps him/her create a tailor-made treatment plan based on your individual body contouring needs. It may involve the following:
1. Body composition analysis
2. BMI assessment
3. Diagnosis of any underlying medical conditions.
Depending on your skin laxity, BMI, percentage of fat under the skin and underlying medical conditions, the doctor will recommend a customised treatment plan utilising ultrasound energy either as a standalone modality or in combination with radiofrequency energy. He will also decide the number of sessions you need to achieve the best results.
During the treatment session, the doctor will use the latest UDFDA approved and globally-renowned Accent Prime technology to destroy stubborn fat cells and achieve an improved shape of the targeted areas. After identifying the problem areas, the doctor will customise the frequency of ultrasound waves with the help of an applicator for the recommended duration to accelerate the elimination of fat deposits by the lymphatic system.
The length of the procedure depends on the affected area of the body and may range between 45 minutes and two hours for each target area.
Post-care guidance and maintenance sessions will help clients enjoy sustainable results and long-lasting satisfaction.
Your doctor may advise the following steps after your treatment session:
Maintain your healthy eating habits and follow a low-calorie diet as recommended by your dietician at Oliva.
Stay adequately hydrated and drink tepid water before and after the session.
Do brisk walking or jogging to use up the mobilised fat, accelerate further fat removal and prevent it from getting stored again.
To book an appointment at your nearest laser clinic, call 1-800-103-3893. You can also fill the 'Book  Appointment' form on the top-right corner of this page. Our branches are available at:
HYDERABAD : Banjara Hills, Gachibowli, Himayatnagar, Jubilee Hills, Kukatpally and Secunderabad
BANGALORE : HSR Layout, HRBR Layout, Indira Nagar, Jayanagar, Koramangala, Sadashivanagar and Whitefield.
CHENNAI: Adyar, Alwarpet and Anna Nagar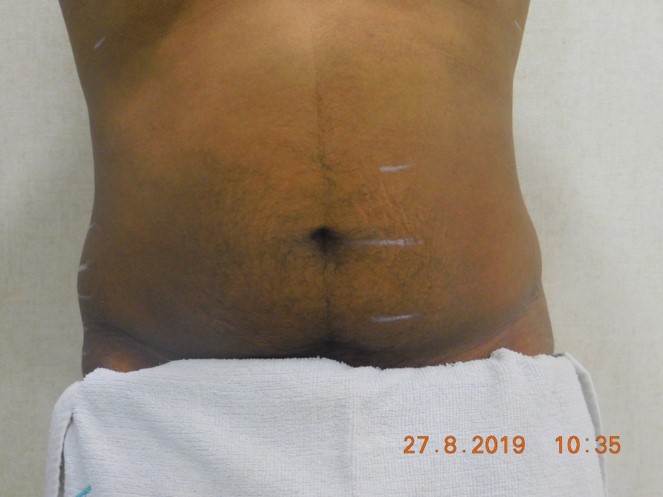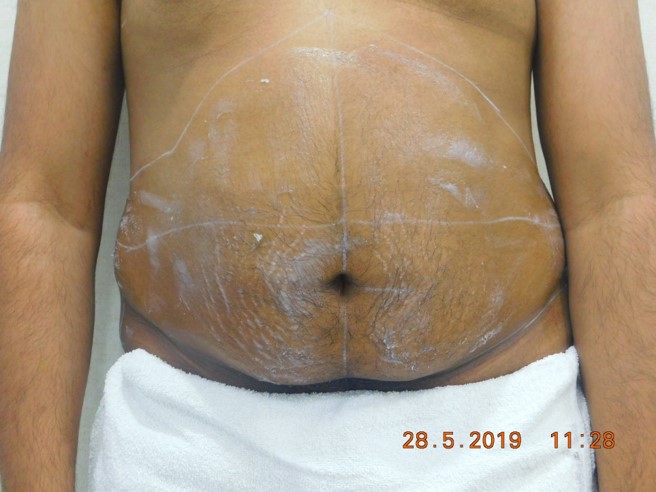 *Images are from real clients, and results can be subjective
Inch Loss Treatment Before And After Results
Check out real images of our clients before and after the sessions of Inch Loss Treatment at Oliva.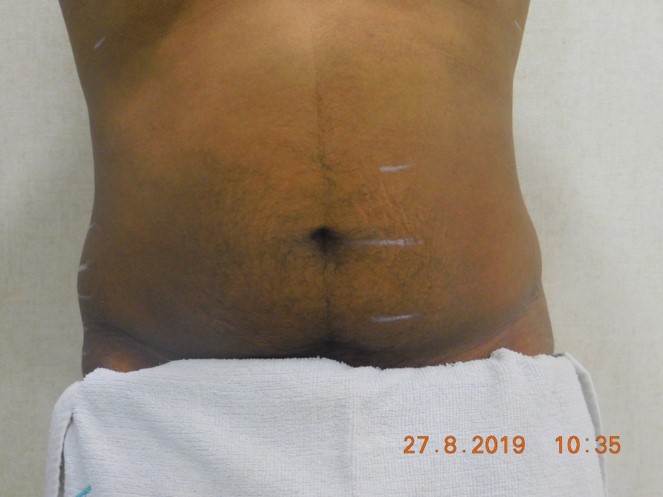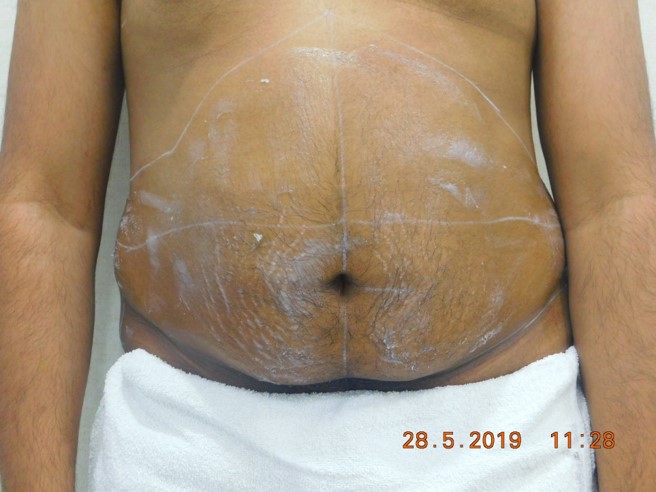 Treatment results may vary from person to person
Client Reviews
Read below what our esteemed clients have to say about us and what makes us the premier provider of skin and hair care services.
Free from pimples
I went on peeling process after 3 sessions my skin is much better ,and their service is very gud .thank you Oliva 😊
Reviewed us for : Pimple Treatment
Vijayalakshmi Srinivasan
Excellent result
Oliva had made my skin beautiful but again because of this covid 19 i suffered a 3 rd degree infection on my skin. Continuous wearing ppe it's completely destroyed my skin(full of acne/skin breakout) but after getting treatment from Oliva again I am getting back my beautiful skin. Thank u soooooo much for making me beautiful again. Thank u so much. 100%satisfied..thank u once again.
Reviewed us for : Pimple Treatment
Lakhi Murmu
Pimples
It was nice pleasure and good meet up with Olivia doctor and staff and treatment was osm and took gently care of me and my pimples.
Reviewed us for : Pimple Treatment
Ganesh Choudhary
acne treatment
Done with my acne treatment at Oliva and my skin feels great. The clinic's environment was very comfortable and the cost was very much affordable.
Reviewed us for : Acne Scar Treatment
jhimili mukherjee
Dr. Swetha Gowda
I always had clear skin for over a decades and but my 2nd pregnancy left my face with melasma/chloasma which caused a layer of blotchy, brown, patches of skin on my cheeks & nose. not to mention I did visit best of the Skin clinics in Bangalore & spent a good amount of time, effort & money but all in vein. After 2 years I had literally given up & that's when I met Dr Swetha Gowda @ Oliva Clinic, Indiranagar who is a cosmetic physician. She described the possible reasons and cure of the ailment. She gave enough time...
D
Reviewed us for : Pigmentation treatment
Divvya Shettyy
Damn good for skin
I had suffering from acne scars when i was feeling bad of those then i start searching for skin care clinic then i come to know about oliva which provides services over my expectations after treatment of 4 months i come to know results its really good . All the credit is of my doctor supraja madam she is very cool to answer any thing and suggest with patience and listen to your feeling . And administration services are absolutely good they are very informative. Simply good clinic for good skin just u should keep trust in them that's it.
Reviewed us for : Acne Scar Treatment
Saiteja Addagada
Removal of my permanent tattoo
When I was in Bangalore some 6 years back I had one tattoo in my upper arm. Years later I feel bad about it and started to think about removal so I searched on net and found Oliva Skin Clinic . I went to Alwarpet branch and met the front office desk headed by Mr Karthik. He explained about the removal program after seeing the Dermotologist and started the session on that day itself.  First let me tell you about the oliva skin clinic. They are near hygienic and professional team right from front office and clinical assistants. I had...
Reviewed us for : Tattoo Removal
Ram Neelakantan
Pimple treatment
I went for Pimple treatment to Oliva Alwarpet and now my pimple are totally stopped and doctor Meenkashi is very patience in listening to my skin problem. I am very satisfied with doctor Meenakshi and results are good. Thanks doctor and staff at Oliva.
Reviewed us for : Pimple Treatment
Raj ee
PRP
I came to know about this clinic through one of friend who used to be completely bald and after this PRP treatment he gained his 40% percentage of his hair. I am also giving it a try after 6 sessions, I am seeing good improvement. This treatment works way better than V-Care or Dr Batra's clinic
Reviewed us for : Best PRP Hair Treatment in Chennai
Shankara Narayanan
Why Oliva
Experienced in-house team of
Certified Dermatologists

Comprehensive one-to-one
consultation with the doctor

Advanced US-FDA approved
equipment

Well trained and certified
therapists

Served 2,50,000 happy customers
and counting

Stringent guidelines and set
protocols for better service efficacy
Frequently Asked Questions on Inch Loss Treatment