Best Treatments For Skin Pigmentation
Get Rid Of Skin Discoloration And Pigmentation Disorders
Have you been noticing dark patches on your skin or an uneven skin tone of late? Well, then chances are you have hyperpigmentation. Pigmentation is a common dermatological concern that occurs due to abnormal melanin production and distribution in different layers of the skin. It causes discolouration in both men and women and affects all skin types. If you are looking for professional solutions for treating skin pigmentation effectively, keep reading.
Pigmentation is generally synonymous with hyperpigmentation or excess melanin production. The skin concern may cause darker and uneven skin tone and manifest in different forms, including the following:
Age Spots: Also known as sunspots or liver spots, they occur primarily on the face, chest, shoulders and arms. Age spots may be brown, tan or black macules that appear on the skin as a result of increased melanin production due to extended sun exposure.
Melasma: Characterised by large patches that appear due to irregular skin darkening, melasma affects the face, including forehead, nose, upper cheeks, the upper lip area and jawline. Also called Chloasma or 'the mask of pregnancy', as the condition is prevalent in pregnant women undergoing hormonal changes.
Post-Inflammatory Hyperpigmentation (PIH): Dark spots or patches may appear after a skin inflammation such as acne vulgaris or eczema. They usually appear on the acne-prone areas of the body, including the face and neck.
Macular Amyloidosis: It is a skin condition that can result in the appearance of small greyish or dusty brown stains anywhere on the body. These dark patches with a rippled pattern occur due to the accumulation of amyloid or amyloid-like proteins in the dermis. It primarily affects the sun-exposed areas of the body, such as the face and upper arms in the initial stages.
Suntan: This is the most common form of skin pigmentation that occurs due to excess melanin production triggered by prolonged sun exposure. It is most visible on the face, neck and arms and is a significant aesthetic concern among both men and women. However, please note that consistent exposure to UV radiation often leads to sunburns and skin cancer.
Lichen Planus Pigmentosus (LPP): This is a condition characterised by greyish patches of pigmented skin that appear in a diffused manner predominantly on the face and neck. It results in persistent pigmentation in dark-skinned individuals.
Lentigines And Freckles: These are small brown to black spots generally around 2 to 3mm in size predominantly occurring in sun-exposed areas of the body. These occur due to the harmful effect of UV rays or a genetic skin condition too.
Now that you know about the different pigmentation disorders, you may want to learn about effective professional solutions for the same.
It is possible to treat pigmentation with the help of advanced procedures that help in minimising the melanin buildup safely and effectively. The treatment at Oliva begins with a detailed consultation with an expert dermatologist who will examine the affected area for assessing the type and depth of pigmentation along with the possible causes. Based on that he/she will customise the treatment plan for you and recommend the following as standalone or combination procedures to reduce pigmentation visibly–
Chemical Peel: Medical experts at Oliva recommend chemical peels as an effective treatment for reducing dark pigmentation. It involves the use of different concentrations of natural extracts. It helps remove the damaged top layer of the skin along with the accumulated melanin. It also promotes the regeneration of new and healthy tissue that has an even skin tone. Your dermatologist may choose the type of peel and recommend the number of sessions you need based on your skin type, the severity of the skin condition and the cause.
Laser Toning: Expert dermatologists at Oliva treat a range of pigmentary concerns effectively using state-of-the-art USFDA-approved laser technology. Laser toning treatment works best for minimising suntan, melasma, age spots, macular amyloidosis, acne marks and more. Our experienced doctors specialise in using the Q switched YAG laser to destroy the excess pigment into the smallest particles with precision. The immune cells eventually remove the debris and result in a visible improvement in your skin tone. However, you may require about four to eight sessions of laser toning treatment to attain optimal results.
Now you know the top treatment options available at Oliva, find out what makes us the best choice for minimising pigmentation.
Here are the top reasons why choosing Oliva for pigmentation treatment is a safe bet:
Oliva has the largest team of experienced dermatologists who undergo rigorous training to keep abreast with technological innovations and specialise in treating all types of skin pigmentation.
Our medical experts have an evidence-based approach and follow standardised protocols to provide customised care and visible results.
All our clinics have the latest USFDA-approved equipment as we adhere to international standards for safety.
Oliva Clinic has state-of-the-art facilities across all cities and locations, as we prioritise client safety, comfort and privacy during the treatment.
Awarded for being the No 1 Skin and Hair Clinic, Oliva has also won the trust of more than two lakh happy customers. Oliva enjoys an unprecedented client satisfaction rate of 91%.
Your doctors at Oliva offer holistic care to provide the best results of pigmentation treatment. They may advise the following:
Pre-Care Instructions:
Avoid using a harsh scrub or any home remedies two days before the treatment.
Avoid opting for any salon services a week before the session.
Do not wear any makeup or use other cosmetic products on the day of your treatment.
Men should avoid shaving at least 12 hours before the scheduled peel procedure.
Stop using any active priming cream four to six days before the treatment or as recommended by your dermatologist.
Post-Care Instructions:
Avoid using soap or cleanser for the next 12 hours after the service; use only plain water to wash the face.
Avoid performing strenuous exercises and using cosmetics for 24 hours post-treatment.
Avoid steam and sauna baths for the next three days after the treatment.
Apply sunscreen every three hours and avoid direct sun exposure as much as possible.
Avoid undergoing any salon service for at least a week after the treatment.
If you experience mild redness or irritation, apply a cold compress and moisturiser three to four times a day.
Avoid picking or rubbing the treated skin at any given time during or after the procedure.
You can fill the form on our website to book an appointment online to talk to our specialists. You can also call us on 1800-103-3893 to schedule an appointment with our medical experts who specialise in treating pigmentation.
Laser Treatment For Pigmented and Dull Skin Explained By A Dermatologist
Oliva offers advanced FDA approved laser toning treatment for reducing skin pigmentation and dullness visibly. Check out the video and gain an insight into the details of the procedure performed by an expert dermatologist.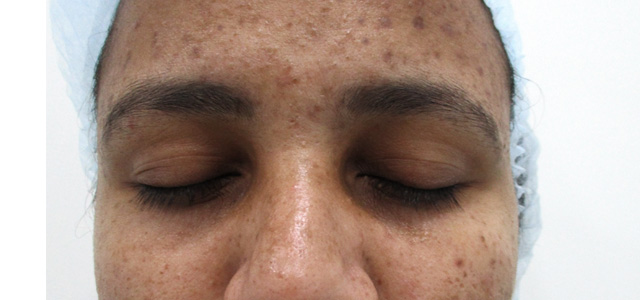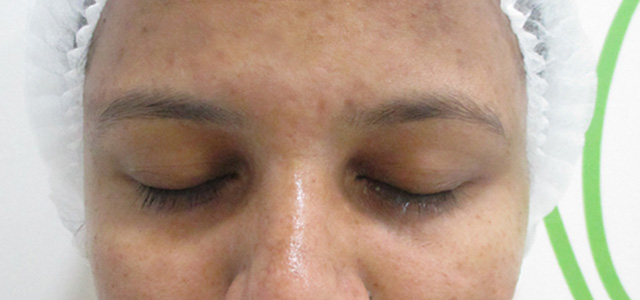 *Images are from real clients, and results can be subjective
Before & After Results Of Pigmentation Treatment
Check out the real images of our clients before and after the sessions of pigmentation treatment at Oliva.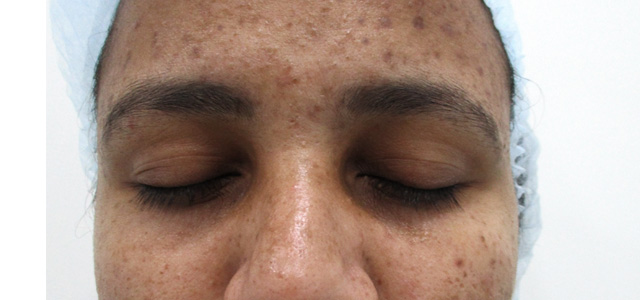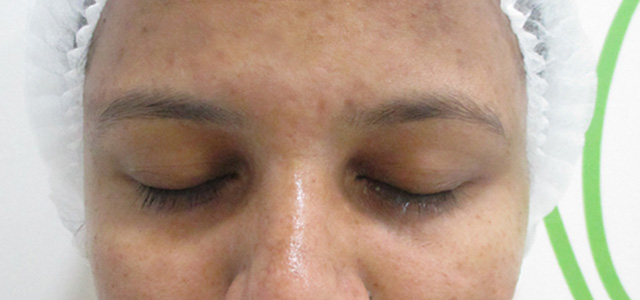 Treatment results may vary from person to person
Why Oliva
Experienced in-house team of
Certified Dermatologists

Comprehensive one-to-one
consultation with the doctor

Advanced US-FDA approved
equipment

Well trained and certified
therapists

Served 3,00,000 happy customers
and counting

Stringent guidelines and set
protocols for better service efficacy
Frequently Asked Questions