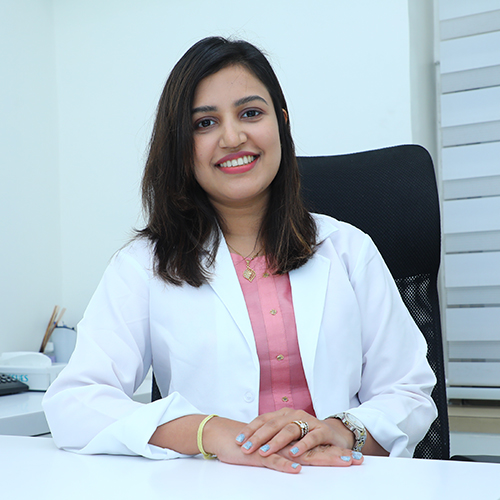 Dr. Sindhujaa Sreekanth
Consultant - Dermatologist
MBBS, MD - Dermatology, Venereology & Leprosy
Reg No. 113944
Dr. Sindhujaa Sreekanth S is a highly experienced and qualified dermatologist, who holds an MBBS degree from Kempegowda Institute of Medical Sciences (KIMS), Bangalore along with an MD in Dermatology, Venereology, & Leprosy from the Rajiv Gandhi University of Health Sciences.
Her constant thirst for learning and adapting is the biggest reason behind her success. She is currently practicing at Oliva Skin & Hair Clinic in Koramangala, Bangalore.
Services
Laser Hair Removal
Acne Treatment
Acne Scar Treatment
Hair Fall Regrowth Treatment
Skin Lightening Treatment
Pigmentation Treatment
Dull Skin Treatment
Skin Whitening Treatment
Anti Ageing Treatment
Dermal Fillers Treatment
Stretch Marks Removal Treatment
Mole Removal Treatment
Wart Removal Treatment
Melasma Treatment
Weight Loss Treatment
Specializations
Dermatologist
Aesthetic Dermatologist
Trichologist
Dermatosurgeon
Hair Transplant Surgeon
Education
MBBS - Kempegowda Institute of Medical Sciences (KIMS), Bangalore - 2016
MD - Dermatology, Venereology & Leprosy - Rajiv Gandhi University of Health Sciences - 2019
Registrations
Karnataka Medical Council - 2016
Client Reviews
Read below what our esteemed clients have to say about us and what makes us the premier provider of skin and hair care services.
The results have wonderfully sustained.
Wonderful team of doctors at Oliva. Dr. Nikhita is very pleasant to talk to. She gave me good skin care routine for maintenance after the chemical peel treatment I had here for dull skin. I have been following it religiously and I also follow all her post care instructions. The results have wonderfully sustained.
Online booking is so simple and quick
Oliva's online booking is so simple and quick. The details of doctors and treatment options are readily available on the website, and you can choose any treatment option. I just picked my skin-lightening treatment and booked an appointment.
Oliva has never let us down.
Oliva has never let us down. My sister got her stretch marks removed and her experience has been completely pain free and very effective.
Extremely satisfied with treatment
Post the skin treatment I have gotten so many compliments for my bright and healthy complexion that I am extremely satisfied with my investment at Oliva.
Doctor was compassionate
I was quite conscious of consulting doctors for stretch marks after shedding a lot of weight. The doctor dealt with me in a compassionate manner and was very polite during the entire consultation. I am very happy with the consultation and I am looking forward to get the treatment started.
Non-invasive acne scar treatment
The painless and non-invasive acne scar treatment I underwent at the Oliva clinic in Koramangala was without a doubt the best experience of my life. Meeting Dr. Sindhujaa was a delight.
The staff is very helpful and patient.
Oliva clinic is the best choice for pigmentation treatment. I visited their clinic in Koramangala for a pigmentation issue that I have been suffering from for many years, and I wanted to get rid of them. Doctor suggested chemical peel and laser toning treatment get rid of pigmentation. I have completed a few sessions and am extremely happy with the results. more
Safety precautions taken diligently
My skin's volume appeared to be lost during Covid times. It was so sudden that I had no time to analyze how it happened. I went to Oliva for the treatment, and all safety precautions were taken diligently. I am happy with my experience.
Qualified and experienced nutritionists
If you are looking for cheap and overnight solutions for weight loss, then Oliva is not for you. Go there only if you want best services from qualified and experienced nutritionists with long lasting results. The experienced nutritionist will guide you through your weight loss journey with remarkable results.