EFFECTIVE PIMPLE REMOVAL TREATMENT IN HYDERABAD
Call them pimples, acne, zits, breakouts or whatever you want to, these pesky spots on your skin are something that nobody desires to encounter. Treating them appropriately and promptly is essential for you to maintain the health of your skin and to also keep it free from blemishes and scars.
Every person faces the issues of pimples at least once in their lifetime, be it men or women. It is one of those skin conditions which occurs without your initiation, and it hampers your self-confidence and look. Anxiety and embarrassment go hand in hand with pimples. They show no sympathy to your body and can appear anywhere, however these are the most prominent locations they pop up at –
Face
Upper part of the neck
Chest
Back
Shoulders
Upper arms and other areas
While pimples usually make their appearance between 13-17 years, there are adults too who complain of the same skin concern. They have become a common occurrence with many adults suffering from even as late as in their 40s. While the very thought of having a pimple on your face can be devastating, it doesn't mean you have no solution. A proper treatment regime and appropriate skin care to maintain the results can help you reverse the condition and get your skin back to normality.
Pimples are formed because of excess oil production in the skin and build-up of dead skin cells clogging the pores or openings of the hair follicles. Bacteria infect such pores easily. Excess production of androgens (a type of hormone) can also cause pimples as it triggers the oil glands to produce more sebum (natural oil) in the skin.
Other factors that can trigger acne and worsen existing acne include –
Stress
Hormonal changes
Pollution
Certain medications like drugs containing corticosteroids
Unhealthy diet
Cosmetics
Oliva has always excelled in treating acne with perfection. We have successfully helped thousands of clients to overcome their pimple problem. Here are the top reasons why you should visit a nearby Oliva Clinic, especially for your problem of pimples –
We Have A Clinic Nearby – We have branches present at Banjara Hills, Gachibowli, Kukatpally, Jubilee Hills, Himayatnagar, and Secunderabad. All of these are easily accessible and have teams of experienced doctors and therapists to treat pimples.
Our Treatments Are Customized Based On Your Skin Type – Every individual's skin requires personalized attention and treatment to resolve not only the pimples at the earliest but also with the best results so that the pimples do not lead to further scars. Our doctors emphasize on customizing the course of the treatment according to your skin type, to ensure that we provide you with excellent results and uphold our high customer satisfaction ratings.
We Treat Different Types Of Pimples – We offer treatment for all types of pimples, be it mild, moderate, and severe type. Whatever may be the kind of pimples – comedones (whiteheads & blackheads), pustules, papules, nodules, and cysts are all treated successfully with our customized treatment options.
Our expert dermatologists at the Hyderabad clinics are adept at diagnosing the stage of your condition and propose the right course of treatment. They have varied experience in treating different types of acne in various skin types. They strictly adhere to Oliva's pre and post-treatment care and protocols to give you a thorough understanding of the progress in your case and how you need to take things forward once the required treatment is done. Providing you optimal results, the utmost comfort, and satisfaction are the ultimate motto at Oliva.
Oliva Clinics has a range of pimple treatments, depending on the stage and severity of acne. We offer –
Comedone Extraction – performed by our dermatologists to nip the acne in the initial stages itself.
Acne Control Peel – done to bring down acne incidence and is usually coupled with comedone extraction.
Clarifying Peel – done for sensitive skin types and can be followed with comedone extraction.
The dermatologists may also prescribe you antibiotic creams, tablets or other forms of medicines. It is always advisable to go in as early as possible for treatment of acne to prevent the formation of scars. To deal with acne scars, other treatments such as Pixel Laser Resurfacing, Secret Microneedling radiofrequency, Punch Excision, Subcision, TCA Cross Peel, etc. are available.
The doctors at Oliva prescribe the most effective Comedone Extraction treatment and Acne Control Peels for pimples. During the procedure, the experts at Oliva nip the acne and restrict its growth before it scars the skin. After analyzing your skin, the dermatologist will recommend an apt course of treatment and advice you on the follow up care that you need to undertake after your treatment session.
Initial Consultation & Finding The Underlying Cause – The initial consultation with the doctor is critical as it paves the way for the actual treatment plan. The treatment option is recommended only after initial consultation which involves a detailed analysis of your skin and other health conditions.
Medications & Process Based On Individual Need – Each client that comes to our clinic is prescribed medications and treatment for their pimples based on what the specific cause is and what their skin needs. This personalized treatment helps to achieve better results.
Post-Care Suggestions – Based on the treatment you have undertaken, the dermatologists will instruct you on the various measures you need to take for better recovery of your skin from the pimples problem. Results can also be maintained longer by following the recommendations promptly, as per the dermatologist's advice.
Follow Up Steps – Depending on the severity of your acne problem, the dermatologist may recommend 4-6 sessions of the treatment. All the details regarding the interval between sessions and pre-care before the session will be explained in detail.
The dermatologists at Oliva suggest for procedural treatments in conjunction with oral medications, topical medication, moisturizers, etc. to get optimal results.
You can simply call on 040 44757575 to book an appointment at any of our clinics in Hyderabad. You can also use the 'Book Appointment' form on our website to drop your information & our representative will call you.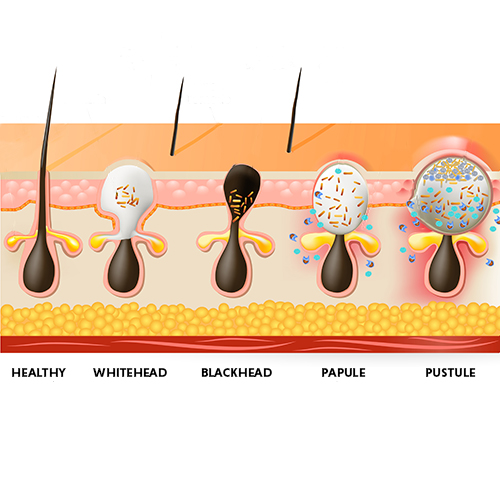 Acne Treatment Procedure Explained By Dermatologist
Oliva offers some of the most advanced treatments for pimple/ acne. Check out the details on procedure and gain deeper insights into how our treatment proceeds under an expert dermatologist.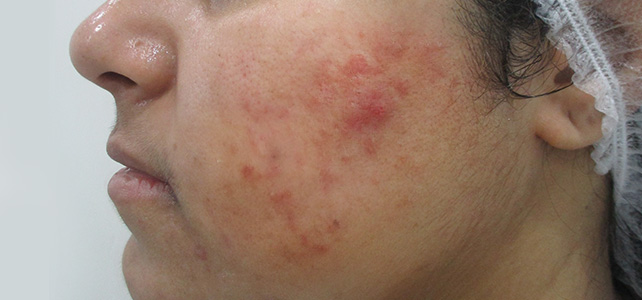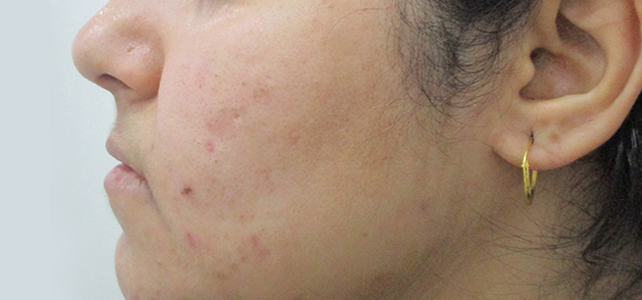 *Images are from real clients, and results can be subjective
Before & After Results Of Acne Treatment
Check out real images of our clients before and after the sessions of pimple removal treatment at Oliva.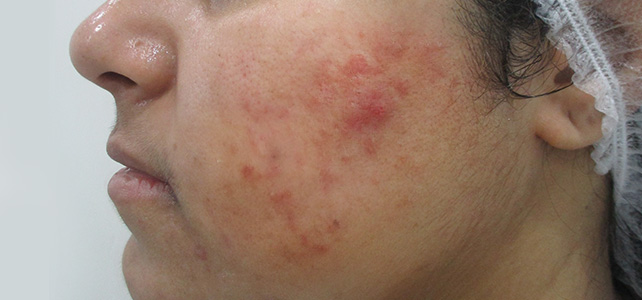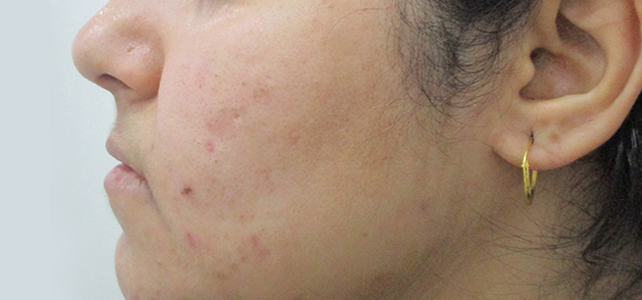 Treatment results may vary from person to person
Client Reviews
Read below what our esteemed clients have to say about us and what makes us the premier provider of skin and hair care services.
Best Clinic for skin and hair
Great experience for treatment of pores. Quick results with in few weeks and complete removal of tan as well. Doctor and staff are very pleasant and made the treatment more comfortable.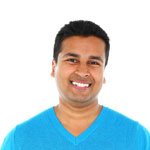 Review for : Laser Hair Removal
Anil Chand
Best Clinic
Experience doctors.. Friendly staff.. And what I like the most about oliva is that doctor checks your skin properly before suggesting any treatment.. unlike other skin clinics who just run behind making money.. I am very happy to see my skin recovering so fast.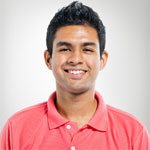 Review for : Laser Hair Removal
Apoorv Singh
Thumbs Up
Excellent service. I went for freckles and in one sitting 90% of freckles were gone. Thanks to the Doctor who gave me wonderful treatment. All the staff and Doctor are so friendly and professional.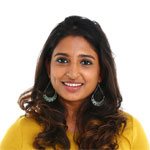 Review for : Laser Treatment For Pigmentation
Sheeba Vino
Happy about the treatment
I am very satisfied with the services provides as I have seen good results. I would highly recommend their services to my friends and family.
Review for : Safe & Effective Pimple Treatments
Ravi Sharma
Best Clinic in Chennai
I highly suggest this place, the staffs are so friendly, caring and professional at the same time that you will feel like home away from home. Painless treatment, absolutely good result. Love everything
Review for : Laser Hair Removal Treatment In Chennai
Tarun Sharma
Best doctors..All the best Oliva
One of the most calm and patient doctors.
S
Review for : Moles Removal Treatment
Shambhu Sharma
Very well satisfied.
Took service for my acne scars, i got result for what i was promised. It was worth every penny i spent. Awesome staffs, very well satisfied.
S
Review for : PRP Treatment For Hair Loss
Shambhu Sharma
Why Oliva
Experienced in-house team of
Cosmetic Dermatologists

Comprehensive one-to-one
consultation with the doctor

Advanced US-FDA approved
equipment

Well trained and certified
therapists

Served 1,00,000 happy customers
and counting

Stringent guidelines and set
protocols for better service efficacy
Frequently Asked Questions On Pimples/Acne Treatments