Acne Scar Treatment In Hyderabad
Best Treatment For Acne Scars And Pimple Marks
Acne can be stubborn and often leaves scars behind to remind of the gruesome days of multiple breakouts on your skin. They ruin the look of your skin even after they have healed. The damage caused by acne in the form of scars is permanent and necessitates the use of advanced dermatology treatments to remove them.
A scar is a mark on the skin characterized by its difference in texture and sometimes even in color from the surrounding skin. While some scars are caused due to external accidents such as burns or injuries, most common reason behind marks on face are acne. They leave behind extended and complicated types of scars in the form of pits which hamper your skin's appeal to a large extent.
The infection caused by the acne can set into the deeper layers of the skin, which is often accompanied by inflammation. When the pimple starts to disappear, the natural healing process of the skin is hampered leading to pits and depressed scars on the skin. There are different degrees to the way they hamper the beauty of your face and dealing with them in the most effective manner is vital to improve the appearance of your skin.
What Are The Different Types Of Acne Scars?
There are different forms of acne scars, such as –
Rolling scars
Ice-pick scars
Boxcar scars, and
Keloidal scars
Atrophic scars (depressed scars) are caused by lack of collagen production when the skin heals from injuries. Ice-pick, boxcar, and rolling scars are the different versions of depressed scars. The other form of scars is the hypertrophic type which is formed when the skin produces excess collagen leading to the formation of a raised, keloidal scar.
Are Acne's Scars Permanent?
Acne scars are formed due to either under-production or over-production of collagen. No matter what the type is, these scars are permanent and cannot be treated with simple creams and lotions. Medical intervention in the form of dermatology treatments is mandatory to remove them.
What Treatment Options Are Available At Oliva's Hyderabad Clinics?
We offer a variety of services such as
Subcision
Pixel Laser Resurfacing
Chemical Peels
Scar Excision
Dermal Fillers 
Intralesional Injections.
The evaluation of your skin by the dermatologist will help determine each form of treatment that needs to applied based on the type of scars and their effect on your skin. As per your individual need, the course of treatment is customized to address your acne scars.
What To Expect During This Treatment?
The treatment process at Oliva is not just about removing the scars, dark marks or skin discoloration, but it also ensures that you have a rejuvenated and brighter complexion that lasts for a long time.
Initial Consultation – This involves a detailed analysis of your acne scars by the dermatologist. A history of your acne will also be taken to understand the causal factors. Depending on the type of scars or marks present and their extent, the skin doctor will suggest the best combination of treatments that can remove your acne scars forever.
Procedure – During your treatment, one of our certified therapists will prep your skin for the treatment. Depending on the type of treatment you will be undergoing, the skin may be cleansed thoroughly with a degreasing solution or a topical anesthetic cream may be applied to minimize any pain from the treatment. Once your skin is ready, the dermatologist will perform the treatment. This can take from 30 minutes to one hour and is subject to the type of treatment.
Post-care Advice – The dermatologist will advise you on the specific after-care for the type of treatment you have undergone. Sunscreen usage is mandatory post any treatment and other skin care advice will be explained in detail to you as well.
Follow Up Sessions – Acne scars are adamant and require 6-8 sessions using a combination of different treatments to remove them completely. Your next session will be scheduled after a month's gap.
From its inception in Hyderabad, Oliva has dealt with scar-related cases in the most proficient manner and has delivered excellent results. Here are some reasons why you should choose us –
You Can Find The Best Clinic Nearby – We have clinics in Hyderabad at six convenient locations. You can visit any of our clinics in Banjara Hills, Jubilee  Hills, Gachibowli, Kukatpally,  Himayat nagar and Secunderabad locations for acne scar treatment.
Best Team Of Scar Doctors – Our team in Hyderabad comprises of skilled and qualified doctors who take extensive personal care for each and every client.
Strict Adherence To Safety Protocol – Scar treatment usually deals with the face, so it becomes Oliva's prime responsibility to make sure every precaution is taken to give you the best results without any unnecessary side effects.
High Level Of Customer Satisfaction – We have served more than one lakh clients at our clinics and are proud to say that we have a satisfaction rating of higher than 91%.
Award Winning Clinic – Our breakthrough technologies and world-class service have won us the No.1 rank for the last three consecutive years in the TOI survey for the best clinic in Dermatology and Trichology.
To book an appointment at any of our clinics in Hyderabad, call 1800-103-3893. You can also fill the BOOK APPOINTMENT form on the top-right corner of this page.
Acne Scar Removal Procedure Explained By Dermatologists
A bright complexion is always like a shot in the arm for one's self-confidence and self-esteem. It boosts your positive vibes and gives a very healthy feel. Oliva has a special procedure.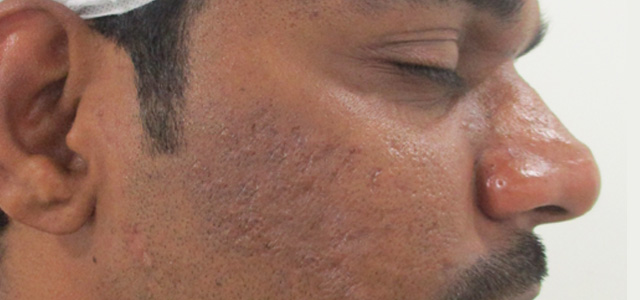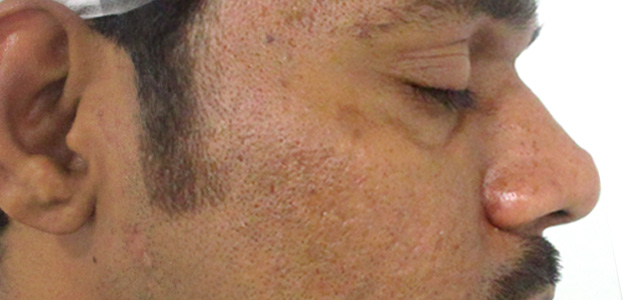 *Images are from real clients, and results can be subjective
Before & After Results Of Acne Scar Treatment
We are committed to patient safety, education and stive to provide a caring. to patient safety, education and stive to provide a caring.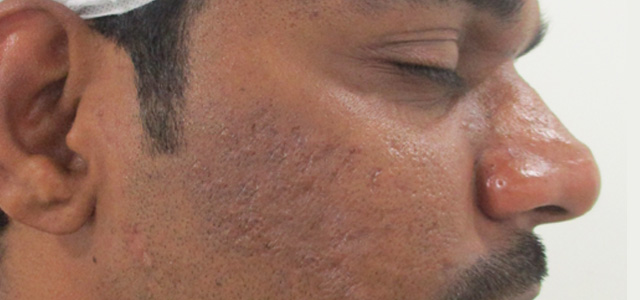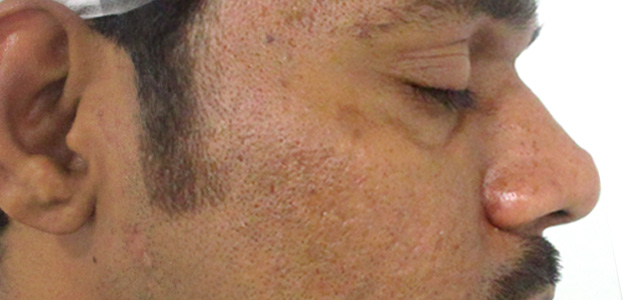 Treatment results may vary from person to person
Why Oliva
Experienced in-house team of
Certified Dermatologists

Comprehensive one-to-one
consultation with the doctor

Advanced US-FDA approved
equipment

Well trained and certified
therapists

Served 3,00,000 happy customers
and counting

Stringent guidelines and set
protocols for better service efficacy
Check out our latest reviews. Most of our clients find our dermatologists to be affable yet extremely competent to deliver nothing but the best results!
FREQUENTLY ASKED QUESTIONS