Laser Hair Removal Treatment In Vizag: Benefits, Cost & Results
The excessive growth of hair on different parts of the body is a common condition faced by both men and women. Unwanted hair growth can have a negative impact on an individual's appearance. Some people get rid of unwanted hair as part of their personal hygiene. For those who stay in Visakhapatnam, a long-term solution is available to solve your issue of unwanted hair – laser hair removal.
What Can You Do For Excessive Body Hair?
There are a number of causes which result in unwanted hair growth such as genetics, hormonal imbalance, Cushing's syndrome, side effects of medication, medical conditions, etc. As one enters their 20s, they will start noticing the growth of excess hair on various parts of their body.
You can get rid of this problem by understanding the root cause and then opting for the right treatment. Some of the popular hair removal methods are:
Must Watch:
Unlike other temporary hair removal methods, laser hair removal treatments provide a more long-term solution.
Also Read: Is Laser Hair Removal Treatment Permanent?
How Does Laser Treatment Work For Hair Removal?
In a laser hair removal treatment, a device is used to target the hair follicles and disrupt their functionality. Using the principle of selective photothermolysis (SPTL) the laser uses a specific pulse duration and a wavelength of light that matches the melanin in the hair follicle and is focused on the target area. This ensures that there is no damage to the surrounding skin. This treatment is suitable for both men and women. Due to the differences in the skin and hair type between men and women, men may need more sessions to see the expected results.
Must Watch:
What Are The Benefits?
Painless: Compared to waxing, electrolysis or epilators, laser hair removal treatments are practically painless with any discomfort being dealt with during the treatment.
Minimal Side Effects: While undergoing a laser hair removal treatment, you do not have to worry about any kind of side effects except for minor ones such as redness of the skin, slight heat sensation, etc.
Accuracy: The laser beams are completely accurate when they target the hair follicles, ensuring that the surrounding area is not damaged.
Safety: The laser devices are all US-FDA approved and the dermatologists and skin therapists performing the treatment are highly certified and experienced.
No Ingrown Hair: Post this treatment, due to the lack of hair growth from the follicles, it removes the chances of ingrown hair.
Must Read: What Is The Best Way To Remove Body Hair For Males?
Laser Hair Removal Packages Available In Vizag
There are different kinds of laser hair removal packages available, such as:
Things To Know About Laser Hair Removal
Who Is An Ideal Candidate?
Anybody above the age of 18 is an ideal candidate, however, pregnant and lactating women and individuals still in their puberty should not opt for this treatment.
How Many Sessions Are Required?
On average, 6-8 sessions are required for individual body parts, while you might require more sessions for a full body hair removal.
How Much Does Laser Hair Removal Cost in Vizag?
On average, the laser hair removal cost in Vizag will begin from Rs. 2,500 per session. But this cost may change depending on the body part being treated, the type of laser being used, the number of sessions required, etc.
Must Read: How Much Does Laser Hair Removal Cost In India?
What To Expect After Laser Hair Removal?
After the treatment, you will observe that the hair growth on the treated part has reduced visibly and you are left with soft, smooth and hairless skin.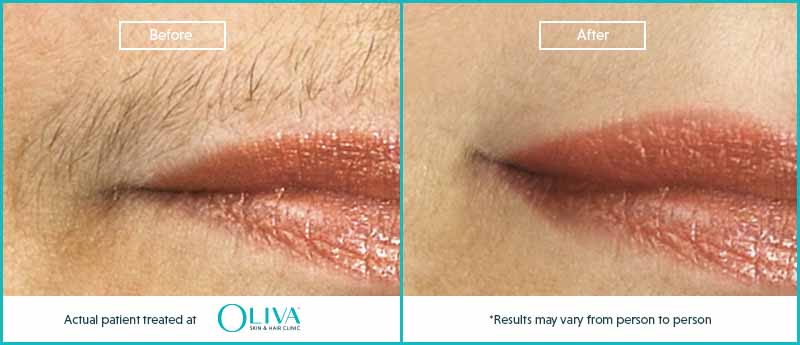 Why Should You Choose Oliva For Laser Hair Removal in Vizag?
Oliva Skin and Hair Clinic is one of the best laser hair removal clinics in Vizag, because:
The entire staff of dermatologists and technicians are well-trained, certified and highly experienced.
The equipment used is US-FDA approved.
The clinic maintains a high standard of protocol.
The team possesses strong ethical values.
They have a huge base of happy and satisfied clients – more than 1 lakh!
Must Read: What Is The Best Way To Remove Facial Hair For Women?
How To Get Started At Oliva Clinic?
For those who want to get a laser treatment for hair removal in Vizag, you can either log on to the website or book your appointment by calling the toll free number 1800-103-3893.
With permanent solutions available, why do you want to continue to depend on temporary hair removal solutions? Get a laser hair removal treatment done and flaunt your smooth, soft and hairless skin with confidence!