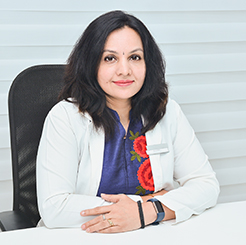 Dr. Veena Rao
Head - Medical Audits
MBBS, DVDL - Diploma in Dermatology, Venereology & Leprosy
Reg No. KA-52210
Dr. Veena Rao is a dermatologist with many years of experience. She completed her MBBS in 2010 from Gulbarga University and MD in Dermatology, Venereology & Leprosy from Delhi University 2005. Currently, she is a practitioner at Oliva Skin & Hair Clinic in the Jayanagar Branch in Bangalore.
Her friendly approach and years of practical expertise has helped her win over the patients' hearts and treat them successfully. In a small timespan, she has become a distinguished professional in the Dermatology fraternity through her hard work and success. She is awarded by Dr. D.K.Gupta Award For Best Female Post Graduate at Dermacon – 2005 in Delhi
Services
Laser Hair Removal
Acne Treatment
Acne Scar Treatment
Hair Fall Regrowth Treatment
Skin Lightening Treatment
Pigmentation Treatment
Dull Skin Treatment
Skin Whitening Treatment
Anti Ageing Treatment
Dermal Fillers Treatment
Stretch Marks Removal Treatment
Mole Removal Treatment
Wart Removal Treatment
Melasma Treatment
Weight Loss Treatment
Specializations
Dermatologist
Trichologist
Cosmetologist
Education
MBBS - Gulbarga University - 1999
DVDL - Diploma in Dermatology, Venereology & Leprosy - University of Delhi - 2005
Experience
Consultant at Kaya Skin Clinic
Present - Medical Audits Head at Oliva Skin & Hair Clinic
Registrations
Karnataka Medical Council - 1999
Awards
Dr. D.K.Gupta Award For Best Female Post Graduate - 2005
Best Female Post Graduate - Dr. D.k. Gupta Award at Dermacon-2005, Delhi
Memberships
Indian Association of Dermatologists, Venereologists and Leprologists (IADVL)
Client Reviews
Read below what our esteemed clients have to say about us and what makes us the premier provider of skin and hair care services.
I saw visible changes after every session
If you want to know about your skin and hair conditions, then Oliva Clinic in Jayanagar is the right place. Dr Veena Rao explained my skin condition thoroughly and even described the safety, quality of equipment and the results in detail. I saw visible changes after every session, and after four months of sessions, I had light skin and a radiant smile. more
Deliver precise results
Oliva uses very advanced and effective procedures to treat dull skin. They deliver precise results and give one value for their money. Dr. Veena is hands down one of the best dermatologists for this treatment in town.
You cannot go wrong with choosing Oliva.
I had very dark pigmentation after coming to Bangalore and was looking for a long-lasting and permanent solution. Then I visited Oliva clinic and signed up for 6 laser treatment sessions. The result was just wow! I can assure you that you cannot go wrong with choosing Oliva.
The result is great!
I had a terrific experience today at the Oliva clinic. Despite my reservations regarding the laser resurfacing treatment for acne scar, I felt very little pain because to Dr. Aishwarya's soothing demeanor and skillful approach. The result is great!
I am highly impressed
Dr. Aishwarya told me about all the possible treatment options which I can avail for the stretch mark removal. I am highly impressed by her patience and the expertise.
Very detailed consultation
My elder sister introduced me to Dr. Veena at oliva for consultation regarding my concern with stretch marks. She patiently listened to my problem and examined my skin in detail to check my skin type.
Doctor has extensive knowledge
I've seen numerous dermatologists and clinics for my acne scars, but the ones at Oliva Clinic are the best. The doctor has extensive knowledge and understanding of the facts. I noticed a difference two months after following her recommendations and solutions.
Clear, bright & even skin
I really like the doctor's skincare regime that she directed me to follow. I got radiance peel treatment done from her and am very happy to see how clear, bright, and even my skin has become.
Clinic is in easily accessible location
I have visited Jayanagar Oliva clinic for my skin hyper-pigmentation treatment. The Clinic was conveniently located with different modes of transportation available. I was never late or missed any session during the treatment. Amazing!