How To Remove Dead Skin On The Face?
Your skin is the largest organ on the body. It undergoes skin renewal cycle where-in the dead skin cells shed and newer cells from beneath bring in rejuvenated skin from within. The skin cells (keratinocytes) are shed in a 28 day cycle. Where in those dead cells reach the epidermis and within a few days they are removed. New cells then emerge and replace the lost skin cells.
To get rid of this dead skin you would have to spend hours to physically exfoliate your skin, which ensures that your skin is free from breakouts, blackheads and wrinkles. This will also reveal a brighter and smoother skin that was hidden under those layers of dead skin. Read on to understand how dead skin is formed and how can you get rid of it.
What Are Dead Skin Cells?
Our skin is designed with sebaceous glands producing enough oils to keep the skin nourished. Skin cells (keratinocytes) contain a protein called keratin, which forms on the uppermost layer of the skin. During the skin cell's life cycle, they travel through the dermis to the epidermis till they reach the uppermost layer (stratum corneum). The process of a skin cell dying and shedding is called desquamation, and approximately forty thousand skin cells shed in an hour's time in just about a month of desquamation.
Must Read: Best Treatment For Dull Skin
What Causes Excess Dead Skin Cells On The Face?
Skin Conditions: It is possible that if you suffer from eczema or psoriasis, you are more susceptible to developing dry skin. And, climatic conditions, sun exposure, cosmetics, and other factors can only make it worse for you, which is why it is very important to consult a dermatologist who can analyze your skin condition and prescribe a solution/ treatment accordingly.
Sun Exposure: Sunlight can cause havoc for your skin and without proper protection, you must not go out. Sunlight dehydrates your body and skin, and leave it parched. So, apply and reapply sunscreens with adequate SPF (as directed) to keep your skin protected from the harsh rays of the sun.
Must Read: How To Protect Skin From The Sun?
Getting Older: When you get older, the whole process of desquamation slows down eventually. Also, as we get older, our skin produces less oil, hence leading to dryness, which encourages dead skin build up.
Lack Of Proper Cleansing: Cleaning and hydrating your skin are very important for keeping it healthy. So, if you happen to forget cleansing your skin every night, then dead skin cells will obviously be residents of your skin much longer than they should. It is very important to constantly cleanse your skin so as to create an environment that escalates the process of shedding old cells and creating new ones. It is also important to clear all the blockages that act as hurdles for this process – excess oil, makeup, etc., therefore, develop the habit of cleansing your skin before you sleep.
Not Exfoliating: You need to adequately scrub the dead skin off your face from time to time, especially as you get older, to help your skin in the whole shedding process. Although, it is not something that you need to do on a day-to-day basis, doing it twice a month will help you in boosting the desquamation process and achieving a fresher, smoother skin. Be sure to not overdo it as over scrubbing can cause irritation and rashes, also washing out the already diminished natural oils (sebum).
Not Using the Right Moisturizer: Exfoliation helps, but so does moisturization. The key is to get rid of all the dead skin cell build up while keeping the skin hydrated. Thus, it is recommended to thoroughly moisturize after every sessions of cleansing and exfoliating the skin. Look for a moisturizer that suits your skin type; and go for an oil-based and non-comedogenic moisturizer to prevent dehydration and acne outbreak on your skin. It is always better to consult a dermatologist to analyze your skin type and choose a moisturizer that suits you.
Climate Changes: Climate just doesn't impact your mood, it impacts your skin too. If the air around you is dry it causes your skin to lose hydration, leading to dry skin. Therefore, in such cases, keep a moisturizer handy and also try sleeping with a cool mist humidifier in the room.
Based on your skin type and the part of the skin that you are exfoliating, the type of exfoliating scrubs you use may vary, for example, the skin on your face will need a gentler scrub than your elbow.
Must Read: How To Exfoliate Skin?
How To Remove Dead Skin From The Face?
These three steps can help you in getting rid of dead skin –
Cleansing: First step is to clean your skin with a good cleanser, twice a day.
Exfoliating – Scrub the dead skin cells away! Start with a simple steaming session and follow it up with a thorough exfoliating routine.
Moisturizing – Cleansing and exfoliating will help you get rid of the dead skin cells, but to boost the process of the old cells being replaced by new ones, you need to ensure you keep your skin moisturized and hydrated.
It is always advisable to consult a dermatologist before adapting to a new skin care regime, to help your skin nourishment.
Before And After Results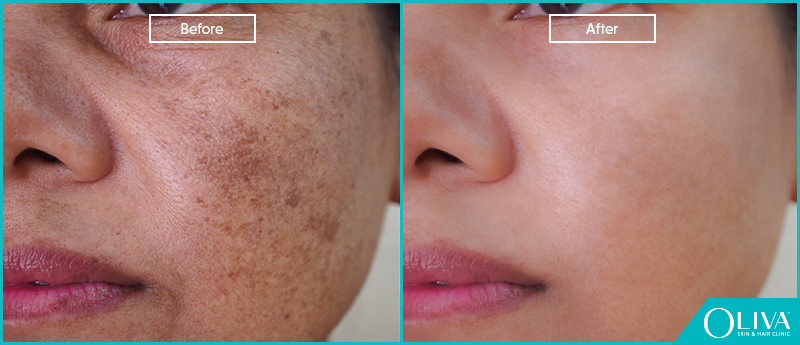 Must Read: What Do You Mean By Fairness Treatment?
How To Prevent The Formation Of Dead Skin Cells?
Consider Switching Your Soap: All soaps qualify for killing germs, but only a few hold the essential natural oils and moisturizers that are good for your skin. Some of them contain harsh chemicals, which can kill the health of your skin, leaving it dry and dehydrated. Therefore, it is recommended to replace the harsh soaps with a face wash or a mild soap with good moisturizing elements in it.
Avoid Long, Hot Showers: Hot water can be a stress reliever, but on overusing it, it can open the pores of your skin and cause excessive dryness making it vulnerable for long-term irritation. It is recommended to use mild temperature water for your showers instead, which is comforting without causing any harm to your skin.
Use Moisturizer Liberally: It is a golden rule to keep your skin hydrated and to moisturize it well. Use a good moisturizer that suits your skin type and apply it generously on your skin on a regular basis. Apply moisturizer within 3-5 minutes of shower, so it gets better absorbed and forms a protective layer on the skin.
Cover Up In Cold Weather: Cold, dry air holds minimum moisture, and therefore it becomes all the more necessary for you to thoroughly moisturize and cover your skin up. This is because the air in the surroundings doesn't provide your skin with a very healthy environment, leading to skin irritation, cracking, and dryness.
Lower Your Stress: Skin conditions like itchiness, dryness, etc. are known to get worse with stress. Stress can mess up with your hormones and create an imbalance, which is not good for your skin. Too dry or too oily – both conditions can make it difficult for you to combat dead skin cells.
Shave With Minimal Resistance: Bad shaving habits can lead to dryness and scaling of the skin. And, dryness is known to slow down the process of desquamation. Therefore, it is advised to use a moisturizer or an aloe vera gel on the area before running a razor on it.
Must Read: How To Get Flawless Skin?
Dealing with dead skin cells is something we would have to get used to. You have several ways to get rid of dead skin cells and boost the process of replacing these dead skin cells with new cells to achieve a fresher and younger looking skin. But, before taking any further steps, it is always better to get an expert's opinion, otherwise it may even lead to permanent damage on your skin.