What Is The Cost Of Permanent Tattoo Removal In Chennai?
There is nothing more regretful than an unwanted tattoo marked on your skin forever. Tattoos are a way of expressing love, gratitude, and respect for someone or something you admire. However, what happens when you fall out of love and start to hate your tattoo? Well, you need not worry because removing a tattoo is easier than getting one these days.
Permanent Tattoo Removal In Chennai
Tattoo removal is a method of erasing unnecessary tattoos by using lasers to break down the ink particles present in the tattoo. The broken down ink enters the bloodstream where it is fought by the immune system. The remaining particles are flushed out the body through natural excretion. Tattoo pigments have specific light absorbing properties, which make it easier for the laser to detect and remove. Tattoo removal is available at Oliva Clinics in Chennai.
Must Read: Effective Laser Tattoo Removal In Chennai
Laser Tattoo Removal In Chennai
Most tattoo removals are done by lasers. Since all tattoo pigments have specific light absorbing spectra, a laser can emit an adequate amount of light within the given absorption spectrum of pigment and remove the tattoo. There are certain colors present in the tattoo that are ineffective to treat with laser, such as yellows and fluorescent inks. Darker shades of blues and blacks are easily removed.
The procedure for tattoo removal is fairly simple. Some pre and post-treatment steps must be followed through before and after each session. The dermatologist along with the therapist will prep the skin and take necessary safety steps. Then, the laser will be placed above the tattoo for few seconds until the laser has grazed the entire tattoo. The pain is the same as getting a tattoo making it bearable but slightly uncomfortable. A topical anesthetic cream is used in most clinics to minimize this pain.
Tattoo Removal Cost In Chennai
The average price of tattoo removal in Chennai is between Rs 4,000 to Rs 7,000 per session. The size of your tattoo determines the number of sessions. The factors determining the cost are as follows:
Tattoo Size – Big tattoos will take more sessions to remove the tattoo. It can go up to 6-8 sessions too.
Tattoo Color – Different colors dictate how easy or difficult it will be to remove the tattoo. Dark colors are easy to remove and therefore they will be cheaper. Whereas pale blue, red, and yellow are more difficult to remove and will take more sessions to fade them completely. If your tattoo is multi-colored, it will take more number of sessions to remove it completely.
Skin Tone – This may come as a surprise, but your skin tone does influence the level of difficulty whilst removing a tattoo. The laser is more effective when there is more contrast in shades between the tattoo color and the color of your skin, necessitating fewer sessions.
Ink Types – Some inks are harder to remove than others are. One such ink is Beryllium.
Tattoo Quality – If the artist is under experienced or less skilled, he/she may cause damage to the epidermis, which might be visible to the naked eye. However, while removing tattoos, they may be harder to eliminate. This holds true for skilled tattoo artists as well, as the tattoo might penetrate further into the skin and it can prove difficult to remove such tattoos as well.
Age – Now if your tattoo were old, more ink would have faded away. This will mean the tattoo will require less number of sessions to remove them.
Location – The location of tattoo is important as well. Areas that have a large number of blood vessels, lymph nodes, and vascular supply, will need fewer sessions of laser treatment to remove the tattoo. This means head and neck are the easiest places to remove tattoo followed by upper and lower back, arms and legs, and finally fingers and toes.
Must Read: What Is The Cost Of Acne Scar Removal In Chennai?
Before & After Results Of Tattoo Removal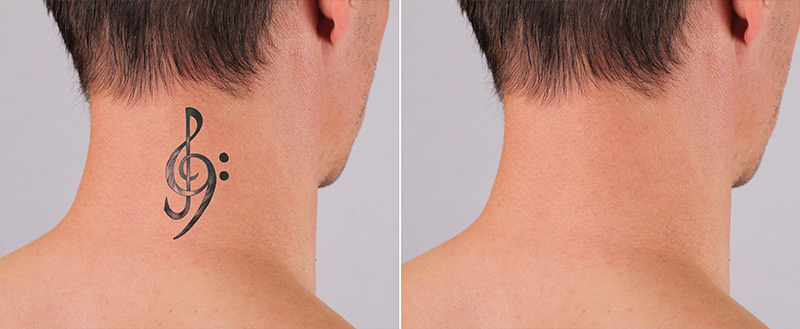 Why Oliva Is One Of The Best Tattoo Removal Clinics In Chennai?
Oliva Clinics in Chennai are the best in the city. They are fully equipped to help you remove your tattoos safely and effectively. Here are some top reasons why you should choose Oliva –
Oliva has an in-house team of experienced cosmetic dermatologists.
You can have a one-to-one consultation with the doctor.
We use advanced US FDA approved laser technology.
The assistants/therapists are well trained and certified.
All the facilities are world class and up-to-date.
Oliva has stringent guidelines and set protocols for your safety and better service.
As you can see, removing a tattoo is quite simple and fuss-free. Now that you have all your facts in order, it is time to say "Good Riddance!" and remove that undesirable tattoo, leaving you a clear canvas so that you can start all over again.