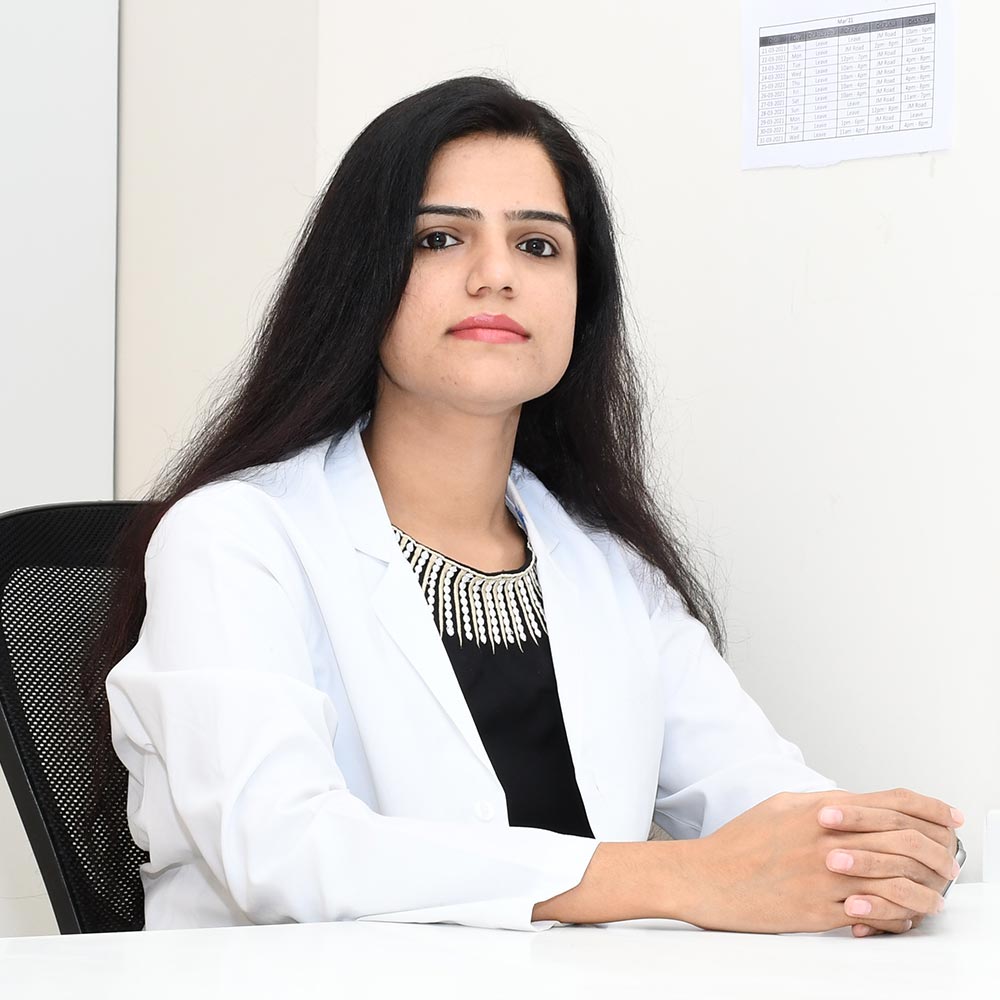 Dr. Amrin Diwan
Consultant - Dermatologist
MBBS, DDVL - Diploma in Dermatology, Venereology & Leprosy
Reg No. 2014083508
Dr. Amrin Jibrail Diwan is a Dermatologist consultant working at Oliva Skin and Hair Clinic in the Kalyani Nagar branch of Pune. She completed her MBBS from the Maharashtra University of Health Sciences, Nashik in 2012 along with doing a Diploma in Dermatology, Venereology, and Leprosy (DDVL) from the College of Physicians and Surgeons, Mumbai.
She is officially registered as a Dermatologist consultant with the Maharashtra Medical Council since 2014 and her work speaks volumes about the talent she possesses.
Services
Laser Hair Removal
Acne Treatment
Acne Scar Treatment
Hair Fall Regrowth Treatment
Skin Lightening Treatment
Pigmentation Treatment
Dull Skin Treatment
Skin Whitening Treatment
Anti Ageing Treatment
Dermal Fillers Treatment
Stretch Marks Removal Treatment
Mole Removal Treatment
Wart Removal Treatment
Melasma Treatment
Weight Loss Treatment
Specializations
Dermatologist
Trichologist
Hair Transplant Surgeon
Education
MBBS - Maharashtra Universtity of Health Sciences, Nashik - 2012
DVD - The College of Phsyicians and Surgeons, Mumbai - 2019
Registrations
Maharashtra Medical Council - 2014
Client Reviews
Read below what our esteemed clients have to say about us and what makes us the premier provider of skin and hair care services.
Well done, team!
My job requires me to face the sun quite often. However, it led me to develop wrinkles and other signs of ageing. This was an alarming situation when my cousin told me about the Oliva clinic and based on her trust, I gave it a try for Botulinum Toxin Injections. I was perplexed to see how systematically things functioned there. The staff even called me a day before my appointment to confirm which was helpful for me as well. Well done, team! more
Doctor was knowledgeable and helpful.
I personally looked for a Dermatologist online for anti-ageing treatment and found Dr. Amrin Diwan. Visited at Oliva Clinic, Kalyani Nagar, Pune to consult with her and I had a great time there. The ambiance was beautiful and the doctor was also knowledgeable and helpful.
Everything thing was pretty streamlined
I was to get married in 10 months' time and suddenly I developed acne which led to scars. I contacted Oliva on an urgent basis and they helped me a lot. The location was close to my place so I had the time to visit them as per the doctor's availability. I felt safe because hygiene was maintained at every step and things were pretty streamlined there. more
Highly recommended!
Oliva is a perfect combination of brilliant doctors and a very helpful staff. The clinic is organized because of the hard working people there. My treatment also went well and it was worth every penny I spent there. Highly recommended!
My first visit was very smooth
Oliva has a wonderful ambiance and top class facilities for their customers. My first visit was very smooth and I was helped at every step with all the requirements. I already recommended Oliva to my friends and family.
The treatment gave me amazing results.
Dr. Rupal at Oliva Clinic attended my case which got severe in the last few months. My hair fall was due to hair styling products that I used and I thought I am never going to get them back but Dr. Rupal made it possible for me. Grateful to her and Oliva!
Really amazing overall.
I was looking for Dermal Fillers treatment near my home in Kalyani Nagar. Got to know about the Oliva clinic in the same area near to my place and visited there to give it a try. My examination was thorough and I followed everything that I was suggested. Dr. Amrin ensured that I didn't feel uncomfortable at any point. Really amazing overall.
I highly recommend Oliva
I highly recommend Oliva if you want to get brilliant results. They have premium treatments which might cost a bit but in the end, the results are sure to come! The same happened with me and I got my dull skin and fine lines treated with HIFU. Also, the cleanliness was taken care of throughout the premises.
My skin looks smooth and refreshed.
The staff was very helpful at Oliva clinic. I went to their Kalyani Nagar Branch in Pune where I found the doctors to be really organized. They knew how to proceed and there wasn't a time when I found them stuck at any point. After my Intragen treatment there for anti-ageing, my skin looks smooth and refreshed.