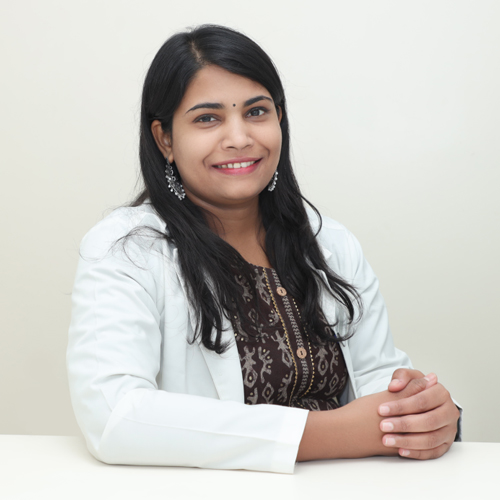 Dr. Annam Navya
Consultant - Dermatologist
MBBS, MD - Dermatology, Venereology & Leprosy
Reg No. 115165
Dr. Annam Navya is a Consultant – Dermatologist, having done her MBBS from Rajiv Gandhi University of Health Sciences, Bangalore, in 2016 and doing an MD in Dermatology, Venereology, and Leprosy in 2020 from Goa University. She has been registered with the Karnataka Medical Council since 2022.
Dr. Annam is a creative thinker and loves to experiment and explore. She works at Oliva Skin and Hair Clinic in their corporate office at the HRBR Layout, Bangalore. Her constant quench to bring innovation in the treatment approach is much appreciated and recognized in the Dermatology Fraternity.
Services
Laser Hair Removal
Acne Treatment
Acne Scar Treatment
Hair Fall Regrowth Treatment
Skin Lightening Treatment
Pigmentation Treatment
Dull Skin Treatment
Skin Whitening Treatment
Anti Ageing Treatment
Dermal Fillers Treatment
Stretch Marks Removal Treatment
Mole Removal Treatment
Wart Removal Treatment
Melasma Treatment
Weight Loss Treatment
Specializations
Dermatologist
Trichologist
Aesthetic Dermatologist
Education
MBBS - Rajiv Gandhi University of Health Sciences, Bangalore - 2016
M.D - Dermotology, Vernelogy & Leprosy - Goa University - 2020
Registrations
Karnataka Medical Council - 2022
Client Reviews
Read below what our esteemed clients have to say about us and what makes us the premier provider of skin and hair care services.
Satisfied with laser hair removal
I have undergone hair removal treatments , i am satisfied with this procedure and i can see better results. doctor and staff is very nice and cooperative .Thanks to Oliva clinic.
Awesome
Today was my 3rd session of my peeling Dr.Jyoti so cool doctor she always guide and provide the right solution as per your skin condition. During peeling process Dr Jyoti make sure that process become comfortable and pain less and Anita Dr Assistant also make you comfortable and make your session more enjoyable and peaceful. Please visit Oliva in case you have skin problems and you have spend lot of money in other clinic.why can't try once you will not regret more
Treatment gave me phenomenal results
Professional attitude but a very polite and patient way of communication of Dr Sanjay is very appreciable. Oliva's HRBR layout clinic is superb in terms of all facilities. The staff and doctors are also the best here. My skin treatment has given me phenomenal results and now I have that Korean glass skin that am in love with!
Results will not disappoint you. 
If you don't want to waste your precious time waiting for treatment, don't visit the Oliva clinic on weekends. But I can assure you that their caring attitude, experience as doctors, cut-edging technologies, and results will not disappoint you.
Oliva continues to deliver quality service
Since consulting Dr. Sathvika at Oliva for melasma treatment, my skin has evened out and looks radiant. Amazing that Oliva continues to deliver service of the highest quality.
Doctor has a very pleasant presence
Dr. Jaya has a very pleasant presence. She makes the LHR treatment very comfortable and any questions I have are patiently answered by her.
Experience was terrific
If you are looking for the best place to get skin-lightening treatment, then Oliva is the right choice, in my opinion. I have been there myself to get one; the whole experience was terrific!
Marks on my stomach are entirely gone.
It was comfortable to undergo the stretch mark removal treatment in Oliva. There are no adverse effects of this treatment. The marks on my stomach are almost entirely gone.
Top-notch technology
Dilshad Shetty at Oliva evaluated me for sagging skin. She explained the Intragen treatment in detail. I will consider it since the clinic's equipment, and technologies are FDA-approved and top-notch.