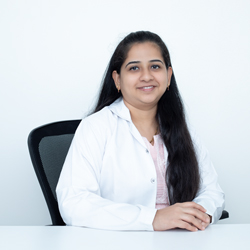 Dr. Azra Fatima N
Consultant - Dermatologist
MBBS, DDVL - Diploma in Dermatology, Venereology & Leprosy
Reg No. 97834
Dr. Azra Fatima N is an experienced Consultant in Dermatology with expertise in Dermatology, Venereology, and Trichology. She is an MBBS graduate from the Tamil Nadu Dr. M.G.R. Medical University (TNMGRMU) in 2012 along with a Diploma in Dermatology, Venereology & Leprosy (DDVL) from the same institute in 2017.
She is an experienced professional having been registered with the Tamil Nadu Medical Council since 2012. She is also a proud member of the Medical Council of India (MCI). She currently is a consultant at Oliva Skin and Hair Clinic in the Anna Nagar branch of Chennai.
Services
Laser Hair Removal
Acne Treatment
Acne Scar Treatment
Hair Fall Regrowth Treatment
Skin Lightening Treatment
Pigmentation Treatment
Dull Skin Treatment
Skin Whitening Treatment
Anti Ageing Treatment
Dermal Fillers Treatment
Stretch Marks Removal Treatment
Mole Removal Treatment
Wart Removal Treatment
Melasma Treatment
Weight Loss Treatment
Specializations
Dermatologist
Trichologist
Aesthetic Dermatologist
Hair Transplant Surgeon
Education
MBBS - The Tamil Nadu Dr. M.G.R. Medical University (TNMGRMU) - 2012
DDVL (Diploma in Dermatology, Venereology & Leprosy) - The Tamil Nadu Dr. M.G.R. Medical University (TNMGRMU) - 2017
Registrations
Tamil Nadu Medical Council - 2012
Memberships
Medical Council of India (MCI)
Client Reviews
Read below what our esteemed clients have to say about us and what makes us the premier provider of skin and hair care services.
Very Good
Visited Oliva clinic for the first time for pimple treatment, Experience was very good, Dr. Lakshmi Durga mam patiently listened to all my concerns, explained the issues in detail, then suggested the best of solutions. I recommend the clinic for the patience and experience of Dr.Lakshmi Durga mam.
My skin looks and feels amazing
Oliva's laser toning treatment has improved my skin tone. Dr. Nivethitha performed treatment more effectively. My skin looks and feels amazing after her risk-free treatment. I love Oliva's excellent quality of services.
Thanks for giving my youthful look back.
Thanks to Oliva for giving my youthful look back. Truly an excellent anti-aging treatment, and that too with no troubles at all. I highly recommend Oliva to all in a similar need.
Best clinic for laser toning
I experienced an improvement in skin colour after undergoing a laser toning treatment at Olivas Anna Nagar Clinic. Best clinic for laser toning.
Treatment made my skin lighter
Chennai weather is so harsh that even minimal exposure to sun has its own consequences. I was a victim of dull and dark skin due to the nature of my job. I visited Oliva Clinic in Anna Nagar and got the Laser Toning treatment which made my skin two shades lighter in just about three sittings.
Oliva offers practical & advanced treatments
Oliva really offers practical and advanced medical treatments to manage stretch marks. I liked the service provided by Dr. Lakshmi Durga and loved the results of the laser treatment she recommended.
Appearance of stretch marks reduced
My daughter had many stretch marks, and I wanted her to get treated before marriage. The doctor at Oliva suggested MNRF, the appearance of stretch marks has drastically reduced under doctor's professional care.
Could see cleanliness everywhere
Dr. Hari Priya was in charge of my case at Oliva Clinic's Anna Nagar branch. I could see cleanliness everywhere, and they took all the necessary precautions for the safety of their customers. They also had some excellent facilities for the companions of the customers. Truly impressed.
The package was affordable
The results of the weight loss treatment are very satisfactory for me. The package they offered me was affordable and the treatment worked wonderfully on me. All thanks to the overall contouring services they had provided me.