How To Remove Body Hair For Women?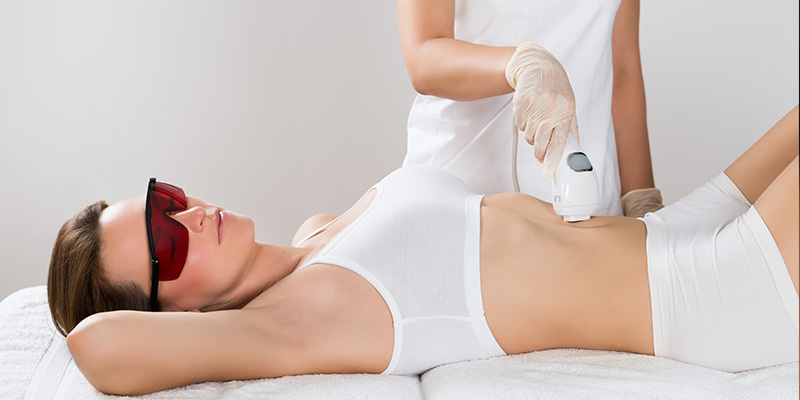 Hair growth refers to a condition when women get dark and coarse hair on the body. Generally, women get thin hair on the face, chin, chest, abdomen, arms, legs, private parts and back. However, when these hairy patches become recognisable, it becomes an embarrassing concern. Let's see what can you do about this.
What Causes Unwanted Hair Growth In Females?
In women, hair growth is guided primarily by the genetic system and the hormones. While the genetic makeup is out of our control, other factors can impact the hormonal system and create an imbalance, even leading to the growth of unwanted at unlikely areas. The main causes of excessive hair growth in women are –
In some women, there are high levels of male hormones called androgens. Every woman's body produces these hormones at low levels, but when the amounts get too high, it causes excess hair growth on face and abdomen, in addition to severe acne. The high male hormones are seen in women with Poly-cystic Ovary Syndrome (PCOS), Cushing's syndrome, and tumors of adrenal glands.
Puberty, pregnancy, and menopause can also create a hormonal imbalance and affect hair growth in women.
If the excessive hair growth is a genetic condition, one can see unwanted hair growth in the chest region, back, shoulder, and abdomen.
Lastly, medication could be one of the causes of excess hair growth in women. Few of these drugs include un-administered consumption of anabolic steroids, glucocorticoids and Danazol; which trigger hair growth.
Which Body Part Experineces Unwanted Hair Growth?
The most common regions of unwanted hair growth include –
Must Read: How To Get Rid Of Excessive Body Hair?
How To Remove Body Hair In Females?
There are a number of body hair removal options, that are are popular. However, it is important to choose a technique that is efficient, and offers effective results in the long run. Some common hair removal solutions are:
Long-term method i.e. laser hair removal treatment
Short-term methods i.e. Depilatories and medication
Laser Hair Removal For Women

Laser hair reduction targets melanin (a skin pigment) in the hair follicle where it heats the hair stem cells and destroys them. This results in body hair removal in a precise manner, without damaging any surrounding skin tissue. It is a near-permanent solution for hair removal, as the results last long-term. It is one of the safest and most effective solutions for unwanted hair removal in women due to the use of US-FDA approved laser technology.
Must Watch 
The whole treatment is completed in a few sessions spread over a few months, depending upon the dermatologist evaluation of your skin. Mostly, laser hair removal is a lunch hour procedure with no downtime. The upper limit of the session duration is seen in the case of larger body areas such as the back and the legs with thicker hair growth. Some of the popular body hair removal packages available for women are:
Full Body Hair Removal – Many women opt for this service when it comes to laser hair removal as clinics offer lucrative packages for full body laser hair removal, also these are cost-effective when compared to treating individual body parts selectively. It is a more viable choice, if you wish to remove unwanted hair from all areas of the body in a single procedure, including the private parts.
Selective Body Parts – For selective body parts the popular treatments available in skin clinics include:

Facial Hair Removal – Facial hair removal using lasers is becoming more and more popular. Laser hair removal for entire face is available, but it is more popular for lower part of the face which includes chin and upper lip. Laser hair removal for upper face includes cheek and forehead.
Arms, Underarms & Neck Hair Removal – For freedom to wear your choice of outfits, women often go in for hair removal treatment on arms, underarms and neck. These areas of the body are often exposed; also the supple, flawless and smooth skin after laser treatment, enhances your skin's appearance.
Chest, Back & Abdomen Hair Removal – Laser hair removal for female chest, back, abdomen and entire torso is also on the rise among Indian women including upper and lower back, as they are prominent and embarrassing in Indian kinds of outfits.
Hair Removal For Legs – Hair removal on legs can be selective; which includes upper (thigh) and lower leg laser treatment. It may also cover hair removal from buttock region which is becoming very popular among Indian women.
Bikini Area Hair Removal – For aesthetic reasons, women's hair removal from the bikini line is being opted often in skin clinics also as they ensure proper hygiene.
Brazilian Hair Removal – When it comes to permanent removal of hair from private parts in women, Brazilian laser hair removal is a good option for both aesthetic and hygienic reasons. It covers bikini hair removal plus the regions under the panty line.
Depilatories And Medication
Hair Removal Creams: Depilatories are creams that contain strong and powerful chemicals that dissolve the hair shaft and remove the hair, henceforth. The procedure basically involves applying such creams to the unwanted hair areas, letting it sit for a while, and then wiping or washing it off. These creams can be used on face, body and female genetials. These hair removal creams offer a temporary solution only as the hair grows back in a few days. Also, the chemicals present in these creams do not suit every skin type. For examples, depilatory creams when used by people with sensitive skin can often cause mild burns. A patch test is mandatory before using a depilatory cream on your skin.
Medicines: These medicines are sometimes prescribed by dermatologists before laser hair removal treatment, to control the underlying cause of unwanted hair growth. Few of the commonly used medications along with laser as a combination treatment, to get faster and effective results, include –
1. Birth control pills that reduce male hormones (androgen) and minimize facial hair growth in women
2. Anti-androgen blockers
Must Read: Depilatory Cream Vs. Laser Hair Removal – What Works Better?
Why Laser Hair Removal Is The Best? 
For an effective and long term solution for hair removal, laser treatment is the most suitable and recommended option. Unlike the other methods such as shaving, waxing, depilatory creams or medicines, laser hair removal for women gives you results that last long. There are absolutely minimal chances of the hair growing back with this treatment. Whereas, with the other hair removal methods, the hair definitely grows back in a few days/ weeks. Other advantages of laser hair removal are –
Laser hair removal is cost effective in the long run.
It is less painful when compared to electrolysis or waxing.
Laser hair removal is a quick procedure and results can be monitored post each session.
There are almost minimum side effects of laser hair removal.
Laser hair removal treatment works in a very precise manner, and can be easily used to remove unwanted hair from small areas such as the upper lip.
It suits all skin types and hair types and gives most effective results.
It is a safe technique that has been used for permanent hair removal, all around the world, for more than 20 years now.
Advanced USFDA approved technology is being used by good skin clinics, under expert dermatologist, that has made LHR one of the most popular treatment
Know why laser hair removal is the best method available:
It is time to say goodbye to all that unwanted hair and go smooth by opting for a world-class skin clinic that offers state of the art laser hair removal treatment. Make sure that the clinic you pick has experienced dermatologists and uses only US-FDA approved equipment to perform laser hair removal.