Botox Treatment In Bangalore: Cost, Procedure & Results
The appearance of ageing signs is inevitable, but if they appear sooner than they should, it becomes a cause of concern. The reasons can be your genetic composition, stress, or poor lifestyle habits. But you need not worry anymore.
Top dermatologists at Oliva Skin & Hair Clinic in Bangalore, present in 8 strategic locations, are adept at performing Botox treatment effective in treating ageing signs like wrinkles, smile lines, forehead lines, crow's feet etc. They perform this advanced, USFDA-treatment assuring your safety and comfort.
Continue reading about the Botox procedure at Oliva Clinic, Bangalore, its benefits, and what to expect, along with client reviews to make an informed choice for your ageing signs.
Botox, short for botulinum toxin, is extracted after fermenting the bacterium Clostridium Botulinum, found in the soil. In this advanced, minimally-invasive procedure, specially-trained dermatologists inject the extract into the areas to be treated. Botox reduces the contractions of facial muscles and relaxes them by blocking certain chemical signals from the nervous system. Botox treatment for wrinkles and fine lines involves its use in small doses to decrease your ageing signs.
Botox is USFDA-approved and improves your appearance when expert dermatologists administer small doses in targeted areas. It can treat the following ageing concerns:
Horizontal creases in the forehead
Glabellar lines or lines between the eyebrows (severe to moderate)
Bunny lines or lines on the bridge of the nose
Drooping eyebrows for a lift
Crow's feet or lines and wrinkles around the outer corner of the eyes
Cobblestone lines on the chin
Sagging or droopy skin on the neck
Smile lines at the corners of the mouth
How Is A Botox Procedure Done?
Before we understand how a Botox procedure is done, note that you must visit a trustworthy clinic with qualified doctors for the best results and zero complications.
At Oliva Skin & Hair Clinic, present in 8 strategic locations in Bangalore, only experienced dermatologists perform Botox treatments. Thus, you can be assured of safety, comfort and guaranteed results.
Here is a step-by-step explanation of how Botox procedure is done: 
A specially-qualified dermatologist will assess your face to identify ageing signs and areas that need treatment and analyse the severity of wrinkles, lines and creases.
Based on this assessment, they will create a treatment plan, identify the target areas, and finalise the number of Botox units you will need. Our doctors will also give you a realistic picture of what you can expect post-treatment, the duration it takes for the results to show and how long the treatment lasts. These aspects vary for every individual.
At Oliva, the treatment session is a lunch-hour procedure with no significant side effects or downtime. Our doctors use topical anaesthesia to further ensure you do not have any discomfort.
After applying topical anaesthesia, our trained therapists clean the area. The doctor then dilutes the Botox with saline and injects it into the target area using fine needles, with minimal pain.
What Areas Of The Face Can Be Treated With Botox?
Botox can treat the following facial areas:
Upper face: Frown lines, forehead lines and bunny lines that appear on the top of the nose
Eyes: Eyebrows or hooded eyes, Crow's feet around your eyes, tear troughs under the eyes and hooded eyes for a lift
Lower face: Lipstick lines around the lips, smile lines, sagging chin or jawline, chin to prevent dimpling, and neck lift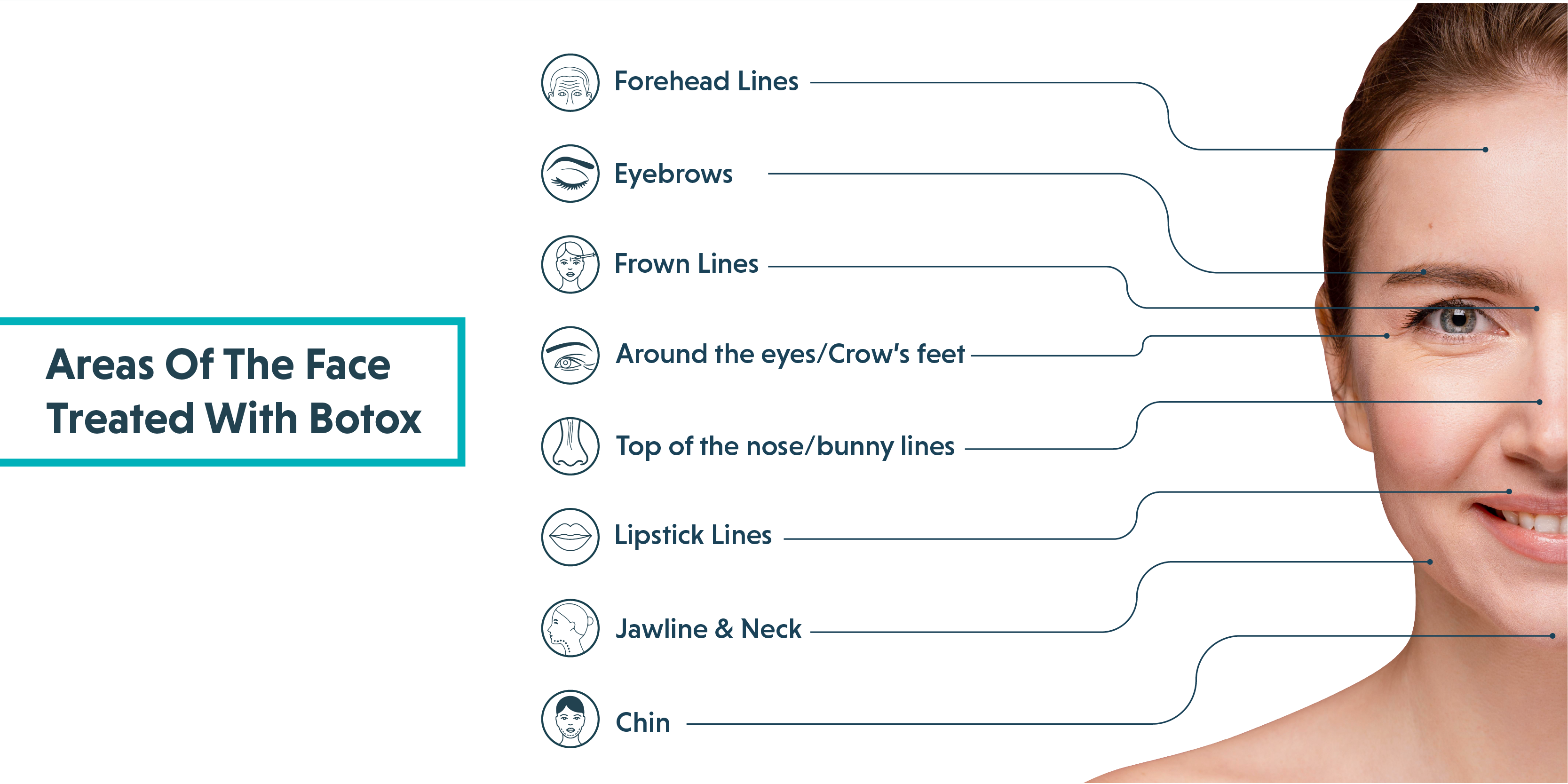 What To Expect After This Treatment?
On average, it takes around 2-3 days to see visible improvement in your skin after Botox treatment. But this can vary from person to person. The results last approximately 4-6 months and are different for every individual based on the area, the concern, and the number of Botox units used.
You will achieve the desired results when you follow the post-care instructions diligently:
Don't rub the treated area
Avoid any parlour services like threading, waxing for a week
For a minimum of 4 hours after the treatment, don't bend forward or lie down flat
Skip any kind of facial massages for one month
Use doctor-recommended creams as prescribed
Don't apply makeup for a day
Don't exercise for a day
Don't swim or use the sauna for three days after the treatment
Use sunscreen without fail. Reapply every 3 hours
What Are The Risks And Side Effects Of Botox Treatment?
Botox treatment, just like any other treatment, can cause side effects. These include:
Pain and redness at the site of injection
Symptoms similar to flu
Swelling or bruising
Crooked smile
Headaches that may last 1-2 days (very rarely)
Dry eyes, tearing and double vision
Drooling
In more severe cases, droopy eyelids for 3 weeks
Allergic reactions resulting in rashes, itching and asthma-related symptoms
Our well-trained and experienced doctors at Oliva follow USFDA-approved precautions and protocols, minimising side effects and ensuring you have a safe, comfortable and risk-free treatment process. You will likely experience redness in the treated area that subsides quickly.
Here are the top reasons why you should opt for Oliva Skin & Hair Clinic if you are looking for Botox treatment in Bangalore:
Oliva Skin & Hair Clinic is the No.1 clinic in the country, offering diverse and customised skin and hair solutions, as per the Times of India.
Our medical expertise remains unmatched by any of our competitors in the country.
We have 8 state-of-the-art clinics in prime locations in Bangalore equipped with advanced, highly-sophisticated technology for the convenience of our clients.
Our 100+ dermatologists are highly trained and experienced in providing the best medico-aesthetic solutions. We have more than 6,00,000 happy clients with a 91% satisfaction rate.
Click here to find the best dermatologists in Bangalore
All our treatments are USFDA-approved, and our doctors follow global safety protocols to ensure client safety and comfort, which are Oliva's top priorities.
If you want to get rid of ageing signs with safe, non-surgical Botox treatments in Bangalore, fill out the Book Appointment form. Our customer care team will get in touch with you to schedule an appointment at a time and location convenient to you. You can also call us at 📞1800-103-3893 to book a consultation with our top dermatologists for your Botox treatment.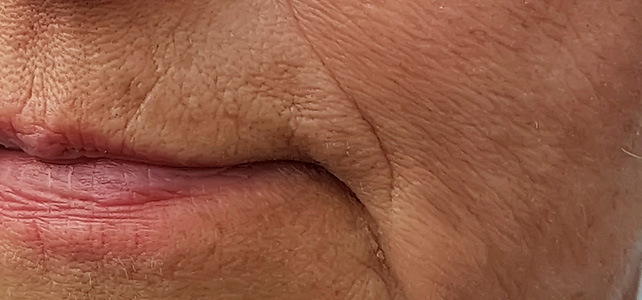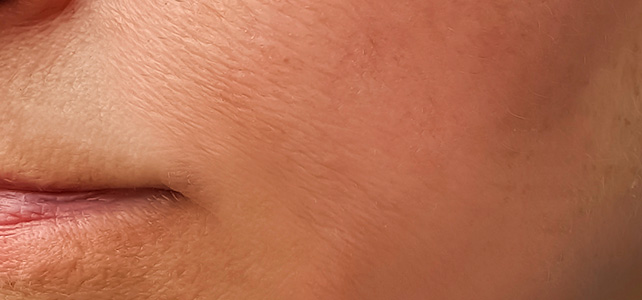 *Images are from real clients, and results can be subjective
Before & After Results Of Botox Treatment
Take a look at photographs of the client who underwent Botox treatment at Oliva Skin & Hair Clinic and got rid of ageing signs safely.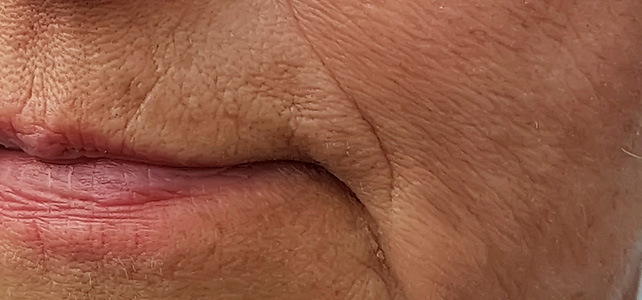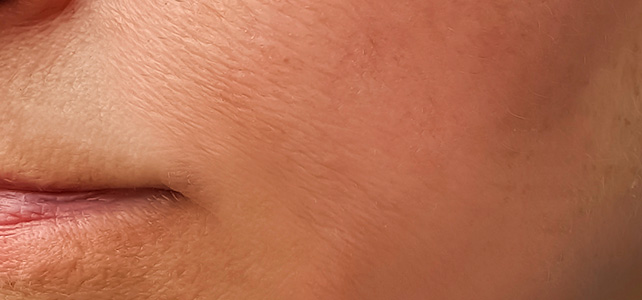 Treatment results may vary from person to person
FREQUENTLY ASKED QUESTIONS