Acne Scar Treatment Clinics In Bangalore
Best Acne Scar Removal Doctors Near You
A confident face is one that is blemish-free – absolutely without any scars or marks like the ones left behind by acne. In many cases, among women and men, pimples often leave behind trails in the form of scars of different shapes and sizes. These scars can damage the skin texture and make it look uneven and unappealing.
The common concern of acne scars and its fruitful treatment, plagues teenagers and adults alike. It requires immediate attention as these scars can last forever if not treated in time.
Acne may be caused due to different reasons such as puberty, hormonal imbalances, etc. Any type of acne involves skin inflammation which damages the connective tissues in the skin's layers. The skin texture changes and it develops depressions that are either smooth, rugged or have defined edges. This damage presents itself in the form of different acne scars such as ice pick scars, box scars, and rolling scars.
Pimples are caused due to excess oil and bacteria on skin pores. These skin lesions become easily inflamed, as this is a natural mechanism by the body to heal the skin. However, increased inflammation results in the formation of acne scars. The inflammatory response by the body is the primary cause of acne scars. Another common reason of getting acne scars is when the pimples are picked at. This interrupts with the natural healing process and causes acne scars.
Body areas with higher concentration of sebaceous glands are prone to acne and acne scars. They include facial areas like cheeks, forehead, nose, chin, shoulders, back, and any other body part that is prone to developing pimples.
If you are thinking that scars from pimples are not treatable as they are a type of permanent damage that occurs to your skin, then you are wrong. The dermatology field is extremely advanced and has special equipment's that use laser technology and other procedures to lift up the skin and permanently get rid of acne scars for you.
Initial Consultation – Your treatment begins with an initial consultation with dermatologist, to understand and assess your skin for evaluating the root cause of acne scars. After having carefully examined your acne scars, the dermatologist will suggest the right technique to get rid of your acne scars for good. Then the doctor will explain the treatment goal, expected results, number of sessions required for desired outcome, pricing, etc. and all other details related with the treatment course.
Your Individual Cause – In the initial consultation at Oliva, the dermatologist not just evaluates the damage caused by the scar, but also determines the underlying factors which have given rise to acne and acne scars in the first place. This is an important step as treating the root cause, will prevent pimples from popping out further. And, with no breakouts there are no chances of acne scars. If required, the dermatologist may prescribe you oral and topical medications, for bringing the acne under control.
Treatment Course – The course of treatment for optimal removal of acne scars usually involves six to eight sessions. Many a times, as different types of scars are present at on the skin, different techniques are employed during each session. Our dermatologist will explain you in detail, about the various techniques that are a part of your treatment course.
Post Care Advice – Post care advice is extremely important for most effective results. Our dermatologist will explain the specific after-care regimen, that needs to be followed for the type of treatment you have undergone. Sunscreen usage is mandatory post any treatment similarly other skin care advice will be explained in detail.
Depending on the type of scar present, there are different treatments available at Oliva Bangalore. The various options are –
Pixel Laser Resurfacing – This procedure involves using a state-of-the-art fractionated Erbium YAG laser. Pixel is extremely effective in stimulating the production of collagen, which results in elevating the scars and improving almost all types of scars and lines. It gives your skin a dramatically rejuvenated appearance, as it encourages younger skin to emerge. Additionally, the color and texture of your skin becomes lighter by getting rid of blemishes and giving it the perfect makeover. This is an almost painless procedure when combined with a numbing cream and is completed in about 20-30 minutes.
Secret – It is an innovative technology that uses microneedling radiofrequency, to stimulate collagen production in the skin and make the skin's surface even and smooth. Apart from acne scar removal, it can also be used for eliminating fine lines, wrinkles, stretch marks, and even open pores. This procedure has no downtime.
Peels – If you are suffering from flat scars or pigmented scars then the superficial peels at Oliva are an apt treatment option. Within 4-5 days, the top layers of the skin peels off and reveals a clear, unblemished skin. A specialized chemical peel known as the TCA Cross peel is used for treating ice pick scars specifically at Oliva Bangalore.
Scar Excision – This is an effective method for dealing with deep scars, which involves excision of the scar with a small pen sized punch and suturing it back to ensure that the scar is removed completely. This is done under local anesthesia to minimize discomfort.
Acne scars can be as devastating as acne breakouts. Our team of expert dermatologists at Oliva clinic, specializes in acne scar treatment. With more than 91% satisfied clients, we are proud to say that the acne scar treatments at Oliva Clinics in Bangalore have improved the lives of many clients. Below are a few reasons why Oliva Clinics stands' out in the crowd –
We have rigorously trained and well qualified dermatologists who have years of experience in treating acne scars.
Every clinic in Bangalore is equipped with advanced US FDA approved equipment. We only use the best in class technology, which is specially chosen to work for the Indian skin.
Every acne scar treatment; Pixel Laser Resurfacing, Subcision, Peels or any other treatment, are all available at all our centers that are conveniently located across Bangalore.
All our acne scar treatments are customized, considering the client's skin requirements, acne scar density, and other essential factors that are determined during the initial consultation.
Follow up consultations through the course of the treatment are conducted to monitor the progress and alter the treatment course, if required, to get the desired results.
Our extensive checklists and contraindications list ensures that every single treatment is safe and effective.
Oliva Clinics assigns a personal consultation and service room to every client where in, only the consulting doctors and assisting therapist can enter. Your privacy and comfort are of prime importance to us.
You can call on 1800 103 3893 to book an appointment or use the 'Book  Appointment' form on our website to do the same. Our experts are here to clarify any doubts you may have. We have laser hair removal centers in seven different locations in Bangalore and these are present at HRBR Layout, HSR Layout, Indiranagar, Jayanagar, Koramangala, Sadasivanagar and Whitefield locations.
.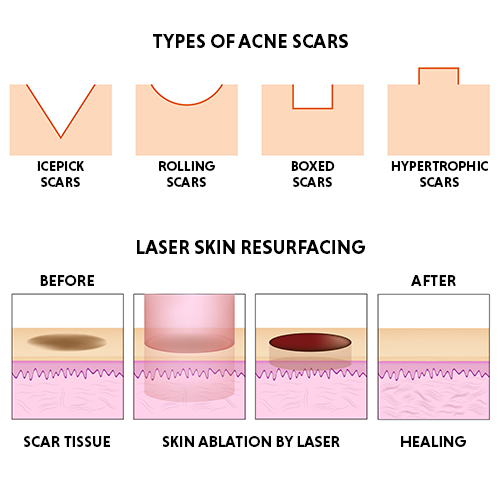 WATCH OUR ACNE SCAR REMOVAL TREATMENT VIDEO
Wondering how is scar removal treatment done at Oliva's Bangalore clinics? Well! Watch a detailed video including before and after results from each of our scar revision treatments, highlighting how these procedures work.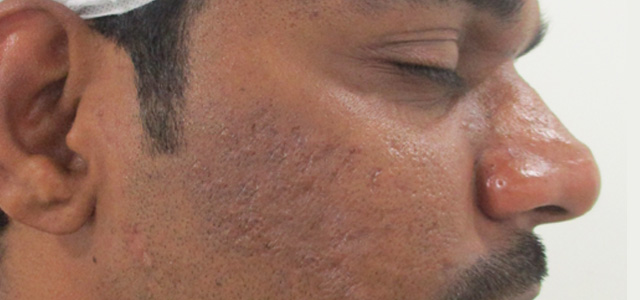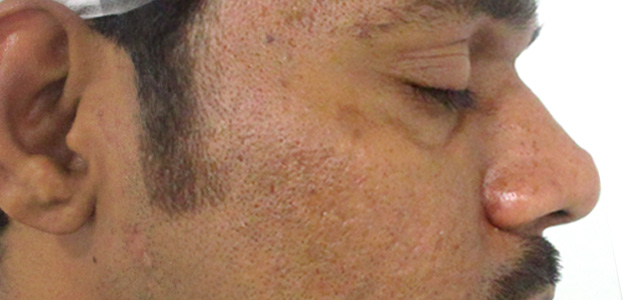 *Images are from real clients, and results can be subjective
Before & After Results Of Acne Scar Treatment
Check out real images of our clients before and after the sessions of pimple/ acne scar removal treatment at Oliva.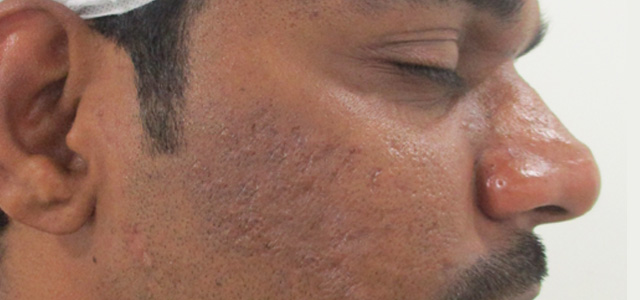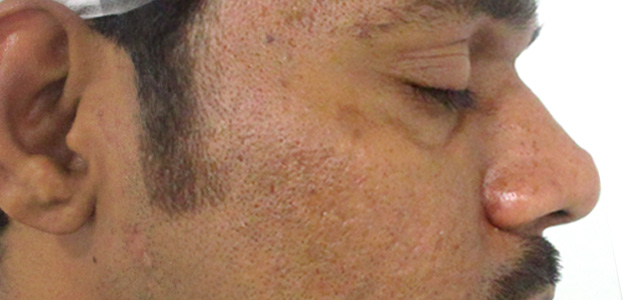 Treatment results may vary from person to person
Client Reviews
Read below what our esteemed clients have to say about us and what makes us the premier provider of skin and hair care services.
happy customer
Excellent result highly recommend oliva
Reviewed us for : Acne Scar Treatment
Sagar Wagge
The Best
I have been to here for my acne scar treatment. The prices are reasonable for the standards. Staff is very professional, and the doctors too are efficient. The location of the clinic is also convenient. Overall a great visit.
Reviewed us for : Acne Scar Treatment
Imran Immu
Best Scar Removal Treatments
I had heard that Oliva Clinic in Indiranagar has the best skin specialists. Hence, I decided to consult them for acne scar removal treatment. I went for the Pixel treatment for acne scars, and I am thrilled with the result! The scar is hardly visible anymore, and there is a lot of improvement in my skin as well. Do visit this clinic if you are searching for the best treatment for acne scar and the best skin specialist in Indiranagar!
S
Reviewed us for : Acne Scar Treatment
Swapna Yelamanchili
Professional Services
I visited Oliva Skin Clinic in Indiranagar. In just six months, I got visible results from my laser treatment for C-sections scars. The staff is professional and very helpful. The doctor gives the best treatment depending on the diagnosis — extremely professional and result-oriented clinic. A must visit for all skin and hair related concerns. Very happy to have consulted the best dermatologist in Indiranagar!
K
Reviewed us for : Acne Scar Treatment
Kalyani G
Wonderful Experience
I had a wonderful experience at the Oliva Skin and Hair Clinic Indiranagar, which I consulted for treatment for scars. During my consultation, the skin specialist informed me that I had ice pick acne scars and suggested a suitable treatment for it. I have completed all the sessions of my ice pick scars treatment, and the results are amazing! Thanks, Oliva!
B
Reviewed us for : Acne Scar Treatment
Bhagavan Das
Extremely Satisfying Services
I have had an extremely satisfying experience at the Oliva clinic in HSR Layout which I had visited for an acne scar removal treatment. I consulted their best skin specialist who recommended me to go for the Pixel treatment for acne scars. Post my treatment, I was amazed to see the difference in my skin. It was definitely the best treatment for acne scar! I also liked how well they have maintained the clinic, it gives out a very nice and warm ambience, the staff is approachable and the dermatologist also spends adequate amount of time to understand the concerns....
R
Reviewed us for : Acne Scar Treatment
Rekha Varma
C-Section Scar Removal
Visited the Oliva skin clinic HSR Layout as I wanted to get rid of my C-section scars. They have the best dermatologist in HSR Layout and I wanted to ensure that I get the best treatment. I had gone for their laser treatment for C-section scar removal and I am very happy with the results. The scars have almost become invisible and I did not feel any pain as well during the treatment. The staff was also extremely supportive and helped me whenever I approached them. Thank you so much Oliva!
B
Reviewed us for : Acne Scar Treatment
Bhuvaneswari Devi
Knowledgeable & Experienced Dermatologist
I was suffering from ice pick acne scars and was looking for the best skin doctor in HSR Layout. My friend suggested the Oliva skin and hair clinic HSR Layout as she had heard about their treatment for scars. I consulted their dermatologist who suggested the ice pick scars treatment. I have completed 2 sessions and have 4 more sessions to complete. I can already see a slight improvement in my skin and I am hoping that the end result will be awesome as well. I was very impressed by the dermatologist's knowledge and experience and knew that I was...
R
Reviewed us for : Acne Scar Treatment
Rekha Adapa
Visible & Remarkable Results
It has been already 6 months from the time I started taking acne scar removal treatment at Oliva Clinic in Jayanagar. Can see a great reduction in the scars on my face, courtesy the pixel treatment for acne scars prescribed by the best skin specialist in Jayanagar. I strongly suggest this clinic to people who are looking for the best treatments for acne scars. Oliva is your best bet!
U
Reviewed us for : Acne Scar Treatment
Uday Kumar
Why Oliva
Experienced in-house team of
Certified Dermatologists

Comprehensive one-to-one
consultation with the doctor

Advanced US-FDA approved
equipment

Well trained and certified
therapists

Served 2,50,000 happy customers
and counting

Stringent guidelines and set
protocols for better service efficacy
Frequently Asked Questions on Acne Scar Removal Procedures