STRETCH MARK REMOVAL TREATMENT IN BANGALORE
No matter who gets them and where you get them, stretch marks are an annoyance. They can make your skin look very unsightly and refrain you from wearing your favorite clothes, for the fear of people around you noticing them. Simple body creams and lotions are great to maintain the hydration in your skin, but they do nothing for stretch marks. A potent treatment is required to fade them away and restore your skin to its former glory.
Stretch marks are dermatologically referred to as striae, and these are lines with or without ridges that develop on the skin. In their initial stages, these marks are red/pink in color, and with time, they turn silvery white. They affect both men and women, irrespective of their age.
When the skin stretches beyond its elastic capacity, a tear in the supporting connective tissue within the skin leads to the formation of a stretch mark. This stretch of the skin is most commonly associated with –
Pregnancy
Obesity
Usage of corticosteroid creams or lotions and oral corticosteroids for few medical conditions can reduce the skin's elasticity and increase your chances of developing stretch marks.
Weight gain due to other causes
Symptoms of stretch marks are –
Lines or marks that are indented into the skin
Purple, red or pink colored streaks that change color to blend into the skin and eventually become silvery white
If you belong to any of the following categories, you have more chances of developing stretch marks on your skin –
If you are pregnant
If you lose or gain weight suddenly
If you are obese
If you have a family history of stretch marks
If you use corticosteroid medications for prolonged periods without medical supervision
Stretch marks are most commonly seen on these body parts –
Abdomen
Breasts
Upper arms
Thighs
Buttocks
Lower back
Behind the knees and
Calves
At Oliva Clinics in Bangalore, we primarily offer two different types of treatments to remove stretch marks. Let us look at these treatments individually.
Secret MnRF – Secret RF is a bipolar microneedling radiofrequency equipment, where radiofrequency energy is passed through the affected skin. It works on the principle of enhancing collagen production and initiating tissue remodeling using heat energy. When the hand-piece is applied on the skin, heat energy is generated. This penetrates into the layers of the skin and rejuvenates the collagen thereby reducing the appearance of stretch marks. It is a godsend technology when it comes to treating stretch marks.
Secret MnRF is an advanced treatment option to remove stretch marks from abdomen, breasts, thighs, buttocks, and other areas of the body. Its benefits include –
US FDA approved equipment for stretch marks removal
Noticeable results seen for both old and new stretch marks
Does not damage the surrounding skin or the skin's upper layers
Safe for use on all skin types and colors, even for people with sensitive skin type
Does not have any downtime, i.e. there is no recovery period, and you can go on with your daily activities as usual, after the treatment session.
Chemical Peels – For fairly new stretch marks, the dermatologists at our clinics may also recommend to get a chemical skin peeling done. This procedure utilizes naturally derived acids that are safe for use on the skin. The solution, when applied to the target area, exfoliates the top layers of the skin efficiently. It can help lighten blemishes such as stretch marks in some cases.
At Oliva Clinics in Bangalore, the Secret MnRF treatment for stretch marks is widely used and is performed using the following protocol –
The process starts with initial consultation with the dermatologist who will examine and assess the cause and intensity of your stretch marks. A thorough analysis by the doctor will help in determining the right course of treatment with the Secret MnRF technology.
Once the initial consultation is completed, proper pre-care is explained before the actual session. The target area is prepared with priming creams for better results. These creams are to be used for two weeks or as per the doctor's advice.
On the day of the treatment session, the area to be treated is cleaned and a topical anesthetic is applied.
After about 45 minutes to one hour, once the anesthetic cream has successfully numbed the target skin, the dermatologist would perform the procedure targeting even the smaller areas of the skin. She will slide the equipment's hand-piece over this area slowly and carefully so that every small section of the skin is covered.
Depending on the size of the skin area being treated, this part of the process can take 45 minutes to 90 minutes.
Once this step is completed, the assisting therapist will clean the area, and you can rest for a couple of minutes before you can carry on with the rest of your day.
Before you leave the clinic, the dermatologist and the certified skin therapist provide post-care instructions.
Our clinics in Bangalore offer you the best service in town that will provide you with the results that you desire to see. Our dermatologists customize a treatment plan which will get rid of your stretch marks and give your skin a rejuvenated and blemish free appearance. You should choose Oliva because –
We have an excellent team of dermatologists and certified therapists to cater to your skin needs.
A holistic approach is followed by our doctors for the treatment of your skin concern. This ensures results that are evident and long lasting.
Our dermatologists are highly experienced in treating stretch marks and have performed the procedure successfully on thousands of clients.
We use state of the art technology for stretch marks removal and the Secret equipment used is US FDA approved.
A systematic approach is undertaken at all our clinics while adhering strictly to our set tested protocols and safety measures.
Every treatment at Oliva Clinics is customized as per the individual skin's requirements.
Book an appointment today by calling 1800 103 3893. You can also schedule one at per your convenience by filling out the 'Book An Appointment' form on our website. Our clinics are conveniently located across Bangalore, including Indira Nagar, Jayanagar, HRBR Layout, Koramangala, Sadashiv Nagar, HSR Layout, and Whitefield.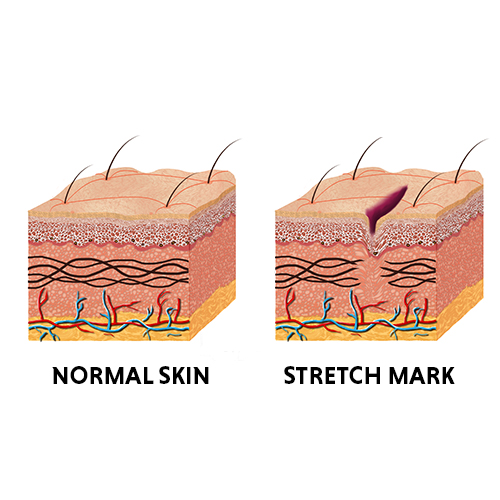 Stretch Marks Removal Procedure Explained By Dermatologist
Oliva offers advanced treatments for stretch mark removal. Check out the details on our procedures and gain deeper insights into how the treatment proceeds, under an expert dermatologist.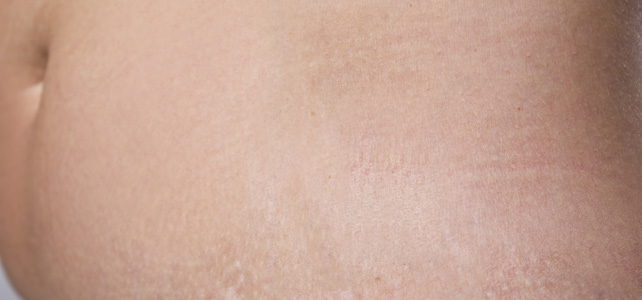 *Images are from real clients, and results can be subjective
Before & After Results Of Stretch Marks Removal Treatment
Check out real images of our clients before and after the sessions of stretch removal treatment at Oliva.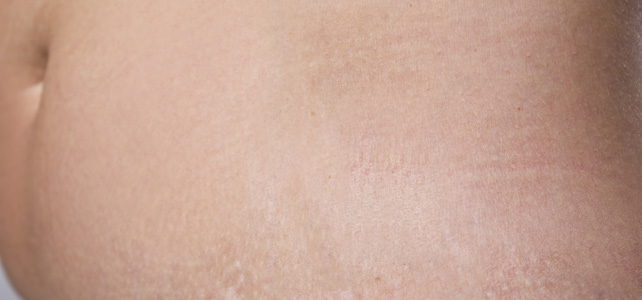 Treatment results may vary from person to person
Client Reviews
Read below what our esteemed clients have to say about us and what makes us the premier provider of skin and hair care services.
Amazing Services
Visited the Oliva Clinic in Alwarpet for an underarm hair removal procedure. Went ahead with their laser hair removal treatment and so far the results have been satisfactory. The staff and the dermatologist are friendly, experienced, and cooperative. The quality of equipment and the thoroughness of the evaluation are 100%.  Ideal for cautious types who are careful about what they put on their skin.
G
Reviewed us for : Laser Hair Removal
Greeshma rani
Love the Results
My neighbour who had taken treatment from Oliva Clinic Alwarpet and got excellent results advised me to consult them once for my hair problem. I consulted the dermato trichologist who did a detailed scalp analysis and told me to undergo PRP hair treatment. I started my PRP sessions, and by the 4th session, I noticed that my hair started to regrow and hair fall had completely stopped.  I just loved the results and highly recommended this clinic to anyone looking for a PRP hair treatment.
R
Reviewed us for : PRP Hair Loss Treatment
Rajshekar Goud
The solution for Blackheads
I was suffering from an acne problem for quite a while. My face was full of black heads, and acne had got the better of my confidence. I heard that the Oliva Skin and Hair clinic Alwarpet has the best dermatologist so I decided to go and consult them. I am happy that I consulted this clinic as the treatment plan suggested to me has done wonders for my face! It is indeed a permanent solution! Thank you so much, Oliva! Kudos to your ever helpful and friendly staff as well!
N
Reviewed us for : Pimple Treatment
NavJeevan Kumar
Experienced & Professional Dermatologist
I went to Oliva Clinic Alwarpet for scar removal treatment. Was glad to see the dermatologist was experienced and involved throughout the treatment as well as after.  I was pleased to see the results of my treatment were exactly as it was explained by the doctor during my consultation. Great job Oliva!
A
Reviewed us for : Acne Scar Treatment
Aasma Farooq
Permanent Hair Removal Treatment
Booked an appointment with the skin specialist at Oliva Clinic Alwarpet for laser treatment–hair removal. Had heard a lot about their painless technology and wanted to give it a shot. Results have been truly extraordinary! I am impressed with the clinic's ambience, hygiene and welcoming environment. Even the supporting therapists are well-versed with the details and care instructions — It is an ideal clinic for those who are looking for a permanent solution for their unwanted hair.
S
Reviewed us for : Laser Hair Removal
Shravya Shubam
Best PRP Treatment Clinic
I am very happy with Oliva Clinic Alwarpet, which I had visited to get a PRP treatment for hair fall. I consulted their best dermatologist there who assured me that I would be able to successfully improve my hair volume and reduce the amount of hair fall. Apart from the experienced dermatologist, the staff, clinic's cleanliness, explanation of the procedure and pre- and post-care instructions, etc., will make your experience a truly successful one!
R
Reviewed us for : PRP Hair Loss Treatment
Ramakrishna Raju
Excellent Clinic
Had a wonderful experience with the service, staff, and dermatologist at the Oliva Clinic Alwarpet. The ambience, hospitality and of course the treatment is excellent. I've had severe acne for a long time, and I had lost all hope, but Oliva helped me. The treatment has boosted my confidence. My journey with them started seven months back and now in the last leg. The best skin clinic in Alwarpet! Thank you, Oliva.
B
Reviewed us for : Pimple Treatment
Bhasker Reddy
Scar-free Skin
I have been taking treatment for pimple marks at Oliva Clinic Alwarpet for the past three months. There has been a huge difference, and I my skin is almost scar-free now thanks to efforts of the skin specialist as well as the staff. I feel this is the best clinic in Chennai, and I will surely recommend it to anyone who is looking for a clinic to get rid of their skin problems.
C
Reviewed us for : Acne Scar Treatment
Chandru Dikshith
Best Skin Doctors
When it comes to finding the best dermatologist and the best clinic in Chennai, then the answer is Oliva Clinic in Alwarpet! A great place for getting rid of your dull skin through skin lightening treatment. Apart from the successful results, I was also impressed by the ambience of the clinic, the safety ensured, protocols followed, etc.
V
Reviewed us for : Skin Lightening Treatment
Vidhya Dharan
Why Oliva
Experienced in-house team of
Certified Dermatologists

Comprehensive one-to-one
consultation with the doctor

Advanced US-FDA approved
equipment

Well trained and certified
therapists

Served 2,50,000 happy customers
and counting

Stringent guidelines and set
protocols for better service efficacy
Frequently Asked Questions About Stretch Marks