Melasma Treatment In Bangalore: Cost, Procedure & Results
Melasma is a skin condition that causes discoloured patches in dark women in the 20-40 age group. Melasma is often related to female hormones and can occur due to birth control pills, pregnancy, or menopause. While melasma can be stubborn, leading dermatologists at Oliva Clinic, Bangalore, excel at fading this chronic hyperpigmentation disorder with prescription medications and USFDA-approved laser therapy.
You can make an informed decision here if you are looking for the best melasma treatment in Bangalore from expert dermatologists. Check out our non-surgical treatments, technology, benefits, and medical team.
You may have noticed dark brown or grey patches on your face after pregnancy or prolonged sun exposure and using birth control pills. Melasma, though harmless, can be challenging to treat due to its persistent nature. So, it would be best if you opt for advanced and customised solutions performed by dermatologists trained in minimising melasma.
Where Does Melasma Most Commonly Occur?
The melasma patches usually adversely affect the skin tone of the facial skin and occur on the cheeks, forehead, bridge of the nose, and chin. However, the discolouration may appear on other sun-exposed areas of the body like forearms, chest and back.
What Are The Types Of Melasma?
Melasma can be of different types:
| | | | |
| --- | --- | --- | --- |
| Types of Melasma | Description | Symptoms | Treatable |
| Epidermal Melasma | Overproduction of melanin in the top layer of the skin called the epidermis | Dark brown patches with outlined edges | Yes |
| Dermal Melasma | Pigment build-up deeply embedded in the dermis | Bluish patches with obscure margins | No |
| Mixed Melasma | The most common type of melasma that affects both the superficial and deeper tissue | | It requires a combination of different therapies |
Signs And Symptoms Of Melasma
One of the most common melasma signs is hyperpigmented spots that resemble freckles. They usually grow into brown, blue, or grey patches with defined or diffused circumferences. These discolourations typically occur symmetrically on both sides of the face, especially the cheeks, forehead, nose, chin, and jawline.
There are many potential causes of melasma, but the two most common ones are the following.
Direct exposure to the sun's harmful radiation can cause melasma.
Changes in progesterone and estrogen hormone levels can stimulate excess melanin production. Women undergoing hormonal changes due to pregnancy, menopause or thyroid disorders are prone to have melasma. Those using hormonal medications, including birth control pills, are at high risk.
Additionally, there are a few possible triggers for Melasma:
Family history: You are likely genetically predisposed to develop melasma if someone in your family has it.
Skin colour: Women with a dark skin tone are more susceptible to developing melasma.
Chemical-based skin-care products and medications: Skin-care products containing harsh chemicals can cause irritation and inflammation that leads to melasma. Antibiotics, anti-seizure, diuretics, retinoids and non-steroidal anti-inflammatory drugs can trigger melasma as a side-effect.
How Is Melasma Diagnosed?
Dermatologists diagnose melasma by looking closely at the skin using a Wood's lamp. This special blue ultraviolet light allows dermatologists to assess the depth and type of hyperpigmentation. In some cases, a biopsy may be necessary to confirm the diagnosis.
What Are The Treatments For Melasma?
Melasma is a complex skin condition that can often be difficult to treat. Various treatment options are available, and the best course of action will depend on the melasma type, cause and severity. At Oliva, our expert dermatologists examine your pigmentation thoroughly and customise a treatment plan best suited to your skin condition.
Leading dermatologists prescribe a few different oral and topical medications to treat melasma:
Hydroquinone in 2-4% concentrations can treat melasma by bleaching the discoloured skin. However, it may cause side effects such as redness, dryness, and irritation.
Retinoids can minimise melasma by increasing cell turnover. It gives the best results when used in combination with hydroquinone.
Bleaching agents like kojic, azelaic and glycolic acid, arbutin and Vitamin C destroy the excess melanin in the skin, resulting in a brighter complexion. These skin-lightening agents reduce the recurrence risk after clinical treatments.
Tranexamic acid is a prescription drug that your dermatologist may recommend in oral, topical or injectable form. It inhibits the formation of melanin and helps treat melasma as an adjunct topical treatment.
Hormonal medicines may be the root cause of your melasma, and your dermatologist may taper the dosage or advise a change to treat your hyperpigmentation.
Your melasma may not respond to the above medications, and in that case, dermatologists at Oliva Clinic, Bangalore, may suggest advanced aesthetic procedures such as:
Chemical Peels: This may be a good option if you have superficial pigmentation. Dermatologists may use different concentrations of natural extracts like glycolic and kojic acid to inhibit melanin production in the affected area.
Here is a video where our top dermatologist explains the chemical peel treatment at Oliva:
Laser Treatment: Top dermatologists at Oliva use the latest USFDA-approved Q-switched Nd: YAG laser technology to break down the excess melanin in the deeper layers of the skin. This quick in-clinic procedure is safe for all skin types and helps improve the skin's appearance and tone without significant downtime or side effects.
Watch this video where Oliva's doctor talks about our laser treatment procedure:
Why Choose Oliva Clinic For Melasma Treatment In Bangalore?
Oliva Clinic in Bangalore offers the best melasma treatment because:
Click here to find the best dermatologists for Melasma Treatment In Bangalore.
Our expert dermatologists specialise in custom-designing advanced solutions and offering comprehensive melasma treatments inclusive of both pre-and post-care support to reduce downtime and side effects and assure you of the best results.
All 8 Oliva clinics in Bangalore offer optimal safety using cutting-edge USFDA-approved Q-switched Nd: YAG laser technology at world-class facilities to safeguard your comfort and privacy.
Oliva enjoys an unbeatable 91% rating on the satisfaction scale voted by 6,00,000+ happy customers.
The Times Of India has named Oliva the country's No.1 Skin & Hair Clinic.
But, before you go ahead and book your appointment, check out these dermatologist-recommended skin-care tips to minimise the risk of melasma.
Sun exposure is one of the primary triggers for melasma, so it's essential to take measures to protect your skin from damage outdoors. This includes wearing sunscreen with an SPF of 30 or more and protective clothing like hats, sunglasses and long-sleeved shirts.
In addition to avoiding sun exposure, you can prevent melasma by following a healthy diet and skin-care habits. For example, eating fresh fruits and vegetables can increase your vitamin and mineral intake and boost your skin health. Using gentle, non-abrasive cleansers and moisturisers suited to your skin type can help avoid irritation that causes melasma flare-ups.
If you are taking hormonal pills or contraceptives, ask your doctor if they could be causing melasma as a side effect. In some cases, switching to a different medication may help lessen the severity of the pigmentation.
However, if you think the above tips are not working for you and you are noting signs of discolouration, seek early medical help to get the best melasma treatment in Bangalore and enjoy the desired results. Call us at 📞1800-103-3893 or submit your contact details by filling in the Book Appointment form. Our customer care team will revert at the earliest to schedule your consultation with our dermatologist at your nearest location, date and time of your choice.
We look forward to seeing you at our clinic soon and offering our world-class melasma treatment!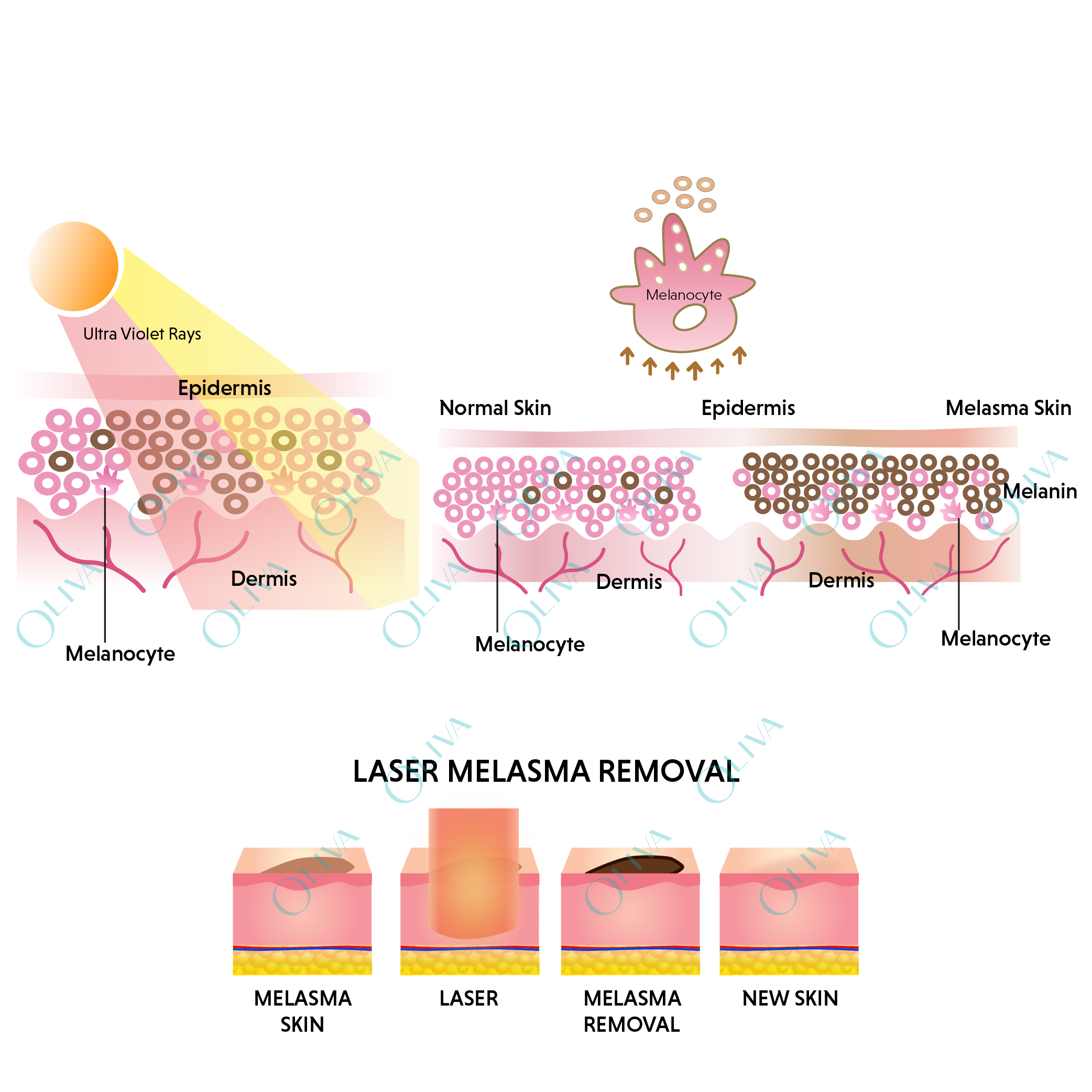 FREQUENTLY ASKED QUESTIONS