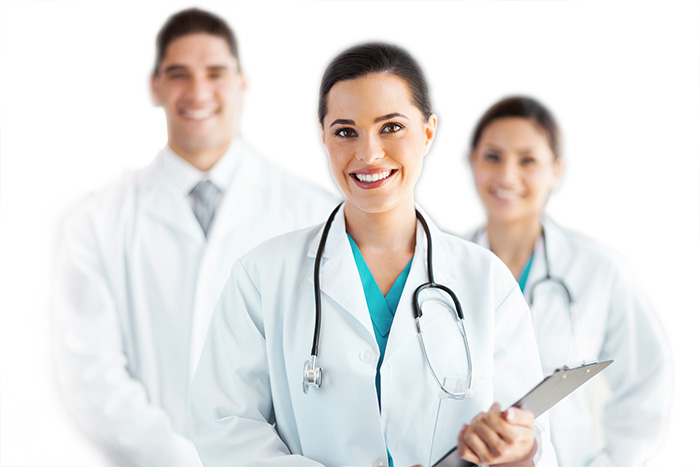 SPECIALIZED DERMATOLOGISTS IN ALWARPET
LEADING CHAIN OF SKIN AND HAIR CLINIC IN INDIA
Oliva® at Alwarpet is yet another flagship clinic, bringing forth advanced dermatologic treatments ensuring safety and efficacy. Conveniently located in the upscale neighbourhood at the TTK Road, our world-class medico-aesthetic procedures will enrich your beauty and uplift your appeal.
✓ Situated at the heart of Alwarpet
✓ State-of-the-art facility ensuring professional care
✓ Expert dermatologists in your area
✓ Personalized and private consultation rooms
✓ 100% Result oriented treatment
Oliva Skin & Hair Clinic
2nd Floor, Flat No's : 2A & 2B, KG Business center, No 65, TT Krishnamachari Rd, CIT Colony, Mylapore, Alwarpet, Chennai, Tamil Nadu - 600018
Monday-Sunday: 10AM – 8PM
₹Consultation Fee : Rs. 500
Our Skin And Hair Specialists
Dr. Meenakshi M

Consultant - Dermatologist
Our 91% client satisfaction rate is unparalleled in our field.
Read below what our clients have to say and learn more about what makes us the premier provider of skin and hair care services.
Client Reviews
Read below what our esteemed clients have to say about us and what makes us the premier provider of skin and hair care services.
Acne review
Clinic ambience is pleasent and the doctors are well trained have all the equipment whatever necessary for the particular session and staff assistance is appreciable the way they are receiving Felicia deepika and few more people currently i am going through the acne treatment able to see the visible results till now i had 4 sessions from past 5 months waiting for other sessions hope will see the end result only thing is waiting time for the next session is 1month and I will recommend oliva clinic go and get consulted with the doctor they will analyse the skin condition...
Reviewed us for : Acne Scar Treatment
Naga BHARGAV KUMAR
About my experience
I am done with 6 sessions in oliva. Its feels so good. Iam so content that eventually my pigmentation is diminishing and my skin is becoming clearer and radiant.It worths every penny of it you guys.
Reviewed us for : Acne Scar Treatment
Pradeksha Ramesh
Amazing Services
Visited the Oliva Clinic in Alwarpet for an underarm hair removal procedure. Went ahead with their laser hair removal treatment and so far the results have been satisfactory. The staff and the dermatologist are friendly, experienced, and cooperative. The quality of equipment and the thoroughness of the evaluation are 100%.  Ideal for cautious types who are careful about what they put on their skin.
G
Reviewed us for : Laser Hair Removal
Greeshma rani
Love the Results
My neighbour who had taken treatment from Oliva Clinic Alwarpet and got excellent results advised me to consult them once for my hair problem. I consulted the dermato trichologist who did a detailed scalp analysis and told me to undergo PRP hair treatment. I started my PRP sessions, and by the 4th session, I noticed that my hair started to regrow and hair fall had completely stopped.  I just loved the results and highly recommended this clinic to anyone looking for a PRP hair treatment.
R
Reviewed us for : PRP Hair Loss Treatment
Rajshekar Goud
The solution for Blackheads
I was suffering from an acne problem for quite a while. My face was full of black heads, and acne had got the better of my confidence. I heard that the Oliva Skin and Hair clinic Alwarpet has the best dermatologist so I decided to go and consult them. I am happy that I consulted this clinic as the treatment plan suggested to me has done wonders for my face! It is indeed a permanent solution! Thank you so much, Oliva! Kudos to your ever helpful and friendly staff as well!
N
Reviewed us for : Pimple Treatment
NavJeevan Kumar
Experienced & Professional Dermatologist
I went to Oliva Clinic Alwarpet for scar removal treatment. Was glad to see the dermatologist was experienced and involved throughout the treatment as well as after.  I was pleased to see the results of my treatment were exactly as it was explained by the doctor during my consultation. Great job Oliva!
A
Reviewed us for : Acne Scar Treatment
Aasma Farooq
Permanent Hair Removal Treatment
Booked an appointment with the skin specialist at Oliva Clinic Alwarpet for laser treatment–hair removal. Had heard a lot about their painless technology and wanted to give it a shot. Results have been truly extraordinary! I am impressed with the clinic's ambience, hygiene and welcoming environment. Even the supporting therapists are well-versed with the details and care instructions — It is an ideal clinic for those who are looking for a permanent solution for their unwanted hair.
S
Reviewed us for : Laser Hair Removal
Shravya Shubam
Best PRP Treatment Clinic
I am very happy with Oliva Clinic Alwarpet, which I had visited to get a PRP treatment for hair fall. I consulted their best dermatologist there who assured me that I would be able to successfully improve my hair volume and reduce the amount of hair fall. Apart from the experienced dermatologist, the staff, clinic's cleanliness, explanation of the procedure and pre- and post-care instructions, etc., will make your experience a truly successful one!
R
Reviewed us for : PRP Hair Loss Treatment
Ramakrishna Raju
Excellent Clinic
Had a wonderful experience with the service, staff, and dermatologist at the Oliva Clinic Alwarpet. The ambience, hospitality and of course the treatment is excellent. I've had severe acne for a long time, and I had lost all hope, but Oliva helped me. The treatment has boosted my confidence. My journey with them started seven months back and now in the last leg. The best skin clinic in Alwarpet! Thank you, Oliva.
B
Reviewed us for : Pimple Treatment
Bhasker Reddy
Our Clinic Images
We offer comfort and convenience during your visit to our clinic. Here are some images from our world-class clinic in Alwarpet.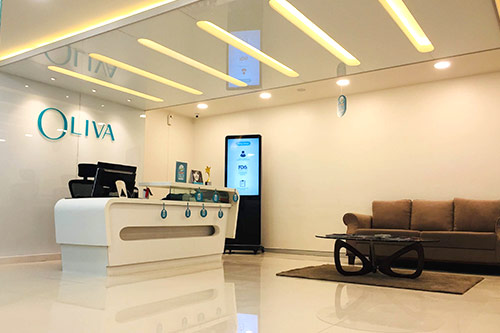 Registration Desk
Client Lounge
Consulting Room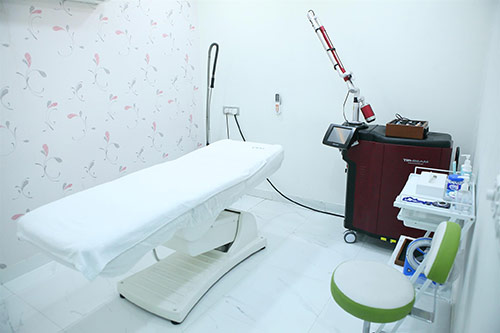 Treatment Room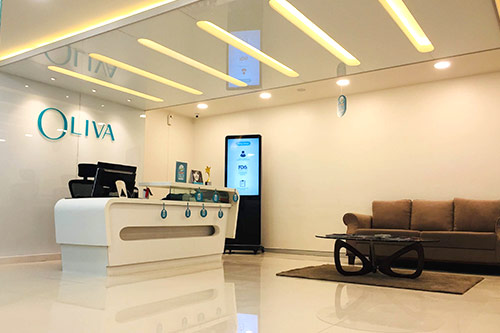 Registration Desk
Client Lounge
Consulting Room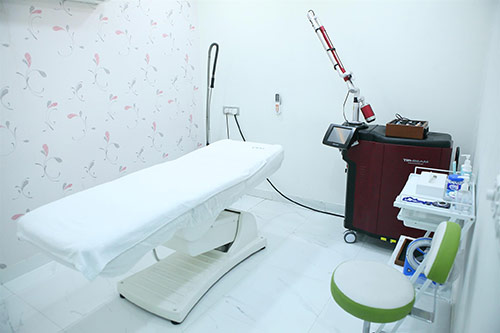 Treatment Room
Frequently asked questions