STRETCH MARK REMOVAL TREATMENT IN CHENNAI
Stretch marks can look very unsightly and are one of the most adamant skin conditions to get rid of. They seem to have set into the skin almost permanently with no topical creams and lotions showing any significant results. Worry not, as there is a wonderful aesthetic treatment available at Oliva Clinics in Chennai to remove your stretch marks forever.
Before we get into the details about this treatment, let us understand stretch marks a little better.
Under certain testing conditions, the skin develop streaks or narrow lines. These are called as stretch marks and their color can range from being purple to red initially and turning to silvery white with time. Both men and women can develop stretch marks, however, there is a slight predominance in women.
Causes of Stretch Marks:
Stretch marks form when the supporting connective tissue present in the lower layers of the skin develops a tear because of the skin being stretched beyond its capacity. This 'stretching' can happen due to various reasons, such as:
Pregnancy
Obesity
Usage of corticosteroid creams or lotions and oral corticosteroids for few medical conditions can reduce the skin's elasticity and increase your chances of developing stretch marks.
Weight gain due to other causes
Symptoms Of Stretch Marks
Indented, thin lines or marks
Purple, red or pink colored streaks that change color to blend into the skin and eventually become silvery white
If you belong to any of the following categories, you have more chances of developing stretch marks on your skin:
If you are pregnant
If you lose or gain weight suddenly
If you are obese
If you have a family history of stretch marks
If you use corticosteroid medications for prolonged periods without medical supervision
Stretch marks are most commonly seen on these body parts –
Abdomen
Breasts
Upper arms
Thighs
Buttocks
Lower back
Behind the knees
Calves
Secret MnRF Treatment:
A revolutionary treatment in the field of dermatology, Secret MnRF utilizes the energy from bipolar radiofrequency and minimally invasive microneedles to rejuvenate the skin. The heat energy applied improves collagen production and reconstructs the damaged connective tissue by the process of tissue remodelling.
When the hand-piece is applied on the skin, heat energy is generated. This penetrates into the layers of the skin, rejuvenates the collagen and thus, reduces the appearance of stretch marks. It is a godsend technology when it comes to treating stretch marks.
Secret MnRF is an advanced treatment option to remove stretch marks from abdomen, breasts, thighs, buttocks, and other areas of the body.
FDA approved treatment for stretch marks removal
Noticeable results seen for both old and new stretch marks
Does not damage the surrounding skin or the skin's upper layers
Safe for use on all skin types and colors, even for people with sensitive skin type
Relatively painless procedure with the use of anesthetic cream
Does not have any downtime, i.e. there is no recovery period, and you can go on with your daily activities as usual after the treatment session.
At Oliva Clinics in Chennai, the Secret MnRF treatment for stretch marks is performed using the following protocol:
The process starts with the initial consultation with the dermatologist who would observe and assess the cause and intensity of your stretch marks. A thorough analysis by the doctor will help determine the right course of treatment with the Secret MnRF technology.
Once the initial consultation is completed, proper pre-care is explained before the actual session. The target area is prepared with priming creams for better results. These creams are to be used for two weeks or as per the doctor's advice.
On the day of the treatment session, the area to be treated is cleaned and a topical anesthetic is applied.
After about 45 minutes to one hour, once the anesthetic cream has successfully numbed the target skin, the dermatologist would perform the procedure targeting even the smaller areas of the skin. The doctor will slide the equipment's hand-piece over this area slowly and carefully so that every small section of the skin is covered.
Depending on the size of the skin area being treated, this part of the process can take 30 minutes to 45 minutes.
Once this step is completed, the assisting therapist will clean the area and apply sunscreen and other necessary creams, according to the dermatologist's advice. Since the treatment does not have any downtime, you can rest for a couple of minutes before you can carry on with the rest of your day.
Before you leave the clinic, the dermatologist and the certified skin therapist provide post-care instructions.
After the first session, you will notice a difference in your stretch marks. There may be mild redness or tingling sensation after the service, but this fades away in a few hours.
Depending on the intensity of the marks and your skin type, 4-8 sessions may be required to get optimal results for stretch marks removal.
There is no recovery period as there are no tell-tale signs post the session. The client can rest for a few hours if required and resume their daily routine.
After the completion of a session, there are a few things to keep in mind to avoid unwarranted side effects:
Do not use hot water to cleanse the treated area. Use normal water only for the next 12 hours.
Avoid any form of workout that will make you sweat such as going to the gym and aerobics for one day.
Avoid steam, sauna, swimming, and scrubbing the treated for three days after the service.
Avoid any form of parlor activities (like waxing) on the treated area for the next seven days.
Secret MnRF is a US FDA approved treatment that has the least risk factors associated with it. It suits all skin types and colors, and does not cause post-inflammatory hyperpigmentation. Transient redness is all that may be observed on the treated skin after the service.
Secret RF is an outstanding treatment option available at the various branches of Oliva Skin & Hair Clinics in Chennai, to treat and permanently remove your stretch marks.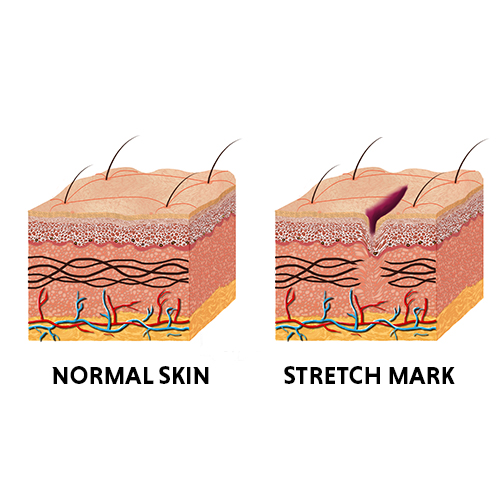 Stretch Marks Removal Procedure Explained By Dermatologist
Oliva offers advanced treatments for stretch mark removal. Check out the details on our procedures and gain deeper insights into how the treatment proceeds, under an expert dermatologist.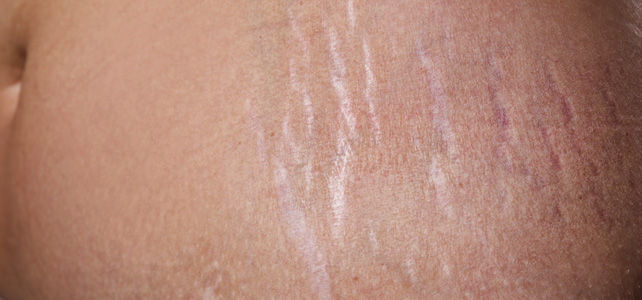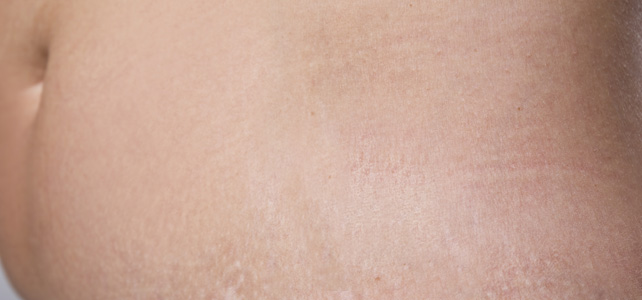 *Images are from real clients, and results can be subjective
Before & After Results Of Stretch Marks Removal Treatment
Check out real images of our clients before and after the sessions of stretch removal treatment at Oliva.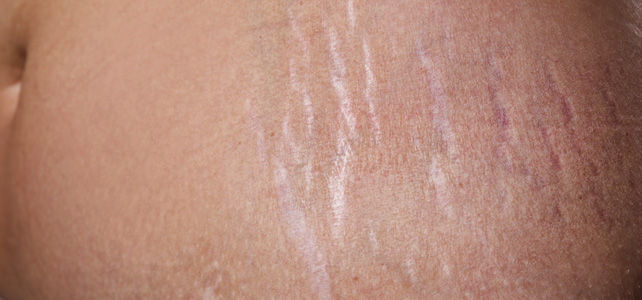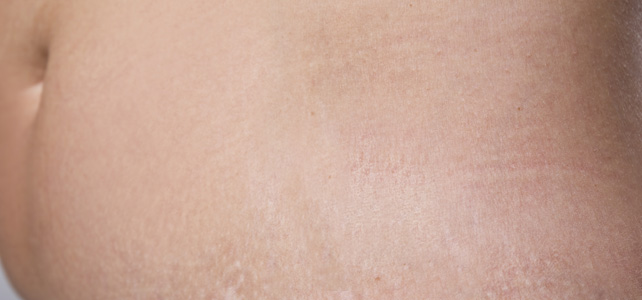 Treatment results may vary from person to person
Client Reviews
Read below what our esteemed clients have to say about us and what makes us the premier provider of skin and hair care services.
Acne Problem
I had a beautiful experience in oliva clinic indiranagar. I was struggling from bad acne from so many year, then one day I saw an article regarding acne from oliva. Then I thought let me try if I can get any solution, then I contacted oliva. I started taking treatment from Dr. Swetha for acne control and her treatment gave me the best result. I can never imagine the changes I got after treatment, my skin become so smooth, beautiful and started glowing. I agree the session or procedure is quiet a long, but the end result is just mind...
Reviewed us for : Pimple Treatment
Yogitha S
Visible & Remarkable Results
It has been already 6 months from the time I started taking acne scar removal treatment at Oliva Clinic in Jayanagar. Can see a great reduction in the scars on my face, courtesy the pixel treatment for acne scars prescribed by the best skin specialist in Jayanagar. I strongly suggest this clinic to people who are looking for the best treatments for acne scars. Oliva is your best bet!
U
Reviewed us for : Acne Scar Treatment
Uday Kumar
Effective Pimple Solutions
The Oliva clinic in Jayanagar is just the perfect place for people who have acne prone skin and are in search of hard pimple treatments or other types of acne treatments. I wanted treatment for cystic acne, and since the best skin specialist in Jayanagar is available in this clinic, I booked an appointment here. I am very happy with the results of the treatment suggested by the skin doctor. The clinic's ambience and friendly staff also make this place worth the visit.
R
Reviewed us for : Pimple Treatment
Ramya Vardhaini
World Class Hair Treatments
I've been taking PRP treatment for hair fall at Oliva Clinic in Jayanagar. After 5-6 sessions, I am able to see the results which were promised to me during the consultation. This hair loss treatment has effectively stopped hair loss. I am glad that I consulted this hair clinic in Jayanagar for my temple hair loss issue. Another plus point of this clinic is their courteous and helpful staff!
G
Reviewed us for : PRP Hair Loss Treatment
Guru Charan
Best Laser Treatment Clinic
I'm really happy with my treatment at the Oliva skin and hair clinic in Jayanagar. It is the best place to get rid of upper lip hair in Jayanagar! The skin specialist is really wonderful and took very good care of me during the procedure. I liked the staff as well as they were really helpful and they made me feel very comfortable whenever I visited the clinic. Based on the results of my upper lip hair removal treatment, I am planning to go for a full leg hair removal procedure here as well!
L
Reviewed us for : Laser Hair Removal
Lalitha Kala
Thank You Oliva Clinic
I will start off by first thanking Oliva skin clinic in Jayanagar for successfully treating my early stage pigmentation problem. The dermatologist prescribed the laser toning treatment for skin, and I am really pleased with the results of my treatment. The skin lightening treatment was completely safe and did not harm my skin in any way. I am super excited about the way my skin is looking now. Thank you so much, Oliva, for giving my skin and confidence a much-needed boost!
R
Reviewed us for : Pigmentation treatment
Rukmini Y
Painless Scar Removal
If you want to get a painless laser treatment for C-section scar, then consult the best dermatologist at Oliva skin clinic Jayanagar. I have gone for this treatment and I am really impressed with the skin doctor's skill and experience as the results have exceeded my expectations. Added bonus is the amazing and very supportive staff who take complete care of you and ensure that you face no difficulty once you are in the clinic.
Y
Reviewed us for : Acne Scar Treatment
Yamini BalaKrishnan
Best Treatments for Acne
While searching for the best skin clinic in Jayanagar my friend came across the Oliva Skin clinic in Jayanagar. She consulted their dermatologist as she wanted to get rid of her pimples on the face. Overall she had to attend 4 sessions, and by the end of each session, there were slight improvements. The final result was really remarkable! They have the best pimple solutions! Looking at my friend's success story, I have also decided to consult them if I ever face any skin problem.
R
Reviewed us for : Pimple Treatment
Rakshita Nair
Effective & Satisfactory Treatments
I've been undergoing PRP treatment for hair regrowth for the past 3 months at the Oliva clinic in Jayanagar. The dermatologist was listening very patiently as I explained my hair thinning problem. Before getting to the treatment, he explained the cause of hair loss and what preventive measures I need to take. I have completed 3 sessions of my procedure, and I can see big changes in my hair volume. I am hoping that the final result at the end of all my sessions would also be remarkable. This is really one of the best hair clinics in Jayanagar.
Y
Reviewed us for : PRP Hair Loss Treatment
Yeswanth Krishna
Why Oliva
Experienced in-house team of
Certified Dermatologists

Comprehensive one-to-one
consultation with the doctor

Advanced US-FDA approved
equipment

Well trained and certified
therapists

Served 2,50,000 happy customers
and counting

Stringent guidelines and set
protocols for better service efficacy
Frequently Asked Questions On Stretch Marks Treatment