LASER TREATMENT FOR PIGMENTATION IN CHENNAI
A naturally healthy skin which is radiant boosts your persona. Skin that is glowing and spotless is a boon, which is a form of bliss in itself for people who are born with it and those who acquire it with proper care.
However, while unnecessary pigmentation may be a cause for worry, courtesy the range of effective pigmentation treatments at Oliva Clinic in Chennai you can be relieved now. The color of human skin is determined on the basis of Melanin, a brown pigment usually found in skin, hair and iris (eye).
Pigmentation is a skin condition caused by increased production of melanin thus resulting in darkening of skin on forehead, arms, temples, and entire face. Oliva brings some of the most advanced state of the art procedures for pigmentation concerns, that include –
Chemical peel –

Controlled exfoliation is administered using plant extract based alphahydroxy acids, that help in lightening the tanned areas to bring out rejuvenated skin from beneath. We have specialized skin rejuvenation treatment that is effective for all skin types and brings visible results within a session.

Laser toning – For deeper sun tan and pigmentation issues, USFDA approved QS Nd:YAG laser is used for skin lightening and bringing an even skin tone. The laser targets the pigmented cells and removes tan and marks left by pimples, thus giving bright and white skin from under.
Medications – Both oral and topical medications are prescribed to help revitalize your skin and remove the visible pigmentation effectively.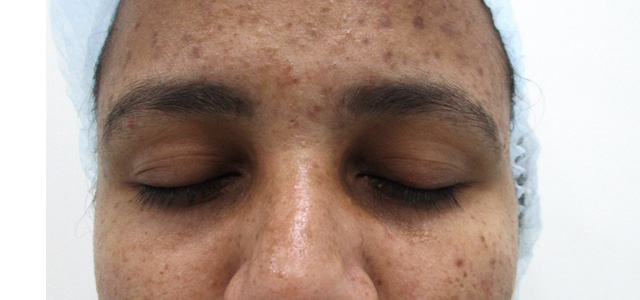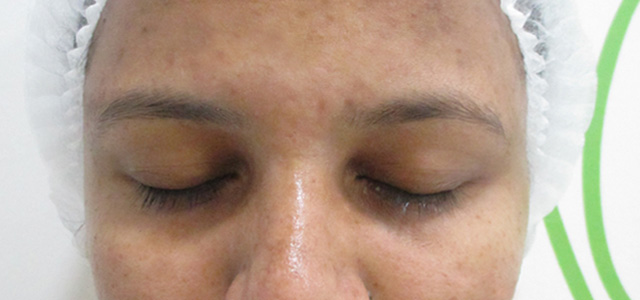 *Images are from real clients, and results can be subjective
Before & After Results Of Pigmentation Treatment
Check out real images of our clients before and after the sessions of pigmentation treatment at Oliva.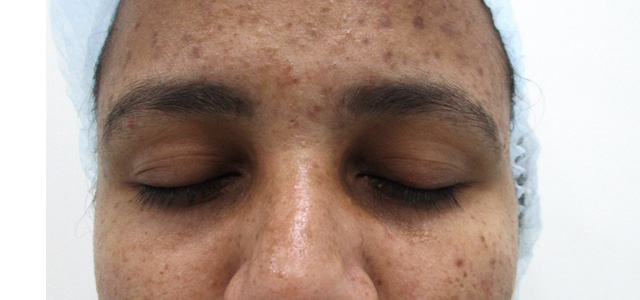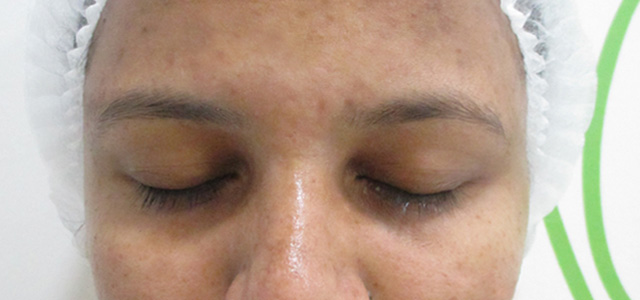 Treatment results may vary from person to person
Client Reviews
Read below what our esteemed clients have to say about us and what makes us the premier provider of skin and hair care services.
Professional Dermatologists
Oliva Skin and Hair Clinic in Indiranagar is one of the best clinics for skin and hair with the best dermatologist on board. Apart from the world-class hair and skin services that they provide, their team of dermatologists is highly skilled and experienced! They are extremely professional and know how to make their patients comfortable. They provide the best advice, and are genuinely concerned about their patients. If you want to consult the best skin doctor in Indiranagar, then Oliva Clinic is the place to go!
P
Reviewed us for :
Preethi Varma
Laser Mole Removal Treatment
The Oliva Skin and Hair Clinic in Indiranagar has the best laser treatment for mole removal! I have personally undergone a facial mole removal procedure here, and I can tell you that the results were fantastic! They have the best dermatologist in Indiranagar who took very good care of me. I am very happy that I got my mole removal therapy done from this clinic. I highly recommend this clinic if you are also looking for the best skin doctor in Indiranagar.
R
Reviewed us for : Mole Removal
Revathi Molla
Fantastic Skin Clinic
Hi. I have gone for a laser tattoo removal treatment from Oliva Skin and Hair Clinic in Indiranagar. I'm fully satisfied with the result. The services of the clinic are very good, and the dermatologist and staff are helpful. This is a great place to get permanent tattoo removal. I am really happy that I was able to get rid of the tattoo. Thank you so much, Oliva!
M
Reviewed us for : Tattoo Removal
Murali Krishna
Best Anti-Aging Treatments
It's been a great experience getting treated for my fine lines and wrinkles at Oliva Skin and Hair Clinic in Indiranagar. If you are searching for the best skin specialist in Indiranagar, then this is the clinic to visit! The anti-ageing treatments provided here are amazing – they have ageing skin treatment, skin tightening, treatment for saggy skin, wrinkles removal treatment, and more. The clinic is well maintained and has a nice, friendly, and helpful staff. Their service is world class!
M
Reviewed us for : Anti-Aging Treatment
Maalathi Vijay
Superb Results & Service
I had taken chemical peel treatment at the Oliva Skin Clinic Indiranagar a couple of months back. The skin doctor prescribed this skin peeling treatment for black marks on face. The results have been really good, and my skin has never looked better! Thank you so much, Oliva, for providing such amazing treatments for skin care. Their service is also top-notch, and you will love the personalised attention that they give you during each of your visits.
M
Reviewed us for : Dull Skin Treatment
Mounika S
Satisfactory Procedure & Results
Best skin clinic in Indiranagar! The skin doctor was friendly and ensured that the wart removal treatment was smooth and convenient. Good experience, I'm really satisfied with the treatment which has helped me to get rid of my wart on the neck. It is effective and good, and if anyone is suffering from warts, I suggest you must visit this clinic. Thanks, Oliva.
V
Reviewed us for : Wart Removal
Vijay Kumar
Cooperative & Friendly
I have been taking treatment for pigmentation on my face at Oliva Skin and Hair Clinic Indiranagar for a year now. Before my treatment, I never imagined I could look better, but the pigmentation treatment has been remarkable! The treatment, along with a pigmentation cream, has been slowly clearing away all the pigmentation and evening out my skin tone. I am really happy that I am in the hands of the best skin doctor in Indiranagar!
R
Reviewed us for : Pigmentation treatment
Roopali Devi
Wonderful Experience
I had a wonderful experience at the Oliva Skin and Hair Clinic Indiranagar, which I consulted for treatment for scars. During my consultation, the skin specialist informed me that I had ice pick acne scars and suggested a suitable treatment for it. I have completed all the sessions of my ice pick scars treatment, and the results are amazing! Thanks, Oliva!
B
Reviewed us for : Acne Scar Treatment
Bhagavan Das
Pimples & Acne Solution
I had a great experience at Oliva Skin and Hair Clinic Indiranagar. I visited them for pimple treatment, and the result has been positive. The pimple on chin treatment suggested by the skin doctor has worked well, and now I can hardly see any pimples on my chin. I feel that this is the best clinic to get rid of pimples in Indiranagar.
N
Reviewed us for : Pimple Treatment
Namitha K
Why Oliva
Experienced in-house team of
Certified Dermatologists

Comprehensive one-to-one
consultation with the doctor

Advanced US-FDA approved
equipment

Well trained and certified
therapists

Served 2,50,000 happy customers
and counting

Stringent guidelines and set
protocols for better service efficacy
Frequently Asked Questions on Pigmentation Treatment