PRP Hair Treatment In Chennai: Cost, Results & Procedure
Hair fall and hair thinning has become a major concern for almost all of us. In fact, it is said that more than 70% of people will suffer from some kind of hair loss in their lifetime. If you have been hurt by hair loss related issues, you have come to the right place. We know what you are going through. We have set up this blog to help you find a solution to your hair loss related problem with our Advanced PRP hair treatment in Chennai.
PRP treatment has been known to help many people suffering from hair fall, hair thinning, male & female pattern baldness, and other hair loss-related problems. This treatment is effective in both men and women and is said to enhance hair growth.
Did You Know?

Oliva Clinic Offers Highly Safe & Non surgical Treatment Through PRP for Hair Loss In Chennai. Book An Appointment.
What Is PRP?
PRP, i.e. Platelet Rich Plasma, is a non-surgical medical treatment for the regrowth of hair from the hair follicles. The treatment process starts with a consultation and diagnosis, which includes a comprehensive examination of the scalp using a dermlite dermatoscope to get the most refined vision.
PRP has a variety of growth factors that rejuvenate the hair follicles. When a dermatologist injects it into the scalp, it secretes additional growth factors that continues for the rest of its lifespan.
They work by –
Stimulating the production of new blood vessels
Activating wound healing mechanisms
Enabling new epidermal and hair cells to develop
PRP Hair Treatment In Chennai
PRP has become one of the most favored hair loss treatment options across the globe, for both men and women. People have mirrored this opinion in Chennai as well.
The PRP hair treatment is a functional way to boost hair regrowth especially in the more stubborn areas like the hairline as well as the crown area. It is recommended for people going through genetic and patterned hair loss resulting in thinning hair.
The PRP treatment process is as follows –
A small amount of blood of about 15-20 ml is collected through a small cannula from a vein in your hand.
This is followed by the separation of the platelet component from the blood. Platelet-poor plasma is discarded and the concentrated platelets are activated.
The platelet-rich plasma (PRP) is then injected at the root of the hair on the scalp, where thinning is observed, with the help of a tiny needle.
Normally, 6-8 sessions are required at monthly intervals to see desired results.

Checkout the detailed procedure video of PRP hair treatment at Oliva Clinics
PRP Hair Treatment Cost In Chennai
The cost of PRP hair treatment in Chennai ranges from Rs 4,800 to Rs 12,500 per session approximately. The treatment price may vary for every individual based on multiple factors like the cause and severity of hair loss and the number of sessions needed.
Did You Know?

Oliva Clinic Offers Completely Safe & Non-surgical PRP Hair Treatment In Chennai At Affordable Cost. Book Your Appointment Now to get the exact price.
Before & After Results Of PRP Hair Treatment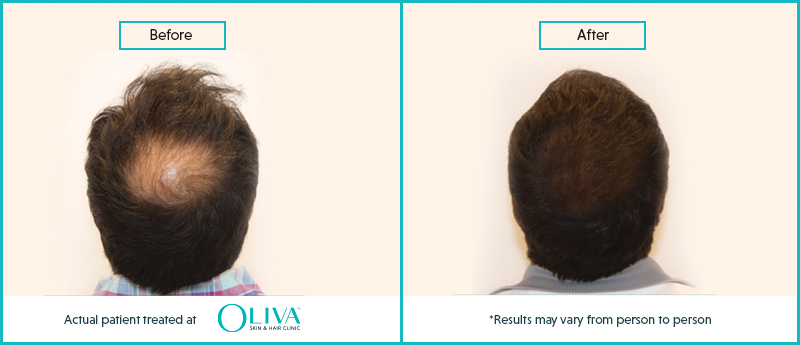 Pre & Post Care Instructions For PRP
Pre-Care:
Diet And Fluid Intake – It is advisable to increase your fluid intake a day before the procedure and to consume 500 ml of water on the day of the session. Have a normal breakfast/lunch.
Shampooing – Feel free to wash your hair on the day of the session or a day in advance. A clean scalp is always good.
You can color/dye your hair up to three days before the session.
Discontinue multivitamins and blood-thinning agents like vitamin E, vitamin A, flax, cod liver oil, etc. one week before the session.
Avoid alcohol and smoking for at least three days before the session.
Avoid aspirin and other anti-inflammatory medicines for at least 3-7 days before the procedure.
Post-Care:
Shampooing – You can shampoo your hair the next day.
Hair Coloring – You can also color your hair three days after the procedure.
Sun Exposure – Limit sun exposure on the scalp for at least two days.
Alcohol, Caffeine, & Smoking – Restrict their intake for the next three days.
Medications – Avoid aspirin and other anti-inflammatory medications for 3-7 days post the procedure.
It is quite common to experience mild soreness, swelling (at times), and a slight heaviness for 2-3 hours after the treatment. However, these side effects are transient and fade away by themselves.
Why Choose Oliva Clinics For PRP Hair Treatment In Chennai?
Oliva Clinics offer the best & most cost-effective PRP treatment in Chennai.
All our clinics in Chennai comprise a large team of rigorously trained dermato-trichologists who follow a standardized protocol.
We take pride in our detailed assessment protocol that also includes a scan of the scalp and hair condition for the most refined analysis.
The treatment procedure is carried out under utmost sterile precautions.
We offer customized treatment that fits well with the hormonal and nutritional status of different clients.
Products prescribed are chosen with utmost care.
We are proud of our 'no adverse event' record in the more than 85,000 PRP hair treatments performed so far.
Hair thinning is a condition that is curable with the PRP hair treatment in Chennai, at your nearest Oliva Clinic, can be performed without any downtime or side effects with results that will satisfy your yearning for voluminous and lustrous hair.