Does PRP Treatment Help In Hair Regrowth?
Excessive hair loss in any form can be a distressing situation to go through. In an ideal world, all of us would like a head full of lustrous, thick hair that lasts us a lifetime. Alas! Only if that was the reality. Diffuse Hair Loss, or Hair Thinning in simple words, has become a major concern for the population living a stressful urban life, especially in a metro like Chennai.
Gone are the days when you had no choice, but to live with the sorry state of your scanty scalp. With the increase in awareness about grooming and self-care, there are varieties of options at hand when it comes to hair regrowth treatment in Chennai.
What Is Hair Thinning?
Hair Thinning or Diffuse Hair Loss is defined as hair fall at an increased rate, which results in hair thinning all over the scalp, with no loss of follicles. It can affect both the gendersis could be a case of Regular or Chronic Telogen Effluvium, where owing to various factors, there is a change in the pace of the hair growth cycle. A high percentage of hair enter the telogen (resting) phase than is otherwise normally observed. The resting phase is followed by excessive shedding, which leads to the eventual hair thinning.
Androgenetic Alopecia, otherwise known as male and female pattern baldness, also results in a receding hairline, and hair thinning on the crown and through the parting respectively.
Did You Know?

Oliva Clinic offers highly safe and non surgical treatment through PRP for Hair Loss in Chennai. Book An Appointment.
What Causes Of Hair Thinning? 
Before we jump into the treatment options available, it is important to know what the major causes of hair thinning in Chennai are.
Firstly, on a general level, some factors that contribute to hair thinning are –
Family History – Yes, your genes play a role here! If either of your parents have faced hair loss in this form, the probability of you experiencing it increases too.
Hormonal Imbalances – As far as women are concerned, they tend to experience a number of variances in their hormone levels during pregnancy, childbirth, menopause, etc. and this can lead to hair falling out and thinning.
Medical Conditions – Anemia, Lupus, PCOS, Thyroid, etc. can add to your hair loss woes.
Some medications taken to cure other health issues can have a potential side effect on your scalp and bring about hair loss.
Age – Sometimes it all boils down to your aging self. There is a tendency for the elderly to lose their mop as they age.
Coming to the specific causes of hair thinning in Chennai, the hectic lifestyle of this buzzing metro, the weather, and water constitution can play havoc on your voluminous mane.
Stress – This can be emotional as well as physiological stress that comes with living a fast-paced life of a metropolitan city like in Chennai. And, stress can trigger hair loss in the healthiest of people.
Poor Diet – The hustle and bustle in Chennai with the hectic lifestyle can lead to irregular food consumption or people reaching out for fast food as a quick fix, rather than going for wholesome, nutritious food. A poor diet is not only bad for your waistline but also your hairline.
Weather – The hot, humid conditions can really mess with your hair in Chennai. The frizziness is often dealt with by using unwarranted hair products and heat treatments that will lead to its eventual breakage. Also, excessive hair washes can be a culprit.
Water – Metro water in Chennai is highly unsuitable for hair wash, as most areas have water with high salinity, which can cause the hair to fall. Hair thinning in Chennai is a common grievance among people who have moved to the city from elsewhere.
How Hair Regrowth Treatment In Chennai Works For Hair Thinning?
Numerous people from all walks of life have benefited from the hair regrowth treatment in Chennai, which is a non-surgical solution for regrowth of hair from the hair follicles. The regrowth treatment program starts with a consultation and diagnosis exercise, which includes a comprehensive examination of the scalp using a dermlite dermatoscope for the most refined vision.
This is followed by an in-depth evaluation of the factors causing hair thinning. These could be based on hormones, nutrition or even the environment, like witnessed in multiple cases in Chennai.
The person seeking the hair regrowth treatment in Chennai is then advised on –
The appropriate medication suitable, which could be topical as well as oral.
PRP treatment is recommended for the fitting candidates.
Nutritional and diet guidance.
Special customized hair care routines are recommended with advice on choosing the right shampoos, conditioners, and serums that will lead to a healthy scalp with strong hair and minimum breakage.
There are regular review appointments scheduled to supervise the response to the treatment as well as the progress.
PRP Hair Loss Treatment In Chennai For Hair Regrowth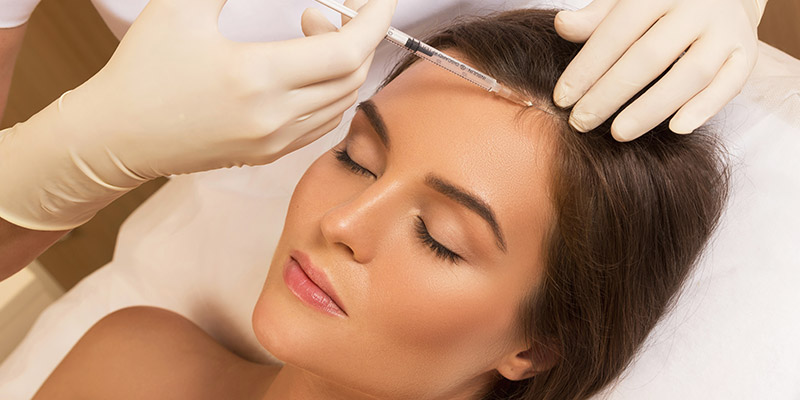 PRP, i.e. Platelet Rich Plasma, has become one of the most favoured hair loss treatment options across the globe, for both men and women. People have mirrored this opinion in Chennai as well.
The PRP hair regrowth treatment in Chennai is a functional way to boost hair regrowth especially in the more stubborn areas like the hairline as well as the crown area. It is recommended for people going through genetic and patterned hair loss resulting in thinning hair.
The PRP treatment process is as follows –
A small amount of blood of about 15-20 ml is collected through a small cannula from a vein in your hand.
This is followed by the separation of the platelet component from the blood. Platelet-poor plasma is discarded and the concentrated platelets are activated.
The platelet-rich plasma (PRP) is then injected at the root of the hair on the scalp, where thinning is observed, with the help of a tiny needle.
PRP is rich in a variety of growth factors that rejuvenate the hair follicles and secrete additional growth factors for the rest of their lifespan. They work by –
Stimulating the production of new blood vessels
Activating wound healing mechanisms
Enabling new epidermal and hair cells to develop
Normally, 6-8 sessions are required at monthly intervals to see desired results.
How Much Does PRP Hair Treatment Cost In Chennai?
The cost of PRP hair treatment in Chennai ranges from Rs 4,800 to Rs 12,500 per session approximately. The treatment price may vary for every individual based on multiple factors like the cause and severity of hair loss and the number of sessions needed.
What Are The Pre-Care And Post-Care Instructions?
Pre-Care
Diet And Fluid Intake – It is advisable to increase your fluid intake a day before the procedure and to consume 500 ml of water on the day of the session. Have a normal breakfast/lunch.
Shampooing – Feel free to wash your hair on the day of the session or a day in advance. A clean scalp is always good.
You can color/dye your hair up to three days before the session.
Discontinue multivitamins and blood thinning agents like vitamin E, vitamin A, flax, cod liver oil, etc. one week before the session.
Avoid alcohol and smoking for at least three days before the session.
Avoid aspirin and other anti-inflammatory medicines for at least 3-7 days before the procedure.
Post-Care
Shampooing – You can shampoo your hair the next day.
Hair Coloring – You can also color your hair three days after the procedure.
Sun Exposure – Limit sun exposure on the scalp for at least two days.
Alcohol, Caffeine, & Smoking – Restrict their intake for the next three days.
Medications – Avoid aspirin and other anti-inflammatory medication for 3-7 days post the procedure.
It is quite common to experience mild soreness, swelling (at times), and a slight heaviness for 2-3 hours after the treatment. However, these side effects are transient and fade away by themselves.
Why Choose Oliva's Clinics For Hair Regrowth Treatment In Chennai?
Oliva Hair Clinics offer the most cost-effective hair regrowth treatment in Chennai.
All our clinics in Chennai comprise a large team of rigorously trained dermato-trichologists who follow a standardized protocol.
We take pride in our detailed assessment protocol that also includes a scan of the scalp and hair condition for the most refined analysis.
The treatment procedure is carried out under utmost sterile precautions.
We offer customized treatment that fits well with the hormonal and nutritional status of different clients.
Products prescribed are chosen with utmost care.
We are proud of our 'no adverse event' record in the 1000s of PRP treatments performed so far.
Hair thinning is a condition that is curable and the hair regrowth treatment in Chennai, at your nearest Oliva Clinic, can be performed without any downtime or side effects with results that will satisfy your yearning for voluminous and lustrous hair.
Schedule your appointment right away!