Acne Treatment In Kolkata
Who hasn't heard of acne? Either you are struggling with managing your breakouts or know someone who has acne. Research shows that acne affects almost 9.4% of the world's population. The worst part is that if you do not treat pimples timely, they can keep recurring, worsen and even leave permanent scars. If you have stubborn acne, you have come to the right place. With our team of expert dermatologists at Oliva clinics in Kolkata, you can find a customised solution for successful long-term acne management that can help you achieve clear and glowing skin.
Pimple, or as medically called acne vulgaris, is a common skin disorder that primarily affects teenagers during puberty as the associated hormonal changes increase the sebum production by the oil glands leading to clogging of pores and inflammation. Acne may be mild, moderate and severe and may appear in the form of blackheads, whiteheads, papules or red bumps, pustules or pus-filled pimples, cysts and nodules. Facial acne largely appears in the T-zone but may also occur on the cheeks and chin. You may have acne in other body areas like the neck, back, chest and shoulders.
Although mild teen acne may subside naturally but adult acne can affect people in the 20-40 years age group due to hormonal changes related to menstruation, pregnancy or menopause, hormonal disorders like PCOS or insulin resistance, stress and more. Let us find out why.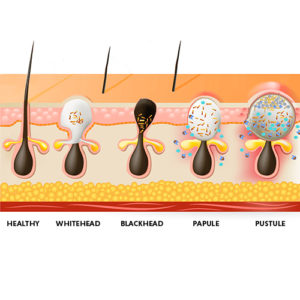 Pimples occur due to excess oil production by the skin, which clogs the pores along with the build-up of dead cells, dirt and bacteria. A positive family history of acne and hormonal fluctuations are the most important internal factors that increase the sebum production and risk of breakouts. Other external reasons that may trigger acne may include:
Unmanaged stress
Androgen, corticosteroids, DHEA, and lithium medicines
A high-glycaemic diet
Improper skincare
What Are the Triggers That Can Worsen Acne?
Acne can worsen due to common triggers like the following:
Use of comedogenic makeup with harsh chemicals
Using wrong skincare products not suited for your skin type
Regular consumption of sugary and oily foods
A habit of popping the pimples
Allergic reaction to home remedies or OTC products
Irregular use of moisturiser can weaken the protective barrier of your skin against inflammation
Dehydration can increase your risk of breakouts if you have acne-prone skin
Skipping sunscreen can cause sun damage and worsen post-inflammatory hyperpigmentation
Frequent use of abrasive methods of scrubbing and cleansing can irritate your sensitive and inflamed skin
Not maintaining facial hygiene especially after excess sweating can cause pimples
PCOS or hormonal changes can trigger acne
Stressful lifestyle may lead to breakouts
Why Should You Choose Oliva Clinic In Kolkata?
If you are looking for scientifically-proven safe and effective treatments for long-term acne management Oliva is the right choice. Here are the top reasons why Oliva is the best clinic for acne treatment in Kolkata:
Holistic Approach: Investigating and treating the root cause of your acne remains the key to long-term acne management at Oliva. We are committed to not just treating your current acne but also to minimising the risk of recurrence and scarring.
Customised Treatments: Our medical team excels in creating custom-designed acne treatment plans based on your skin type, cause, severity, affected area and type of acne.
Leading Team of Top Dermatologists: Our qualified team of top acne management specialists adept at treating mild, moderate and severe acne from grades I-IV, including blackheads, whiteheads, pustules, papules, nodular and cystic acne includes experienced dermatologists like:- Dr Debatri Datta
– Dr Nidhi Jindal
– Dr Barnali Dutta
– Dr Reeja Mariam George
– Dr Hiba Firdous
– Dr Rajendrani Mazumder
– Dr Sanjita Tripathy
State-of-the-art Infrastructure: Oliva clinics are present in top localities of Kolkata, making it easily accessible for you. We are located at prime locations of Park Street, Jodhpur Park, and Salt Lake. All our locations have experienced medical experts and world-class infrastructure to ensure your optimal privacy and comfort while you undergo the best treatment for pimples.
Unmatched Track Record: Oliva has completed over 80,000 acne treatments with a 91% satisfaction rating more than our next three competitors combined.
What Acne Treatment Options Are Available At Oliva, Kolkata?
Our team of expert dermatologists in Kolkata may recommend one or a combination of the following treatments:
Oral And Topical Medications: Our experienced team of doctors notes your family's acne history and checks for underlying hormonal imbalances before customising the treatment based on the cause and severity of acne. Dermatologists at Oliva prescribe oral or topical mediations such as oral Isotretinoin, oral antibiotics, topical retinoids and hormonal therapy to minimise recurrent pimples depending on the severity of the condition.
Chemical Peels: Expert dermatologists at Oliva, Kolkata perform controlled exfoliation of your skin using different concentrations of plant-based extracts based on the affected area, skin type and the cause, type and severity of acne. The Chemical peel treatment at Oliva ensures a notable improvement in skin texture as it removes the damaged layers along with the dead cells, excess sebum, and grime to reveal clear and healthy skin.
Comedone Extraction: This is a safe method dermatologists use to eliminate blackheads and whiteheads without causing scarring. The process involves using specialised tools to remove mild acne or comedones from the skin's surface in a sterile environment.
Intralesional Injections: The team of experts at Oliva carries out advanced treatments to reduce the inflammation and pain associated with nodular and cystic acne. This further helps minimise scarring.
Laser Toning: It is a USFDA-approved effective treatment to reduce post-inflammatory hyperpigmentation caused by acne. Dermatologists often recommend it as an adjunct treatment after reducing active acne to visibly improve your skin tone and alleviate pimple marks.
What's The Pimple Treatment Procedure At Oliva?
At Oliva, we understand that treating pimples can be challenging. Therefore, we have a holistic approach to Acne treatment and at Oliva it starts with the following:
Exclusive consultation: Our qualified dermatologists will conduct a physical examination and Dermascan to identify your skin type, grade and severity of acne.
Detailed diagnosis: Based on your family history, hormonal status, lifestyle and dietary habits and medical records doctors at Oliva will try to diligently diagnose and treat the underlying cause of acne. They may even recommend blood investigations to check for hormonal imbalances.
Customised treatment plan: You can look forward to undergoing customised treatment at Oliva based on your skin and acne type, the severity of your skin condition and the affected area that includes suitable modality and the minimal number of sessions required for achieving visible results.
Pre-care guidance: Some advanced treatments require special skin preparation to minimise side effects. Your dermatologist will provide specific instructions on how to prep your skin before getting started with the treatment.
Scheduled sessions: Our dermatologists will plan the treatment sessions at regular intervals to get the desired results.
Post-care support: Our qualified acne specialists will provide post-care instructions to help you achieve the best results and long-lasting satisfaction.
Simply call on 📞1800-103-3893 or 🔗Book An Appointment at Oliva Skin & Hair Clinic, Kolkata. Our representative will call you shortly to schedule your exclusive consultation with our top dermatologists for customised acne treatment in Kolkata.
We are available across three strategic locations in Kolkata:
Park Street: Ground Floor, Sangam Building, Opposite Survey of India, Dr MLK Sarani, Park Street Area, Kolkata, West Bengal – 700016
Jodhpur Park: 40/5, First Floor, Above Optiworld, Jodhpur Park Road, Dhakuria, Selimpur, Kolkata, West Bengal – 700031
Salt Lake: 2nd Floor of Andromeda Building, Plot No: DD-30, Sector-1, Bidhannagar, Kolkata, West Bengal – 700064
You can check out our clinic image gallery to know about our state-of-the-art facilities at each of our three locations in Kolkata.
If you are want the best acne treatment in Kolkata, look no further than Oliva. Our team of expert dermatologists provides safe and effective treatments that are also affordable. So, don't wait any longer. Book an appointment today! Contact us today to schedule a consultation and start your journey to achieving clear skin.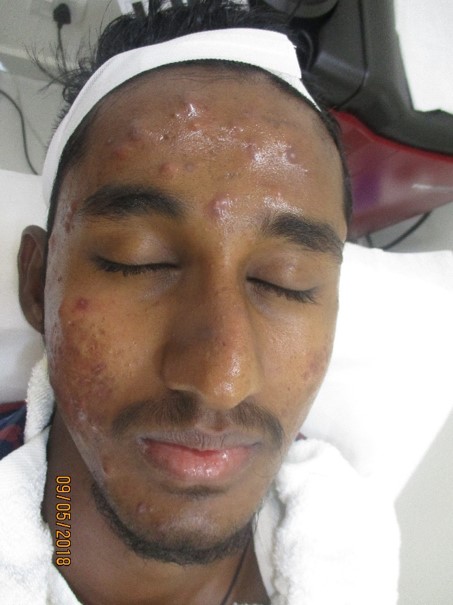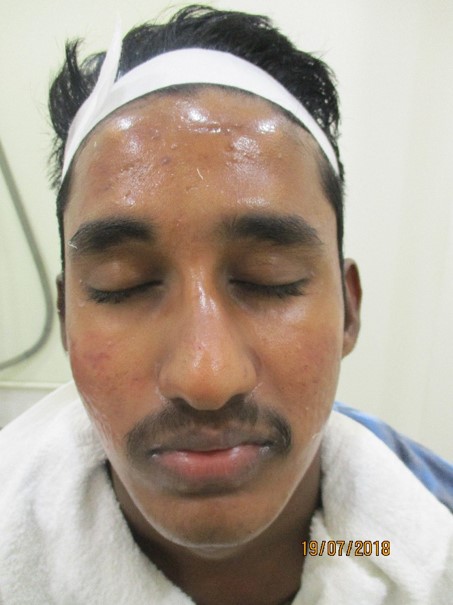 *Images are from real clients, and results can be subjective
Before & After Results Of Acne Treatment
Our team of experienced medical professionals performs evidence-backed acne treatments using USFDA-approved methods to ensure that our clients get the best possible results. Check these images to see the difference in the before and after images of clients who have undergone acne treatment at Oliva for yourself: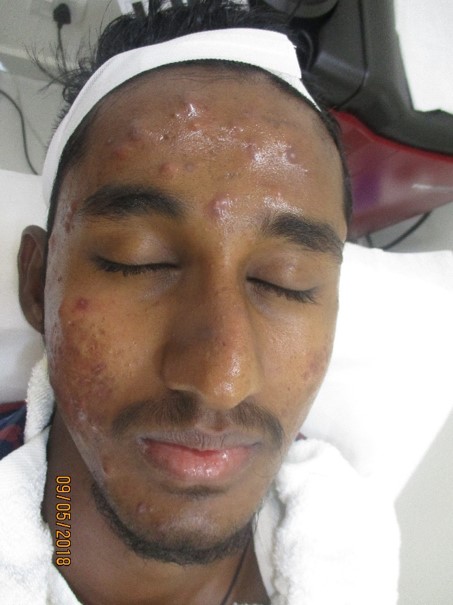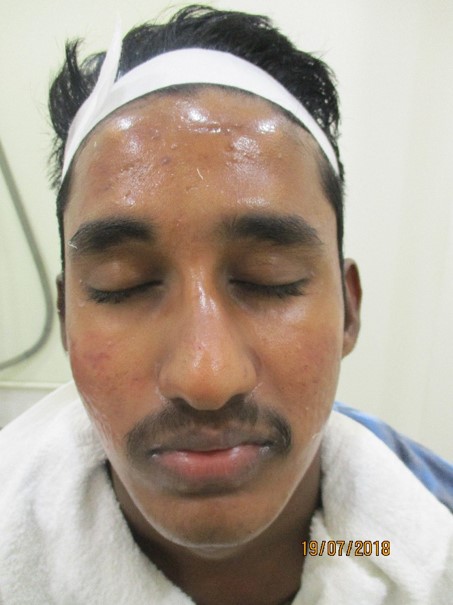 Treatment results may vary from person to person
Why Oliva
Experienced in-house team of
Certified Dermatologists

Comprehensive one-to-one
consultation with the doctor

Advanced US-FDA approved
equipment

Well trained and certified
therapists

Served 3,00,000 happy customers
and counting

Stringent guidelines and set
protocols for better service efficacy