Best 7-Day Vegetarian Diet For Females For Weight Loss
The 7-day Indian vegetarian diet plan for weight loss is well balanced, providing all the essential nutrients your body requires while promoting weight loss. Further, the variety of delicious food options available in Indian cuisine is an added advantage. This article gives you expert tips on starting a 7-day vegetarian diet plan for women, along with a sample diet chart.
Expert Indian Vegetarian Diet Tips To Lose Weight For Females
Several studies show that a vegetarian diet is among the healthiest diets and effectively promotes weight loss. It is highly nutritious and naturally low in calories. Moreover, Indian food has plenty of options, where you can enjoy delicious and healthy meals simultaneously. Vegetarian food options are also wholesome and fulfil the unique nutritional requirements of women.
Why wait longer? Here are some expert-recommended strategies that will help you kick-start your vegetarian diet plan:
Include Protein-Rich Vegetarian Foods: Have foods high in proteins as they keep you satisfied for a longer duration. This prevents you from binge eating that may lead to harmful fat accumulation the body finds hard to expend. Some examples of protein-rich foods include beans, edamame, broccoli, cauliflower, mushrooms, spinach, etc.
Pick Non-Starchy Vegetables: Pick vegetables that are non-starchy and high in fibre. Aim to include at least half of your meal servings with vegetables like zucchini, leafy greens, broccoli, etc., as it helps reduce your overall calorie intake.
Opt For Complex Carbohydrates: Have complex carbohydrates instead of simple ones. They have high fibre content and take longer to digest, thus aiding weight control. Whole grains and fibre-rich fruits and vegetables are your options.
Plan Your Meals Wisely: Never skip breakfast. Make sure to have a wholesome and heavy breakfast, so you eat lighter meals as the day progresses. Dinner should be the lightest. It is best to eat dinner at least two hours before you retire to bed.
Consume Healthy Fats: Include foods with a healthy source of unsaturated fats such as olive and coconut oils. Avocado, cheese, dark chocolate and peanut butter are some other healthy fat options.
Stock Up Healthy Snacks: If you feel hungry between meals, choose nutritious alternatives like nuts and seeds. You can choose from chia seeds, almonds, walnuts, sunflower seeds. These are high in healthy fats and fibre that will keep you satisfied and reduce hunger pangs.
Exercise Portion Control: Instead of restricting yourself from indulging in foods you like, eat in moderation. You can reduce your portion sizes, and this way, prevent overconsuming unwanted calories.
Limit Your Sugar Intake: Consuming foods and beverages high in sugar content leads to weight gain and additional health problems. So, limit your sugar intake.
Avoid Highly Processed Foods: Highly processed and packaged foods contain preservatives and contribute to unwanted calories. Stay away from them. Instead, plan and eat freshly prepared meals.
Stay Hydrated: Increase your water intake throughout the day and avoid sugary drinks like sodas and packed fruit juices. Water is essential to get the toxins out of your body while losing weight.
7-Days Indian Weight Loss Vegetarian Diet Chart For Females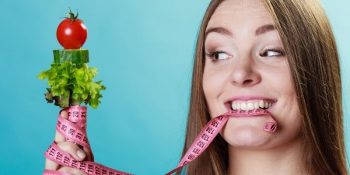 Here is a sample to help you start the 7-day vegetarian diet plan, though it is advisable to consult a certified nutritionist before you begin.
Day 1
Breakfast: Detox lemon water, oatmeal with traditional steel-cut oats topped with seasonal fruits and some cinnamon powder.
Lunch: Mixed vegetable curry with lentil soup and two multi-grain rotis along with a green salad.
Snack: One cup of green tea with a handful of almonds.
Dinner: Low-fat paneer curry with one cup of brown rice or two multi-grain rotis and one cup of buttermilk.
Day 2
Breakfast: Cucumber detox water, 2-3 small brown rice idlis with homemade vegetable sambar and coconut chutney. One filter coffee with a pinch of sugar.
Lunch: Two multi-grain rotis or one cup of brown rice with dal or mixed vegetable curry.
Snack: One orange and a piece of dark chocolate.
Dinner: One mushroom masala curry with two multi-grain rotis and green salad.
Day 3
Breakfast: Cinnamon detox water, 2-3 small multi-grain uttapams with homemade vegetable sambar and mint chutney. One glass of buttermilk.
Lunch: Tofu curry with mixed vegetable soup and two multi-grain rotis along with a green salad.
Snack: Around 2-3 small pieces of dhokla.
Dinner: Khichdi with vegetables such as beans, carrots and tomatoes along with raita.
Must Read: Effective Indian Diet Plan To Lose 5kg in 2 Weeks
Day 4
Breakfast: Lemon detox water, a smoothie bowl made of mixed berries, bananas, apples and a handful of nuts such as almonds, pumpkin and chia seeds.
Lunch: Chickpea curry with two multi-grain rotis and green salad. One glass of buttermilk.
Snack: Mixed berries or any seasonal fruit.
Dinner: Palak and chickpea curry with brown rice and one multi-grain roti along with yoghurt.
Day 5
Breakfast: Honey in lukewarm water, legume and vegetable pancakes along with one apple or one medium pomegranate.
Lunch: Khichdi made with vegetables and low-fat curd. One cup of sprout salad.
Snack: Greek yoghurt with cut fruits.
Dinner: Two vegetable parathas with raita.
Day 6
Breakfast: Chia seeds water, vegetable porridge cooked in water with herbs and fresh basil or mint leaves. One cup of pineapple slices or pear.
Lunch: Palak paneer (low-fat paneer) cooked in olive oil with two multi-grain rotis and salad.
Snack: A few pistachios and one cup of coffee with almond or oats milk without sugar.
Dinner: Tofu biryani cooked in less oil with cucumber raita.
Day 7
Breakfast: Lemon detox water, vegetable poha with homemade mint chutney, and one of cup almond milk tea or coffee with little sugar.
Lunch: Mushroom matar curry with two multi-grain rotis and green salad.
Snack: String cheese and one cup of green tea.
Dinner:  Brown rice with stir-fried vegetables and broccoli soup. One cup of Greek yoghurt.
Conclusion
We trust that these expert tips and the sample 7-day diet plan will encourage you to begin this effective vegetarian diet for weight loss. However, do keep in mind that it is best to consult a certified fitness professional to help you with a diet and fitness regimen for your unique body needs.