Which Is The Best Chemical Peel For Acne And Scars?
Pimples and acne scars are a cosmetic as well as a medical condition, which needs dedicating and a holistic treatment plan. When it comes to Indian skin, these skin conditions are spreading across teenagers and adults alike. The extreme weather conditions, improper lifestyle choices, pollution, and volatile climate makes it even worse. Pimples and scars not just look unsightly and cause pain in some cases, but they destroy the self-esteem of an individual greatly. Thankfully we have some amazing options like chemical peels for pimple and acne scars which are the first-line treatment for such conditions.
Chemical Peels For Acne And Acne Scars
Chemical peels are the most widely used procedure for acne and acne scars. Peeling is a controlled skin exfoliation procedure that uses varying strengths of plant extracts and helps in resurfacing the upper layer of the skin with deformities. Mild to moderate acne and early acne scars can be effectively treated with superficial chemical peels as a first-line treatment in addition to the topical and systemic procedures.
Chemical peels act as an adjuvant to medical treatments. They are safe and effective as their depth of penetration can be manipulated depending upon the proliferation of acne and acne scars. Peels can be used alone or in combination with other treatments as they help in bringing out rejuvenated skin from beneath by evenly exfoliating the top layer.
Must Read: How To Treat Acne Scars, Dark Marks And Pores?
Benefits Of Chemical Peels For Acne & Scars
Chemical Peels are wonderful at solving many skin irregularities. They are extremely beneficial in treating acne and acne scars in addition to a host of other skin conditions. Some of the benefits include –
Must Watch Video To Learn The Benefits Of Chemical Peeling
Types Of Chemical Peels For Acne And Scars
Chemical Peel is a cosmetic treatment that is used to exfoliate or remove the outermost layer to reveal younger and healthier skin from beneath. Major types of chemical peels include –
Mild – These chemical peels treat only the upper layer of the skin superficially, and are least penetrating. They have anti-inflammatory properties thus help in reducing excess sebum secretions temporarily. They use mild acids that belong to alpha hydroxy acid or beta hydroxyl acid families. Salicylic acid and glycolic acid are commonly used in these peels at a concentration of 30%. It gives good results and lasts for at least 1-2 months. With this treatment over time, acne begins to fade away. Studies suggest salicylic acids reduce the acne by 47-75% and glycolic acids reduce by 50-95%.
Moderate – These chemical peels penetrate until the upper layer of the dermis. They normally use 35-50% of TCA (trichloroacetic acid) This enables the exfoliation of deeper layers of the skin and thus stimulates newer collagen, elastin and other proteins under the skin. Prepping of skin is of prime importance for this kind of peel as it may cause reactions otherwise. This includes using Jessner's solution, glycolic acid, CO2 and acetone, etc. Studies suggest that TCA and salicylic acids can treat mild to moderate acne with effectiveness in darker (Indian) skin types.
Deep – They penetrate deeper into the dermis and are used to treat mild acne scars. They use very strong acids and phenol at about 88% concentration. They break down proteins under the skin and stimulate newer collagen production. Studies suggest phenol peels reduce acne scars by 75%
Must Read: What Is The Cost Of Scar Revision Treatments In India?
Chemical Peel For Acne Treatment

1 – Salicylic Acid 
Member of beta hydroxyl family
Derived from willow
Appropriate for all Indian skin types (even the sensitive skin)
Excellent pore cleanser with anti-acne properties
Anti-inflammatory
Oil absorbent
Keratolytic and comedolytic properties
It reacts with the outer layer of epidermal cells
A safe and controlled procedure as it evaporates quickly and posts drying there is no further penetration of active agents
Stimulates collagen, rejuvenates newer skin from beneath and help in skin regeneration.
2 – Glycolic Peel 
Member of beta hydroxyl family
Derived from sugarcane extracts
Improves acne with greater effectiveness
Reverses sun damage and has anti-aging tendencies
Evens out skin tone and improves overall complexion
Chemical Peels For Acne Scars

1 – Trichloroacetic acid (TCA) 
A non-toxic peel which resembles vinegar
Can be done at varying depths from shallow to deep
They help remove the dead upper layer of the skin (stratum corneum)
It may cause redness and swelling which are temporary
2 – TCA and Jessner's solution 
Stronger than TCA alone for deeper acne scars
Penetrates down to the dermal layer of the skin
Medium depth peel
Improves the appearance of acne scars in Indian skin types
3 – Lactic acid 
An alpha hydroxy acid
Best for superficial acne scars
Significant improvements to the order of 50% efficacy are seen
It improves the texture of the skin and skin radiance
Derived from sour milk
Gentle to skin and maintains the optimal pH level
Starter peel as it is extremely gentle as compared to other peels
4 – Phenol peel 
A mixed blend of TCA, phytic acid, retinoic acid, and a mixture of hydroxy acids such as glycolic acid, ascorbic acid, salicylic acid, and mandelic acid.
Brings in epidermal skin restoration
Treats acne and acne scars
Also treats hyperpigmentation and dark spots
Before And After Results
Here are the before and after image: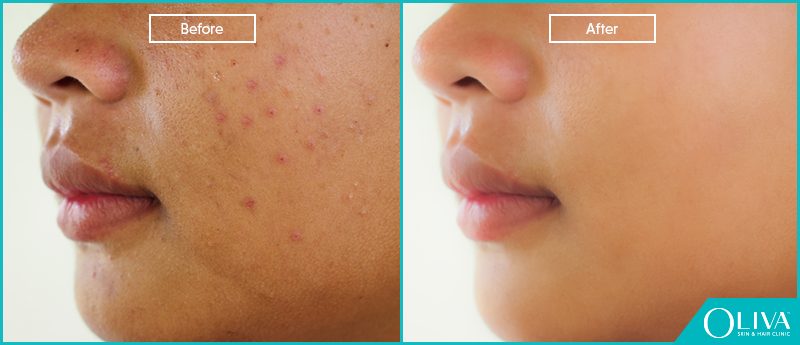 Chemical Peel Vs. Laser Skin Resurfacing
Chemical peels use plant-based extracts to gently exfoliate the layers of the skin one by one removing dead skin first. While laser treatment uses a concentrated beam of laser, targeting the dermis thus rendering the deformed cells ineffective.
Cost of chemical peel is lesser than laser, but chemical peel only treats mild to moderate acne and acne scars, while laser resurfacing treats even the deeper ones with the desired efficiency.
Chemical peels can't be fractionated, that is they cannot be penetrating deeper in some areas of the skin while not in other areas, but the laser can be fractionated to be targeted only at a selected area of skin for deeper treatments.
Chemical peels do no continue penetrating post the procedure but laser resurfacing continues to show improvement over the course of a few weeks, as it stimulates collagen production.
Must Read: How Much Does Laser Skin Resurfacing Cost?
For more information, visit your nearest Oliva Skin and Hair Clinic.
Common Questions