Acne Treatment In Kochi: Cost, Procedures & Results
Acne, though essentially a generic skin condition, can be a cause of serious concern. It is critical to address it at the appropriate time to ensure that it doesn't aggravate or persist further, leading to scars. More importantly, acne can also indicate an underlying health problem.
Thus, it is best to receive timely help.
At Oliva Skin & Hair Clinic, We have the best dermatologists for acne treatment in Kochi. They work with advanced technologies to provide long-lasting solutions for your recurring acne problems.
Keep reading to find out more and make an informed choice for your pimple treatment.
A pimple is a small, raised bump on the skin's surface and is medically known as acne vulgaris. They are most common during the teenage years and occur due to hormonal changes related to puberty. When the skin's oil glands produce more sebum and come in contact with things like dirt or bacteria on the skin, it can cause inflammation and manifest in the form of blackheads, whiteheads, red bumps known as papules, pimples filled with pus, cysts, and nodules. Acne can appear on the face, especially the T-zone, neck, shoulders, back and chest.
In most cases, mild acne among teenagers subsides on its own. If it persists or affects you in your adult years, menstruation, pregnancy, menopause, stress and hormone-related conditions like PCOS or insulin resistance may be the cause and requires specialised care.
Keep reading to understand the causes in detail and the treatments available for them.
Excess sebum, the oil that the skin naturally produces, is the most common cause of pimples. When it comes in contact with other elements like dead skin particles, dirt, bacteria, pollutants, etc., it clogs the pores resulting in redness, inflammation and pimples.
This excess sebum production, followed by skin breakouts, can occur mainly due to genetics and hormonal fluctuations, there are other external factors that can trigger or worsen acne.
What Are the Triggers That Can Make Acne Worse?
External factors that can worsen your acne include the following:
Unattended stress
Medications with androgen, corticosteroids, DHEA, lithium etc
Foods with high glycaemic index and dehydration
Unsuitable, comedogenic skincare and makeup products
Touching and popping pimples that can spread bacteria and aggravate acne
Home remedies that may be unsuitable
Lack of appropriate skincare hygiene and routine
Harsh cleansing methods that can irritate your skin and aggravate pimples
Why Should You Choose Oliva For Acne Treatment In Kochi?
Doctors at Oliva perform specialised, advanced and scientifically-proven treatments for acne management with long-lasting results.
Here are the top reasons why you must choose Oliva for your acne:
Customised Treatments: Our doctors curate unique treatment plans based on the cause of your acne, how severe it is, the extent of its spread, and your unique skin type.    
Experienced Dermatologists: The best dermatologists in Kochi at Oliva Skin & Hair Clinic are highly qualified to treat acne grades I-IV ranging from blackheads, whiteheads, pustules, papules and nodular cystic acne.
Our dermatologists include:
Modern, Sophisticated Technology And Facilities: Our state-of-the-art clinic in Kadavanthra is equipped with the latest USFDA-approved technology. Our customers enjoy world-class care with the best infrastructure and privacy with advanced solutions for your acne.
Exceptional Performance Record: Oliva's doctors have successfully completed 80,000 acne treatments and our satisfaction rate stands at 91%, proof of the effectiveness and safety of our treatments.
What Treatment Options Are Available at Oliva?
Our doctors will prescribe one or a combination of the following advanced treatments available at Oliva:
Oral And Topical Medications: The doctor may prescribe oral Isotretinoin, antibiotics, topical retinoids and hormonal therapy to reduce acne and prevent a recurrence.
Comedone Extraction: Using specialised tools, our doctors help get rid of your blackheads and whiteheads. The dermatologist performs this under safe and sterile conditions resulting in clear skin without any scarring.
Chemical Peels: This treatment will improve skin texture by eliminating the damaged layers, dead skin, oil and dirt, resulting in clear and healthy skin. In this treatment, the dermatologist will exfoliate your skin with plant-based extracts of various concentrations.
Intralesional Injections: This is a highly advanced, professional treatment to reduce inflammation and pain in case of cystic and nodular acne. This treatment also ensures minimal scarring.
Laser Toning: Oliva's doctors recommend this as an additional treatment after treating your acne, which significantly improves your skin tone and reduces acne marks and post-inflammatory hyperpigmentation.    
What Is The Pimple Treatment Procedure At Oliva?
Oliva's doctors have a holistic approach to treating pimples, ensuring the best care with long-lasting results.
Acne treatment at Oliva entails the following steps:
Detailed Consultation: Your unique treatment plan will be based on detailed consultation with an experienced Oliva dermatologist. They will study several factors like your family and medical history, hormonal health, living habits, and the severity of your acne to identify the root cause. They may also ask for blood investigations. This detailed diagnosis helps manage it for the long term and also prevents it from recurring and scarring.
Personalised Treatment Plan: You will receive an exclusive treatment plan based on your skin type and the severity of your acne, including the number of sessions of the treatments you require for the best results.
Pre and Post-Treatment Care: Our expert medical team will ensure that your skin receives appropriate care before and after the treatment to reduce any side effects while providing long-term satisfaction.
You can call us at 📞1800-103-3893 or fill out the 🔗Book An Appointment form to set up an appointment for acne treatments at Oliva Skin & Hair Clinic, Kochi.
You can also walk into our clinic located at Kadavanthra:
Oliva Skin & Hair Clinic – Kadavanthra
First Floor, Zodiac Square,
Sahodaran Ayyappan Road,
Above Titan Eye, Kadavanthra,
Kochi, Kerala – 682020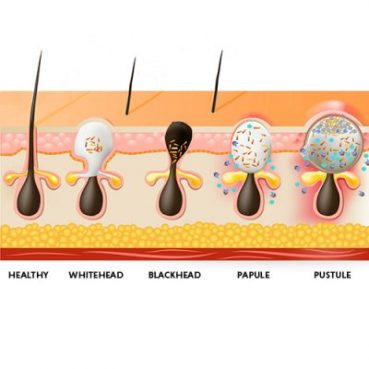 Acne Treatment Procedure Explained By Dermatologist
Watch these videos for a glimpse of the best acne treatments in Kochi performed by expert dermatologists at Oliva Skin & Hair Clinic in Kadavanthra.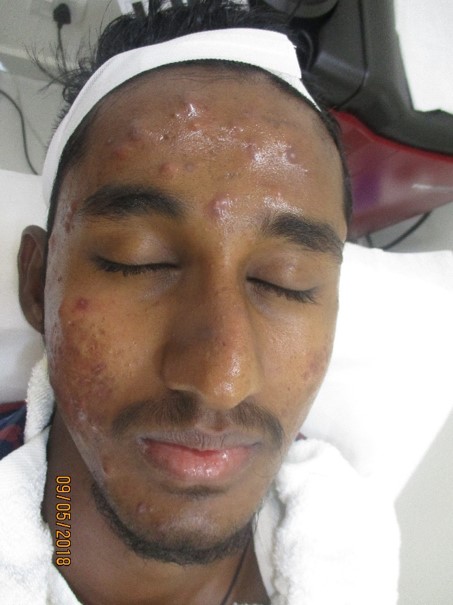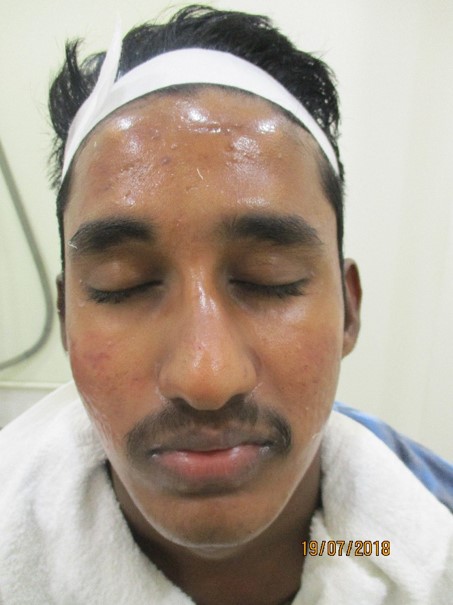 *Images are from real clients, and results can be subjective
Before & After Results Of Acne Treatment
Before and After Results
Our experienced dermatologists use the latest techniques and procedures to offer the best possible results. Check these images to see the difference for yourself: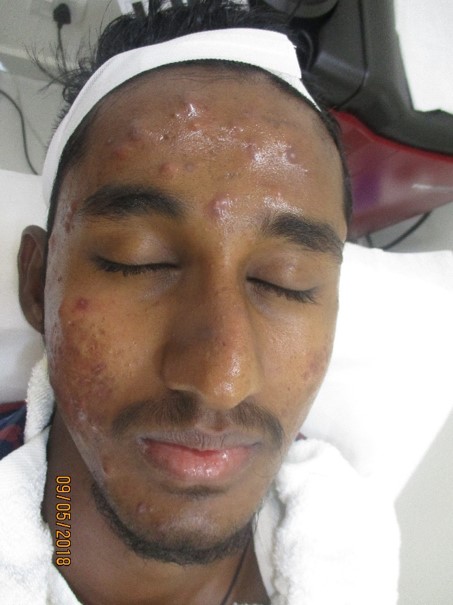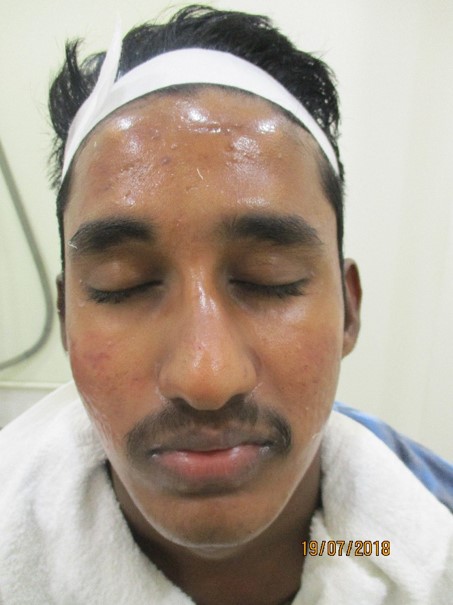 Treatment results may vary from person to person
FREQUENTLY ASKED QUESTIONS