Laser Treatment For Skin Lightening In Kochi
A lacklustre complexion can add years to your appearance. Oliva Skin & Hair Clinic offers advanced skin lightening treatment in Kochi that can successfully restore your skin's lost glow. These advanced aesthetic treatments performed by leading dermatologists in Kochi at Oliva use USFDA-approved technology and methods to naturally, non-surgically and painlessly improve your skin tone. Find out about the skin-lightening treatment options, cost, procedure details and results right here!
Skin Lightening Treatment Options Available at Oliva's Kochi Clinic
Oliva Skin & Hair Clinic in Kochi offers two advanced skin-lightening treatment options that our experienced dermatologists perform to give the best results. Before the treatment, you will have a one-on-one consultation with our expert dermatologist to help her examine the type of pigmentation you have, its underlying cause and severity. This insight will help her devise the most suitable treatment plan for your unique skin needs.
Let us understand the various skin-lightening options your medical expert at Oliva may recommend as a solo or combo  treatment:
Laser Toning: This is an advanced skin lightening treatment that uses USFDA-approved cutting-edge Q-switched Nd:YAG laser technology to treat the discoloured areas of the skin. The treatment involves using a laser beam of a specific wavelength on the target area. The skin absorbs the laser's light energy, which converts into heat and breaks down the excessive melanin pigment.
The treatment helps eliminate deep-seated pigmentation to reveal healthy and glowing skin. The melanin remnants wash out from the body as part of the skin's natural immune response. You will notice a visibly brighter, lighter and smoother skin tone. This treatment is also effective against sun damage and minimises tan and sunspots.
Chemical Peels: Dermatologists at Oliva recommend the application of a plant-based extract that helps in controlled exfoliation of the skin's damaged layers. This treatment removes dead skin cells, excess melanin and oil buildup. Depending on the type of concern, its severity and the skin type, doctors recommend light, medium and deep peel. After the treatment session, the upper layers will peel off to reveal the smoother, brighter and younger-looking skin beneath it. Your dermatologist will customise the chemical peel treatment to address your unique skin concerns.
What to Expect During This Treatment?
Your dermatologist at Oliva will customise a treatment plan for you depending on the type and severity of your skin discolouration and cause. She may recommend a combination of treatments to attain the best results. She will decide the number of sessions you need at planned intervals. You will also receive extensive pre- and post-care guidance to minimise side effects and optimise the results.
Benefits Of Skin Lightening Treatments
Skin lightening treatments offer a variety of benefits which are enlisted below –
The laser treatment works on removing the excessive melanin content. This results in visibly brighter and lighter skin tone.
It helps reduce pigmentation, dark spots, acne marks and age spots for achieving a flawless skin tone.
The procedure is ideal for removing suntan and restoring your natural complexion.
The advanced treatment options are safe for all types and tones of Indian skin.
It is affordable, pain-free and gives visible results.
Skin lightening services are non-invasive and quick with no major side effects and downtime.
It minimises dullness and discolouration associated with ageing skin.
Why Choose Oliva Clinic In Kochi?
If you are looking for the best dermatologist near your or the best clinic for skin lightening treatment in Kochi, Oliva should be your top choice because of the following reasons:
Leading chain of medico-aesthetic clinics with over 100+ experienced dermatologists. Our top dermatologists part of Team Oliva, Kochi include:
Comprehensive consultation and customised procedures
USFDA-approved Q- Switched Nd:YAG  laser technology for the highest safety and efficacy
Cost-effective treatment with little to no downtime
Extensive pre and post-care support for the best results
Modern world-class amenities for a seamless experience
Trusted name for complete privacy of the treatment with adherence to strong ethical values
More than 3,00,000 happy clients and a proven track record of completing 50,000+ successful skin-lightening procedures
Four-time winner of the Times Of India award for being the No. 1 skin and hair clinic
For one-to-one consultation with our expert dermatologists for the best skin-lightening treatment in Kochi, you can walk into Oliva Skin & Hair Clinic at Kadavanthra. You can also fill up the 🔗Book An Appointment form available here or call us on our toll-free number 📞1800-103-3893 to learn more about our various skin lightening treatments in Kochi to restore your flawless complexion. Our customer care team will reach back to you to help you schedule an appointment at your preferred time and date.
Find and connect with the top dermatologists at
Oliva Skin & Hair Clinic, Kochi
First Floor, Zodiac Square, Sahodaran Ayyappan Road, Above Titan Eye, Kadavanthra, Kochi, Kerala – 682020
Oliva's skin lightening treatment at Kochi is a safe and painless way to restore your youthful radiance. It helps fight the early signs of skin ageing like dullness, dark spots and uneven skin tone. Opt for USFDA-approved technology-based skin lightening treatment today and get ready to enjoy the best results.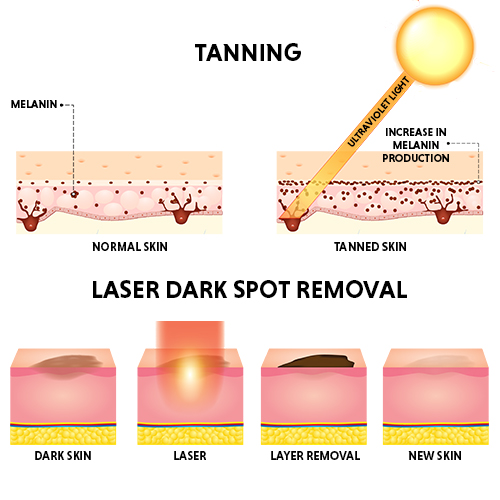 Before opting for skin lightening treatment in Kochi at Oliva Skin & Hair Clinic, you might want to understand how it works. These videos by our experienced dermatologist will tell you about skin lightening treatment options, different types of skin it treats, how the procedures work, and so on.
FREQUENTLY ASKED QUESTIONS