2000 Calorie Diet Meal Plan for Weight Loss
Weight loss doesn't mean deprivation or sacrificing your favourite food or meals — in fact, a sustainable weight loss journey consists of a balanced diet with meals divided throughout the day.
Today, we'll talk about one such diet plan called 2000 kcal diet, that nourishes your body, keeps you full for a longer time, and ensures you don't miss out on your favourite food items.
What Is a 2000 Calorie Diet?
The 2000 calorie diet is popular among weight loss enthusiasts as it provides a healthy start and fulfils adequate energy needs. The FDA considers it a meal planning benchmark as per its 2020-2025 dietary guidelines.[1] However, every individual's daily calorie needs vary and depend on factors like age, gender, height, weight and physical activity.
Most nutrition labels offer meal recommendations based on a 2000 kcal diet and it's great for planning balanced meals while losing weight. It fulfils your nutritional needs and energises you throughout the day while keeping you fit.
Must Read: 1500 Calorie Diet Plan For Weight Loss
2000 Calorie Meal Plan
Before we dive into the 2000 calorie meal plan, let us first understand a few basics. Eating the right amount of calories helps regulate weight and prevent further weight gain. But what is a calorie? A calorie is a unit of energy that represents the energy derived from eating a particular food or drink. You can monitor weight loss by tracking your calorie consumption.
According to the National Institute of Health (NIH), the daily calorie requirement for men is around 2,900 kcal/day, while women require 2,200 kcal/day with light to moderate activity.[2]
Nutrient density is another widely used term which refers to the number of nutrients in a food item. It is expressed as the nutrient content of 100 grams of particular food per 100 calories. Nutrient-dense foods are low in sugar, fat and salt and usually include essential macronutrients such as carbohydrates, fats and proteins.
Here's the distribution range of various macronutrients in a 2000 kcal diet:
45-65% of carbohydrates
20-35% of fat
10-35% of proteins
Calories can be divided to spread across the day
1/4th of 2000kcal can be provided in breakfast
1/3th of 2000kcal to be included in lunch
1/3th of 2000kcal provided in dinner
1/9th of 2000kcal can be snacks
Sample Meal Menu
Non-vegetarian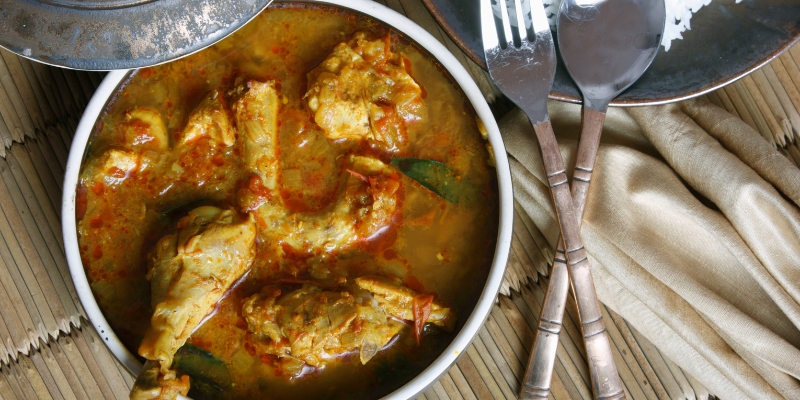 Pre-breakfast: Take water with 2 tbsp of chia seeds
Breakfast: 3 eggs (2 egg whites + 1 whole egg) with 3 slices of brown bread
Mid-morning snack: Fruit bowl with 2 tbsp of sprinkled flax seeds
Lunch: 1 cup salad + 2 rotis + grilled chicken (100g) + 1 cup dal + 3/4th cup brown rice
Mid-evening snack: 1 cup makhanas with groundnut and walnuts
Snack: 2 tbsp of mixed nuts
Dinner: 1 plate of fish or chicken steak
Post-dinner: 1 glass of buttermilk
Vegetarian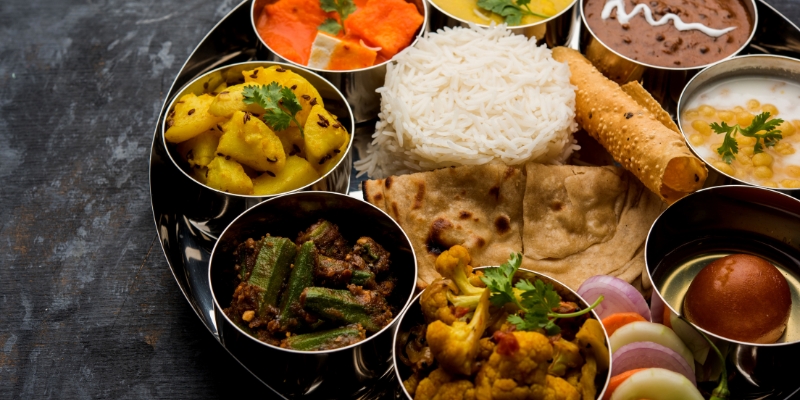 Pre-morning: 1 glass of water with 2 tbsp of pre-soaked fenugreek seeds
Morning: 1 cup of oats with almond milk and 1 tbsp of peanut butter
Mid-morning snack: 1 cup fruit salad with sprinkled chia seeds
Lunch: 2 rotis with 1 bowl of dal + paneer bhurji + 3/4th cup rice + 1 cup mixed salad
Mid-evening: Grilled mushrooms (6-7)
Snack: 1 cup yoghurt with blueberries
Dinner: 1 cup quinoa with 2 cup tofu curry
Post-dinner: Kheer made with almond milk
What to Include in a 2000 Calorie Diet Plan
Follow a well-balanced and healthy diet by including fresh fruit, vegetables and other foods that provide adequate nutrition and calories for the body to function optimally. Look for foods that have plenty of macronutrients and are nutritionally dense.
The types of foods you can eat in a 2000-calorie diet include:
Try to consume whole fruit instead of juice. Take 4-5 servings of different fruits, such as mangoes, apples, peaches, pineapples, strawberries, tangerines, melons, etc. Have a medium fruit with 1/4 cup of dried fruit, frozen yoghurt or 1/2 cup of fruit juice.
Vegetables are excellent sources of potassium, magnesium and fiber. Have around 4-5 servings of different vegetables like spinach, kale, broccoli, squash, sweet potatoes, peas, carrots, etc. On a typical day, take 1 cup of raw vegetables, 1/2 cup of cooked vegetables and 1/2 cup of vegetable juice.
Grains are good sources of carbohydrates, magnesium and fibre. Aim for 6-8 servings of different grains such as millet, whole wheat bread, brown rice, cereals, pita bread, etc.
Dairy is a good source of protein and calcium. Take 2 to 3 servings of low-fat or fat-free dairy products. Opt for soy or lactose-free products if you're allergic to dairy.
An excellent source of protein and magnesium, lean meat includes fish, poultry and eggs. Take 5-6 servings of chicken or turkey without skin, eggs, lean cuts of beef, pork or tuna. A typical serving size includes a cup of chicken or fish and 1-2 eggs.
Fats and oils offer a good amount of energy and vitamin E to the body. Include healthy fats and oils in your diet, such as sunflower, olive, coconut, etc.
Nuts, seeds, and legumes offer good proteins, fibre and magnesium. Take 4-5 servings of nuts or seeds, such as chia, flax, sunflower, pumpkin, almonds, hazelnuts, walnuts, etc. In legumes, you can take kidney beans, lentils and split peas.
What to Avoid in a 2000 Calorie Diet Plan
As a rule of thumb, avoid food with high amounts of sugar, salts, preservatives, fats, etc. Limit foods that offer empty calories or have little to no nutrition.
Here is a list of foods to avoid:
Avoid processed foods like refined flour, white bread, chip, cookies, etc.
Avoid foods with added sugar, such as cakes, soda, takeout foods, sugary drinks, etc.
Limit the intake of foods high in saturated fats like margarine, full-fat milk, processed meats, etc.
Foods high in trans fats should also be avoided, such as frozen pizzas.
Aim to consume 2,300 mg sodium in a day. Limit your intake of salty products such as cured meats, pickles, sauces, etc. Avoid alcoholic drinks. You can take red wine but limit the quantity.
Frequently Asked Questions