PRP Hair Treatment In Bangalore: Cost, Results & Procedure
Hair fall and hair thinning are the common concerns for men and women. A recent study conducted by Bangalore based hair research center, revealed some shocking results. After an eight-month period research, it was discovered that more than 50% of patients who undergo hair transplant in Bangalore belong to age group of 20-30.
Now this problem can be easily reversible with Oliva's advanced PRP hair treatment in Bangalore.
Did You Know?
Oliva Clinic Offers Completely Safe & Non-surgical PRP Hair Treatment In Bangalore At Affordable Cost. Book Your Appointment Now to get the exact price.


What is PRP Hair Treatment?
PRP, i.e Platelet Rich Plasma, is the most popular and non-surgical medical treatment for hair fall to revive and restore lost hair naturally.
How Does PRP Hair Treatment Work For Hair Loss?
PRP hair treatment is simple a procedure wherein a client's blood is collected so that the platelets can be separated to procure a health rich portion of blood, which is then injected back into the scalp using fine syringes. This treatment is highly effective in restoring the hair follicles back into their original state.

Check out the below video to know more about PRP Hair Treatment In Bangalore
PRP Hair Treatment Cost In Bangalore
The average cost of PRP hair treatment in Bangalore ranges between Rs.8000 to Rs.12,000 per session. This cost may vary from person to person based on several factors like includes area to be treated, number of sessions required, root cause of the concern, etc.
Did You Know?

Oliva Clinic Offers Completely Safe & Non-surgical PRP Hair Treatment In Bangalore At Affordable Cost. Book Your Appointment Now to get the exact price.
Before & After Results Of PRP Hair Treatment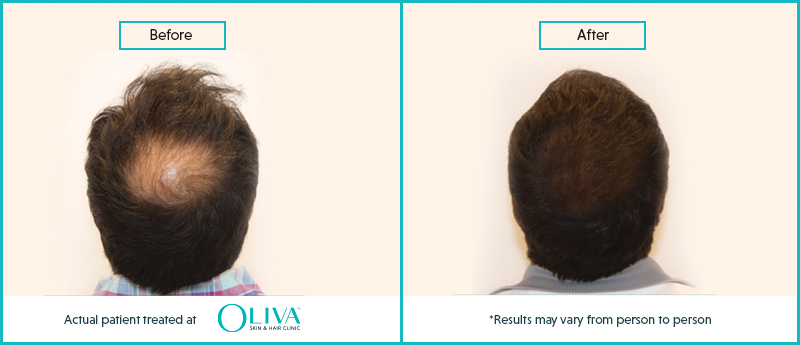 Benefits of PRP Hair Treatment
PRP hair treatment has many benefits that you can enjoy! Let's look at some of them
Precision In The Growth Pattern– Since we use fine needles/syringes to insert the rich platelets into the scalp, the practitioner is in control and the hair can be grown in the manner that is aesthetically pleasing. Hair grows back thicker and stronger.
No Side Effects– PRP is very safe and does not cause any form of allergy, side- effects or infection.
Non-Surgical– It is a non-surgical treatment that is efficient and safe for the client.
Safe Ingredient– The process involves taking your blood, isolating the platelets, activating them and injecting the solution back into your scalp. Your blood is the only ingredient that is used. Unlike mesotherapy or any other kind of treatment, PRP does not contain any plant/animal cells.
Quick Procedure: The procedure is completed within an hour and there is absolutely no downtime
Why Choose Oliva Clinics For PRP Treatment In Bangalore
Oliva has been ranked as the number one medico-aesthetic clinic in South India by TOI. PRP is an exceedingly sought after treatment for hair fall, and Oliva has state-of-the-art equipment just for you.  We have made a list of reasons:
We have a team of highly qualified dermato-trichologists who are easily accessible and available for you.
All therapists and assistants are thoroughly trained to carry out PRP.
After a much discussed one-on-one consultation with our in-house dermato-trichologist, the treatment is then customized to suit your need and give you satisfying results.
All machines are US-FDA approved, and the platelets go through a double-spin procedure to ensure you receive highly concentrated plasma.
We, at Oliva, have a strict set of guidelines and protocols that must be adhered to at all times with no exceptions.