Non-Surgical Double Chin Treatment: Benefits, Cost And Results
A long, slender arching neck is what made Queen Nefertiti famous. We all secretly desire a graceful neck to hold our beautiful head up. A double chin is what gets in our way, so let us help you remove it forever. You will not need another treatment once you find out what we have in store for you.
What Is A Double Chin?
A double chin is an extra roll of fatty flesh found below a person's jaw-line/chin. It is often referred to as a neck wattle if the fat is loose and hanging. A double chin is not a sign of aging as it can occur at any point in life. A double chin can be spotted easily in the profile view of your face.
Must Read: Ageing Skin – Meaning, Causes And Treatments
What Causes Double Chin?
A double chin can occur for three reasons; all are common factors that increase the chances of a sagging chin and increased fat storage.
Genes: More often than not, many people do inherit a double chin. The genes decide on the facial bone structure as well as the fat deposits. People with round faces tend to have a noticeable double chin. If the cause for double chin is genetics, then it may be hard for you to get rid of it. One can always maintain a healthy lifestyle and reduce the appearance of a double chin.
Being Overweight: Those who weigh more, tend to have a double chin. Since the fat gets stored in the usual spots like stomach, thighs, and arms, the fat eventually starts to fill up under the chin causing a fat double chin. One must also remember that quick fat loss will create a sagging chin, as the fat quickly vanishes leaving the skin under the chin lose and hanging. Eating food with a low amount of fat and exercising regularly will diminish the double chin quickly.
Aging: Growing old means your metabolism slows down. This leads to muscles loss, low elasticity of skin and fragile bones. Since the level of elasticity cannot hold the skin up as well as it used to, this leads to sagging skin and a double chin. Also, the fat deposits start to accumulate under the chin once you turn 40.
Can Exercises Help In Reducing Double Chin?
There's no scientific evidence that chin exercises help to reduce this condition. Exercising the facial muscles and massaging might help you tighten the neck muscles and reduce fat in the lower jaw-line. Some people claim this helps in reducing the double chin. However, if you see little to no improvement, consulting a dermatologist/plastic surgeon will be a better option to get rid of this condition.
How To Get Rid Of Double Chin?
A double chin is easy to get rid of as there are plenty of solutions for this cosmetic problem. A few alternations in your diet, lifestyle, sleep pattern and exercising, and soon you will have a chiselled jaw-line and a beautiful neck. It is important to remember to practice these healthy habits every day to see any changes. And keep in mind to practice them even after the double chin is gone as this will prevent one from developing again in the future!
Non-Surgical Treatment To Reduce Double Chin
The medical surgeries for removing double chin can be expensive. These surgeries need multiple sittings which charge for every session. In comparison, non-surgical treatments to reduce double chin is convenient and cost effective way to get rid of this condition. Here are the benefits:
It tightens the lax skin without surgery.
Tightening of the sagging neck.
Jowls or cheek folds reduction.
Improvement in fine lines & wrinkles.
Several cosmetic treatments to reduce double chin are:
Ultherapy – This treatment uses focused ultrasound and regenerative powers to lift, tighten and tone sagging skin. It is a non-invasive method of using an ultrasound wand to stimulate collagen production and remove a double chin.
Intragen – A quick and excellent treatment for double chin, facial wrinkles and loose, sagging skin.
Must Read: How To Find A Dermatologist Near You?
Uses Of Intragen
Intragen is considered the best, most effective and popular method of reducing a double chin. It not only tones and tightens sagging skin, but also comes with other benefits such as;
Skin Texture And Tone – It greatly improves the total tonality of skin, improves on the texture and creates a youthful glow. It softens and smoothens the skin as well.
Improved Contours – Many suffer from loss of fat from under the eye area; as a result, Intragen helps reduce the appearance of sunken eye grooves. It also sculpts the jaw-line and jowls, improving the overall face shape. Nasolabial folds (laugh lines) are also corrected using Intragen.
Increased Blood Flow To The Skin – After using Intragen, many patients have experienced glowing complexion and more youthful appearance. Intragen can help reduce fine lines, wrinkles and frown lines as well.
Must Read: How To Remove Fine Lines On Face & Under Eyes?
What Is The Mechanism Of Action For Intragen?
Intragen is a machine that uses a 6MHz generator and delivers fractional radio frequency through its sophisticated tip. It creates grid shapes on the epidermis (the outermost layer of skin) and uses thermal (heat) energy to tighten and tone the skin.
Each treatment session lasts for 30-45 minutes.
Multiple sessions are required for visible results.
Measurable tightening & contouring appears gradually in 2 to 3 months following the treatment sessions.Results can last up to months to a year depending on the skin condition & aging process.
What Is The Cost Of Double Chin Reduction?
The surgical treatment for neck contouring starts from Rs 1,00,000. You may need to spend additional cost for the surgical procedure. However, non-surgical reduction for double chin ranges between Rs 20,000 to Rs 60,000.
Before And After Results Of Double Chin Treatment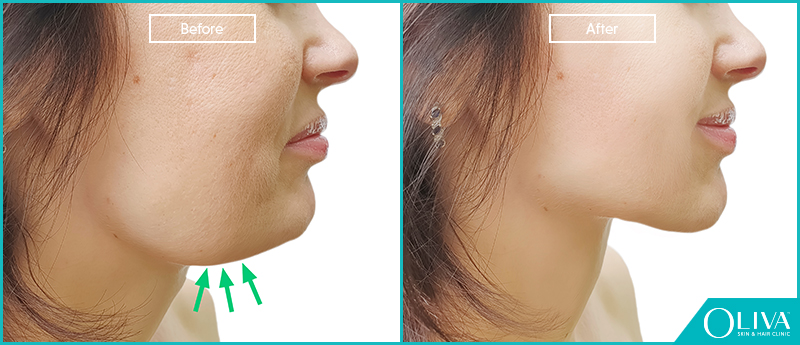 What Are The Precautions To Be Taken?
Some precautions must be adhered to if you are planning to use Intragen.
Avoid contact with water for 6 hours post-treatment.
Do not expose your skin to the sun for at least 1 week before and after treatment.
Sweating must be avoided, which means no physical activity or exercise for the entire day post-treatment.
Salon activities such as facials, masks, massages must be avoided for 15 days post-treatment.
Drink plenty of fluids and keep yourself hydrated for 48 hours post-treatment.
What Are The Health Risks Of Having A Double Chin?
Having a double chin is a symptom of obesity and/or sleep apnea.
Obesity is a huge health issue that must be addressed immediately before it turns into a grave problem. Obesity can cause heart attacks, high blood pressure, back pain etc.
Another risk that can occur if you have double chin is sleep apnea, which is when you stop breathing for short amount of time during your sleep. Sleep apnea is very dangerous, and consulting doctor is of great importance if you notice that you're suffering from this problem.
Don't let anything hold you back. Removing a double chin will help you look more elegant than you did before.
FAQs On Double Chin Treatment
How Long Does The Procedure Take?
The procedure is 20-40 minutes long.
Who Is The Right Candidate For This Treatment?
It is suitable for both men and women. They must be 30 and above to undergo the Intragen treatment.
When Will I See Results And How Long Do Results Last?
It is a pain-free procedure, wherein the results are visible immediately post-treatment. The results can last up to 6 months after just one session.
What Is The Best Choice For Me?
Intragen is the best choice for someone looking to improve the firmness of their skin. Intragen is excellent for a double chin, a sagging chin and cheeks and hollow eye sockets.