How To Get Rid Of Nose Hair Permanently?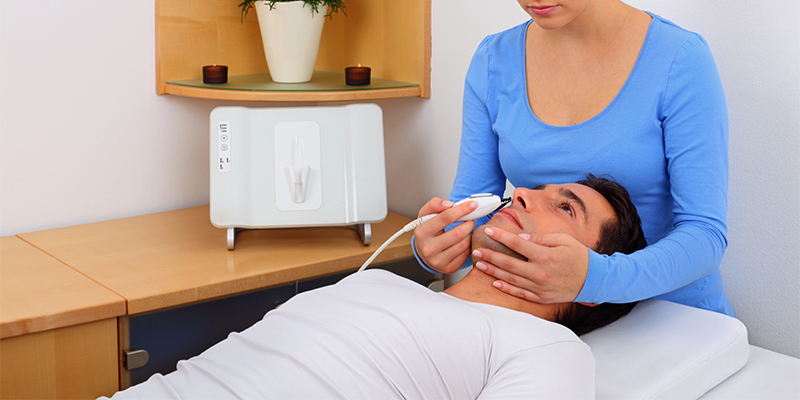 Adult human's nasal passage is essential as it prevents foreign debris and particles from entering our system via respiratory tract. But the hair density may be too high for some, which prompts them to seek procedures for nose hair removal.
Nose Hair Problems
In addition to genetic factors, nose hair grows out excessively during hormonal changes or with age. Working with the cilia (cell structures found in the deeper areas of the nasal tract), nose hair helps in preventing the contamination of the respiratory tract with dust, germs and other microscopic debris. The issue of hair growing outside the confines of the nostrils hampers the aesthetic appeal greatly.
What Causes Nasal Hair Growth?
The hair in our body is sensitive to androgens. And as we age, our bodies produce and react more to androgens which are the hormones produced by the body that possess a high level of testosterone, and due to this increase, we tend to have a relatively higher level of hair growth, even in places where the hair follicles were previously inactive.
In terms of the individual hair, the increased testosterone levels prolong what is known as the anagen phase (growth) of hair cycle. This is the first of a three-step cycle of hair growth in which the hair shaft grows. In simple words, the hair continues to grow for an extended period of time when they typically would be in the stage of falling out.
Thus, nasal hair (also eyebrow and ear hair) grow longer, darker, and coarser while other hair (on the scalp) gets thinner. This effect is directly related to reaction of the increased levels of testosterone and the chromosome makeup of men and women.
Must Read: Safe And Effective Laser Nose Hair Removal
How To Remove Nose Hair Permanently?
There are several methods of removing nasal hair like laser treatment, wax, hair removal creams and home remedies.
Nose Wax: Keeping in the theme of nose hair removal for the brave, waxing is a more common choice than most realize. The wax is put only in the immediately accessible area of the nose (only slightly into the inner ridge of the nostril) using a stick. It is then removed swiftly. If done haphazardly or by a person with no experience, hair removal wax might cause burning sensation on the sensitive skin both on the face and inside the nasal tract.
Hair Removal Creams:

Depilatories are available in forms of lotions, creams and gels. They break the protein bonds of hair chemically, removing the hair instantly. Based on the composition, a 

depilatory cream

 can remove hair in 5-10 minutes post-application. You will need to choose the hair removal cream based on your skin type. You will not get a hair removal cream for nose; rather you will have to choose something available for body hair removal. 

Electrical Trimmers: Think of electric nose hair trimmers as electric shavers but for your nose. Over time, these battery-powered devices have had several features that make nose hair removal easier, that include variety of trimmer heads, a light for easier targeting, vacuum suction to extract loose hair, etc. Tiny blades trim the hair along the nasal wall keeping those nose hair out of sight. Considering the benefits a high-quality electrical trimmer is a worthy investment to get rid of unwanted nasal hair. Personal trimmers are widely available in Indian at starting price of Rs 600 – 700.
Laser Body Hair Removal: Firstly, laser hair removal is done only in the exterior areas of nose. Nose hair that grows beyond the nasal tract is where the procedure will be performed. Laser clinics perform hair removal procedure from upper nose, surface, tip, bridge and the sides of the nose (lower left and right). There is an added benefit of tackling the mild redness that appears in areas of excess hair growth through the procedure, as it improves the tone of the skin as well. The procedure should take no longer than fifteen minutes, and there is no recovery or downtime.
Hair Grooming Scissors: Stainless steel scissors with rounded safety edges often considered as one of the best tools for nasal hair grooming. A scissor is designed with thinner, shorter blades to safely and efficiently trim hair. Compact design and portable lightweight. Regardless of the sharpness of the blades, there is always a chance to damage the sensitive skin leaving it prone to infection and other issues.
Plucking/Tweezing: By far the most painful method of nose hair removal, tweezing is not for the faint-hearted. While one would assume that uprooting the hair shaft tackles the problem for a longer period of time, you also increase the risk of infection due to the exposed pores. Bacteria tend to thrive in dark and moist environments, and excessive tweezing could make your nasal tract a breeding ground for unwanted microscopic matter.
Must Read: Best Methods To Remove Pubic Hair For Males
What Is The Best Nose Hair Removal Option?
Due to the contours of the nostrils, the sensitivity of the nasal tract and the function that the hair inherently has, some methods are more effective than others at removal without compromising your hygiene and safety. There are many nose hair removal options for both men and women, but some are safer and more comfortable than others. Read more to understand the best methods:  
Preferred Methods:
Electrical trimmer and scissors are considered safer tools to manage nasal hair growth. However, one should avoid trimming the nose hair with nail scissors or other small scissors with sharp points.

Laser treatment helps to reduce the number and thickness of the hair, thus making it a long-lasting solution. However, laser hair removal is done only in the exterior areas of the nose. 
Methods To Avoid:
Due to the chemical ingredients, hair removal creams cause strong odours or cause irritation or allergic reactions. 

Waxing can lead to the removal of the entire hair shaft from below the skin line, causing significant damage to the delicate skin and membranes in and around the nose. 

Pulling out the individual hair strands with tweezers can also lead to ingrown hairs and infection in the nose.
Must Watch:
Let's know more about laser treatment.
How Does Laser Nose Hair Removal Work?
Dermatologists view laser nasal hair removal treatment as the most comfortable, safe and long-term method for nasal hair growth. Anyone opting for this procedure experiences a permanent reduction of hair volume and thickness. There are some safety concerns attached with the application of lasers inside the nose. So this treatment must be undertaken up only by an expert dermatologist and with extreme caution and precision.
Must Watch:
How Much Does Laser Hair For Removal Nose Cost?
The approximate cost of laser hair removal for nose comes to Rs. 3,000- Rs. 5,000 per session, under an experiences dermatologist. And for reaching desired results there would be a few sessions required. This cost is subjective as it depends on several factors like –
Skin type
Density of hair
Thickness of hair
Underlying health condition which may have triggered unwanted hair growth in the first place.
Must Read: How Much Does Full Body Laser Hair Removal Cost In India?
What Are The Before & After Results?
If proper dermatologist recommended procedures are taken up, then there would a visible change soon after a couple of sessions but the long term results may take a while. Also the traditional methods may give quick and temporary results. Though it is not recommended to pursue any nose hair trimming procedure without expert guidance, and the results are subjective based on the method taken up.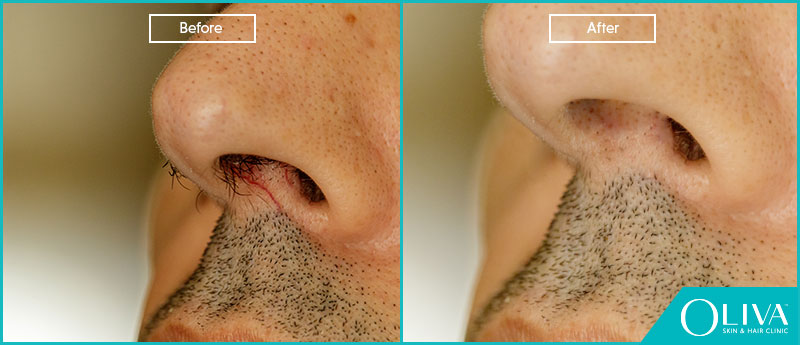 Common Questions