Best Hair Removal Methods For Men: A Quick Comparison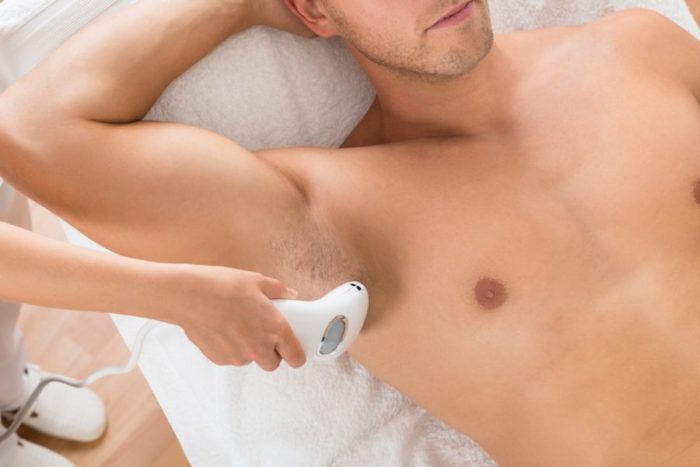 General grooming and cleanliness are changing norms in our society. Trimming hair and keeping brows, chest, back and ear lobes shaved, is becoming a prominent part of men's grooming routine, to enhance their appearance.
Is It Normal For Men To Remove Body Hair?
A hair-free skin looks smooth and beautiful. But the question arises do men prefer to remove hair? As a matter of fact, a significant proportion of Indian males prefer hair-free skin. Thus, we can conveniently say that hair removal is no more gender specific. Be it personal hygiene or beauty care preference, more men now consider different hair removal methods. Experts suggest, while choosing the right hair removal method focus should be given on finding a long-term, painless and cost-effective solution.
Hair Removal Needs For Men
When we say hair removal for men, it is not just confined to only shaving and trimming their beards and moustaches. Most methods available for men focus on removing hair from the following body parts:
Private parts and pubic region i.e. grooming genital parts
Chest hair removal i.e. reducing thickness and coarseness
Grooming hair on hands, back and abdomen
Managing unwanted facial hair i.e. beard and eyebrows shaping
Grooming neck area
Legs, buttocks and groin region
Also Read: How Long Does Laser Body Hair Removal Last?
Best Hair Removal Methods For Men
Hair removal for men is well past beyond the conventional beard grooming sessions, and we have some advanced and specialized treatments for long term, cost effective and safe procedures. It is time to get rid of unpleasant and unwanted hair to flaunt a perfect and well-groomed side of yourself. While traditional methods like hair removal creams, razors, waxing, tweezing and plucking may not be pleasing anymore, because of excruciating pain and recurring expenses. So it is essential to identify and utilize the most cost-effective, painless and long-term methods of hair removal in men. Here are all the best methods available in India:
Hair Removal Cream For Men
Depilatory creams are one of the popular methods for managing unwanted hair for men. These creams contain chemical compounds as one of their ingredients. When you apply such creams or gels on your skin, it has an impact on the proteins present in the hair, causing them to dissolve. It causes the hair to fall out. Once the process is complete, you can wash off the cream with water. These depilatories are readily available over-the-counter, and they can keep the unwanted hair at bay for about two weeks.
Suitable For: Pubic and private parts, chest, abdomen, underarms, legs and hand.
Duration Of Procedure: You will need to leave the cream on your skin for at least 5-10 minutes. But the entire removal procedure can take anywhere between 30 minutes to an hour.
Cost: Hair removal creams for men which are available over-the-counter can cost around Rs 60 to Rs 150 whereas salon treatments will be slightly expensive, ranging between Rs 300 to Rs 500.
Downside: They have several side effects and are temporary.
Common Side Effects: Allergic reactions, burn, odor, skin darkening
Must Read: Are Hair Removal Creams Better Than Lasers?
Laser Hair Removal
Laser body hair is the best choice for selective parts or full body hair removal for men. In laser treatment, the laser beam targets the hair roots by penetrating the shafts of the hair. It works on the principle of selective photothermolysis (SPTL) with a specific wavelength of light and pulse. It simply destroys the target hair follicle in the anagen phase of hair growth, thus helping in permanent hair reduction. However, it does not damage the structure of the pores of the skin. Once the treatment is complete, you will notice long-term results. You will have to schedule annual or bi-annual follow-ups to maintain the efficacy of the procedure.
Suitable For: Facial hair, private parts, chest and back, hands, legs and underarm.
Duration Of The Procedure: The average session duration is about an hour and usually 6-8 sessions are required.
Cost: The cost would depend upon the body area and the type of laser which is used. On an average, it can cost around Rs 2,000 to Rs 20,000 for each session, but it can vary.
Downside: It requires higher upfront investment. However, it's almost 40% more cost-effective compared to traditional methods of hair removal in long term.
Common Side Effects: This is a safe treatment with minimal side effects.
Must Watch:

Hair Removal Wax
Heated wax is used to remove hair from various body parts. It is a fairly lasting method (lasting 2-3 weeks) before the hair grows back. It is a painful process. Waxing can either be done at home or at salons by professionals. The time taken for a waxing session depends upon the body part which is being waxed.
Suitable For: Chest, back, abdomen and eyebrows
Duration Of The Procedure: Depending upon the body part, it can take anywhere between 10 minutes to an hour.
Cost: From Rs 50 to Rs 1000 for each session. However, it is a life-long expense on a weekly, bi-weekly or monthly basis; depending on your hair growth.
Downside: Short term results, lifelong expenses
Common Side Effects: Causes redness, rashes, painful bumps, skin infection and bruises.
Must Read: What's Better: Body Waxing Or Laser Hair Removal?
Shave Excessive Body Hair
Razors are readily available and from decades they have been used due to their ease of availability. But using the razor to remove hair from some sensitive areas like axilla (armpits), private areas, legs and face can be painful and time consuming. There may be several side-effects like cuts and burns and sometimes these cuts can become infected as well. A razor or waxing strips are used to remove the product. Its effect is only on the upper layer of the skin, and hence, it just removes the hair from the surface.
Suitable For: Chest, back, abdomen and eyebrows
Duration Of The Procedure: Depending upon the body part, it can take anywhere between 10 minutes to an hour.
Cost: From Rs 50 to Rs 300 per unit.
Downside: Short-term results which can last up to 3-5 days in case of shaving and about four weeks in case of waxing.
Common Side Effects: Painful, chances of getting cuts, ingrown hair, scars and painful bumps.
Electrolysis Hair Removal
This is one of the most expensive as well as time consuming method of permanent hair removal for men. This process focuses on killing the hair stems at its root thereby preventing it from growing again. It is extremely painful and you will have to attend several sessions with each session being 15-30 minutes. An ultra-slim needle is used to target the hair follicles. These hair follicles are then destroyed by the shocks of electricity present in the needle.
Duration Of The Procedure: Depending upon the amount and thickness of your hair, you might have to schedule a number of sessions. Each of those sessions will range from 10 to 20 minutes.
Cost: Each session on an average can cost up to Rs 2,000 to Rs 2,500.
Downside: It is an extremely painful and time consuming process.
Common Side Effects: The pain associated with the procedure is the known side effect.
Must Read: Is Electrolysis Better Than Laser Hair Reduction?
Which Is The Best Hair Removal Method For Men?