PRP Hair Loss Treatment in Pune: Cost, Benefits & Results
Every individual desire to have a full head of hair but not everyone is fortunate enough to have it. A major cause is hair loss, a condition that is best evaluated and diagnosed by a trichologist or a dermatologist.
Hair Loss Problems In Pune
Hair loss, also known as alopecia, is a common condition faced by people of all ages and genders. Hair falls excessively from different areas of the body, most commonly the head.
Here are some major causes of hair loss:
Hormonal imbalance
Medical conditions
Genetics
Stress (Emotional/Physical)
Lack of protein
Anaemia
Scalp infection
Environmental factors – exposure to harsh UV rays, pollution, etc.
Pregnancy
Are you losing excessive hair? Check the hair loss calculator now:- 
PRP Therapy For Hair Fall 
There are a number of hair treatments available in Pune. Among them, Platelet-rich Plasma Therapy (PRP) is your best bet when it comes to successfully treating hair loss as well as stimulating the regeneration lost hair. In PRP, a blood sample is taken from the patient, usually from the arm, and it is placed in a centrifuge machine to separate the plasma and platelets. The separated platelets are rich in growth factors. They are then microinjected into the problem areas on the scalp. The activated plasma helps in stimulating dormant hair follicles, which in turn results in the regrowth of new hair.
What Are the Advantages of PRP Hair Treatment?
The PRP treatment offers a number of benefits such as:
It is a non-surgical treatment
Its downtime lasts for less than an hour
Compared to other hair loss treatments, this treatment is less painful
No harmful chemicals are used
Ideal for individuals whose hair loss problems are at an early stage
In comparison to other hair loss treatments, PRP is more cost-effective
The success rate of PRP treatment is higher
Apart from stimulating hair growth, it also boosts the volume of hair
#Bharath Bommaganti's experience of PRP Hair Treatment at Oliva Skin and Hair Clinic#
Who Is The Ideal Candidate For PRP Hair Treatment?
PRP treatment sees good results while treating both male and female patterned hair loss and is ideal for any individual who is above 18 years of age. However, there are some exceptions:
Chronic smokers
Pregnant women
Breastfeeding women
Users of anticoagulant drugs
What Kinds Of Results Can I Expect From PRP Treatment?
A PRP treatment will consist of 4-6 sessions on average. Results can be seen after 2-3 sessions. Between your first and fourth session, you will observe a visible reduction in hair loss and an increase in hair density.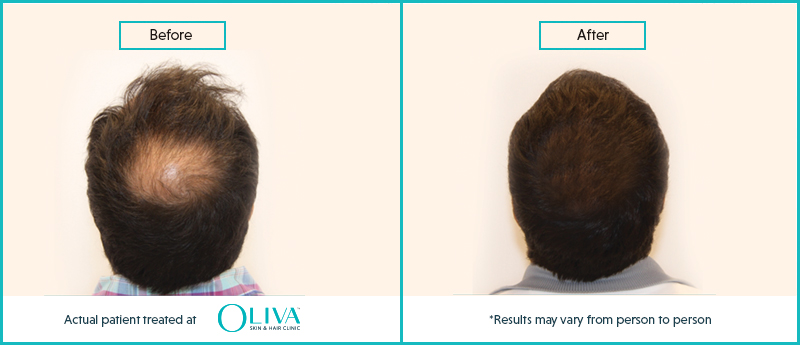 What's The Cost Of PRP Hair Loss Treatment In Pune?
The average cost of PRP hair therapy in Pune starts from Rs 7,500 per session and can go upto Rs 9,000 per session. However, the exact price will depend on factors like cause of hair loss, number of sessions required, experience of the skin doctor and the quality of equipment used.
Why Oliva Clinic For Hair Fall Treatment In Pune?
Oliva Skin and Hair Clinic has the best PRP hair treatment in Pune because we offer:
The largest team of skin doctors who are experienced and certified
Advanced technology and equipment which has been approved by the US-FDA
Strong ethics policies
Strict safety protocols
It is the No. 1 chain of Skin & Hair clinics in South India, with a customer base of more than 100,000 satisfied and happy clients
How To Get Started?
To avail the best hair loss treatment in Pune, book an appointment with Oliva Skin and Hair Clinic by calling our toll-free number 1800-103-3893. We have two advanced skin clinics across the city at Kalyani Nagar and Shivaji Nagar.
Consult a trichologist today and take advantage of the PRP treatment to successfully stop your hair loss problem as well as regenerate your lost hair.