Which Is The Best Hair Regrowth Treatment?
Do you know that 21 million women and 35 million men experience hair loss? Men may experience up to 40% hair loss after the age of 35. They may lose almost 70% of their hair by the time they reach 80! Women too may end up losing up to 80% of their hair by the age of 60! However, if you are experiencing acute hair loss, do not panic. Many advanced hair regrowth treatments are now available to reverse hair loss and hair thinning. Learn about the different hair loss treatments available in India right here!
What Is PRP Therapy For Hair Regrowth?
Platelet-Rich Plasma Therapy or PRP is a non-surgical treatment for hair loss that can effectively reverse early stages of patterned hair loss or androgenetic alopecia in both men and women. Top dermatologists consider it one of the safest procedures for attaining natural hair regrowth.
Here's a comparative analysis of the pros and cons of PRP vis a vis other advanced hair regrowth treatments to help you make an informed decision.
Mesotherapy Vs PRP
Mesotherapy involves the administration of superficial injections. They usually contain diluted drugs such as minoxidil, vitamins, nutrients and growth factors. While PRP treatment involves injecting platelet-rich plasma derived from an analogous blood sample into the affected areas of the scalp.
There is more research available on the safety and efficacy of PRP than Mesotherapy. Though mesotherapy has been around since 1970, there is still insufficient scientific data related to its potency. Leading dermatologists consider PRP to be a lot more effective treatment than mesotherapy for tackling hair loss.
PRP is less time-consuming and relatively more affordable hair regrowth treatment than mesotherapy.
PRP is extremely safe with no side-effects as it uses the platelets derived from the client in the procedure. On the other hand, mesotherapy uses customised injections containing various ingredients, which may cause some side-effects.
Many trichologists suggest PRP treatment along with hair transplant procedures to achieve optimal results. However, they rule out mesotherapy.
Stem Cell Therapy Vs PRP 
Stem cells are instrumental in healing injured and inflamed tissues via substitution. This explains their recent popularity as a versatile treatment modality. Let us find out the key differences between PRP and stem cell therapy for hair loss here:
The platelet-rich plasma used in PRP treatment originates from the client's blood sample. While stem cells are derivatives obtained from unviable embryos and foeti produced in laboratories from mice hair and green apples.
Since PRP treatment makes use of the client's platelets and plasma, there is no significant compatibility issue. This is not the case with stem cell therapy as the risk of rejection is relatively higher as compared to PRP.
As PRP therapy involves injecting platelets almost immediately after the centrifugation process, the concentration of live platelets in the mix is optimal. The time-lapse between extraction, transportation and insertion of stem cells may compromise the quality of growth factors and undermine the results.
Hair Transplant Vs PRP
Hair transplantation is an extensive surgical procedure that involves stripping a small part of skin along with hair grafts from your scalp (typically from the sides or back) and transplanting it to the areas experiencing hair loss. Let's analyse its pros and cons vis a vis PRP.
PRP is a minimally invasive treatment, involving the use of local anaesthesia at most. Hair transplantation is a complex surgical procedure that involves incisions.
In hair transplantation treatment, there is a high probability that your scalp skin might reject the hair graft. The success of hair transplantation treatment remains unpredictable. In PRP, however, the use of analogous platelets minimise the risk of rejection.
The benefits offered by these two treatments are distinct. Hair transplantation is the only treatment option for bald spots with no scope of hair regrowth. PRP helps in stimulating dormant hair follicles and treating hair thinning. It helps improve the scalp coverage by boosting the hair volume and density. It can help optimise the results of a hair transplantation treatment.
Here is an interesting infographic: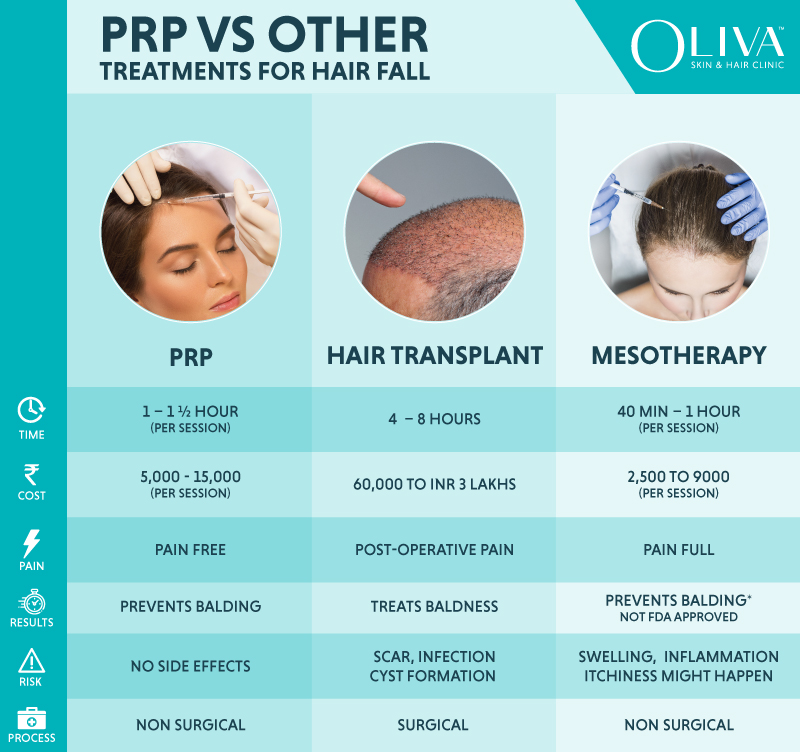 Laser Treatment For Hair Loss Vs PRP:
Laser technology is widely popular as a treatment option in the field of dermatology. Let us find out if it is effective in treating hair loss too.
PRP uses centrifuged and activated blood platelets drawn from the client's arm to induce growth factors in the scalp. It helps to reduce hair loss and stimulate hair regrowth. Laser therapy uses the light of a defined wavelength to target the affected areas of the scalp and improve blood circulation to decrease hair loss.
Lasers work by reducing inflammation and improving the supply of energy (ATP) to hair cells. PRP, on the other hand, stimulates dormant hair cells by supplying a variety of growth factors to promote multiplication.
When compared, both the treatments have a similar way of addressing the hair loss problem, as both work towards increasing the blood flow to the scalp. However, platelet-rich plasma shows results faster.
PRFM Vs PRP Treatment:
Platelet-rich Fibrin Matrix or PRFM, is amongst the latest treatments for hair loss. It is a treatment similar to PRP. Let us find out if it offers better hair regrowth results than PRP or not.
Fibrins are insoluble proteins that form during the clotting of blood. They are a component of blood plasma and help in wound healing along with platelets.
Dermatologists combine and concentrate a more activated form of centrifuged platelets into a fibrin matrix while performing PRFM. It induces proliferation and tissue regeneration. It leads to a drastic reduction in the hair loss condition. Both PRP and PRFM treatments are equally effective in giving visible hair regrowth results within 4-6 sessions.
Medication Vs PRP Therapy:
Let us find out if oral and topical medications can give hair regrowth results that match the efficacy of PRP treatment.
Minoxidil Vs PRP Treatment:
Minoxidil is a vasodilator that is also an effective hair regrowth medication. One can consume it orally or apply topically to the scalp. It's advisable to consult a dermatologist for recommending the dosage and directions for use before trying it.
A study on 220 men between 20 and 50 years of age having androgenic alopeciadivided them into two groups. One group opted for PRP therapy while the other group used minoxidil (5-10%). The results showed that the success rate of PRP treatment was 76%, and that of minoxidil was only 48%.
Many studies suggest that the results are better when doctors recommend PRP as adjunctive therapy along with minoxidil.
Finasteride Vs PRP:
Finasteride is a 5-alpha reductase enzyme inhibitor that helps treat hair loss. Trichologists recommend its dosage of 1mg. You can use it either as an oral medication or topical application. Here are the limitations of this medication for treating hair loss:
Dermatologists prescribe Finasteride as a medication for men only, while PRP treatment is safe for both men and women.
PRP therapy has no reported side-effects. Finasteride may not work alone and may cause potential side-effects.
Must Watch – Which Is The Best Hair Regrowth Treatment?
For a detailed diagnosis of your hair loss type and cause, visit your nearest Oliva Clinic today! Our state-of-the-arts branches are available in Hyderabad, Bangalore, Chennai, Kolkata, Pune, Vizag and Kochi. Our experienced trichologists will analyse the severity of your condition and recommend suitable treatment options to help you achieve the best hair regrowth results!