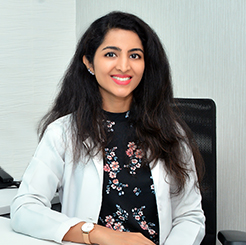 Dr. Aishwarya Radhakrishna
Consultant - Dermatologist
MBBS, DDVL - Diploma in Dermatology, Venereology & Leprosy
Reg No. KMC80220
Dr. Aishwarya Radhakrishna is a highly experienced medical professional with an MBBS graduate from Rajiv Gandhi University of Health Sciences, Bangalore. She also received a Diploma in Dermatology, including General Diseases & Leprosy, from Rajiv Gandhi University of Health Sciences in 2014. She is recognized as a Dermatologist by the Karnataka Medical Council, having been registered with them since 2008.
Presently, she is leveraging her skills in Dermatology as a Consultant – Dermatologist at Oliva Skin and Hair Clinic in the Jayanagar branch of Bangalore. Her experience and success are a stepping stone for many young Dermatologists to learn and grow from.
Services
Laser Hair Removal
Acne Treatment
Acne Scar Treatment
Hair Fall Regrowth Treatment
Skin Lightening Treatment
Pigmentation Treatment
Dull Skin Treatment
Skin Whitening Treatment
Anti Ageing Treatment
Dermal Fillers Treatment
Stretch Marks Removal Treatment
Mole Removal Treatment
Wart Removal Treatment
Melasma Treatment
Weight Loss Treatment
Specializations
Dermatologist
Trichologist
Aesthetic Dermatologist
Hair Transplant Surgeon
Education
MBBS - KVGMC Sullia - 2008
DDVL - Bangalore Medical College and Research Institute, Bangalore - 2014
Registrations
Karnataka Medical Council - 2008
Awards
Distinction Certificate 1st Year MBBS - 2003
Oral Presentations in BDS - 2014
Oral Presentation in CUTICON - 2013
E-Poster Presentation in DERMACON - 2014
Presentation in State Leprosy Conference - 2014
Memberships
Indian Association of Dermatologists, Venereologists and Leprologists (IADVL)
Bangalore Dermatological Society
Association for Aesthetic Surgeons and Cosmetologists of India
AFAASI
Client Reviews
Read below what our esteemed clients have to say about us and what makes us the premier provider of skin and hair care services.
Great experience as of now
Very interactive doctors and employees, seeing results clearly
Great Experience
I'm doing my acne scars treatment, I've seen lots of improvement i.e. reduced acne and scars. Experienced staff and doctor. I'm happy with the service.
5 star service
The services that I receive from Oliva are excellent. Special thanks to Dr. Veena Rao, She explained everything to me in a very clear manner, and I would also like to thank Jayanagar staff they are friendly and ensure that I am informed adequately about my health and care. I would have no qualms in recommending them to friends and family.
Great experience!
Wonderful experience with Oliva Clinic. Would like to thank Dr. Veena Rao, a wonderful surgeon with knowledgeable, sensitive, and informative, also I would like to thank their staff who are always helpful and kind. They ensured I had a smooth prep, surgery, and follow-up. I would have no qualms in recommending oliva clinic to friends and family.
Best clinic with the best technology
Very polite doctors and staff, the laser treatment is really working well for me. Would recommend everyone.
I saw visible changes after every session
If you want to know about your skin and hair conditions, then Oliva Clinic in Jayanagar is the right place. Dr Veena Rao explained my skin condition thoroughly and even described the safety, quality of equipment and the results in detail. I saw visible changes after every session, and after four months of sessions, I had light skin and a radiant smile. more
Deliver precise results
Oliva uses very advanced and effective procedures to treat dull skin. They deliver precise results and give one value for their money. Dr. Veena is hands down one of the best dermatologists for this treatment in town.
You cannot go wrong with choosing Oliva.
I had very dark pigmentation after coming to Bangalore and was looking for a long-lasting and permanent solution. Then I visited Oliva clinic and signed up for 6 laser treatment sessions. The result was just wow! I can assure you that you cannot go wrong with choosing Oliva.
The result is great!
I had a terrific experience today at the Oliva clinic. Despite my reservations regarding the laser resurfacing treatment for acne scar, I felt very little pain because to Dr. Aishwarya's soothing demeanor and skillful approach. The result is great!