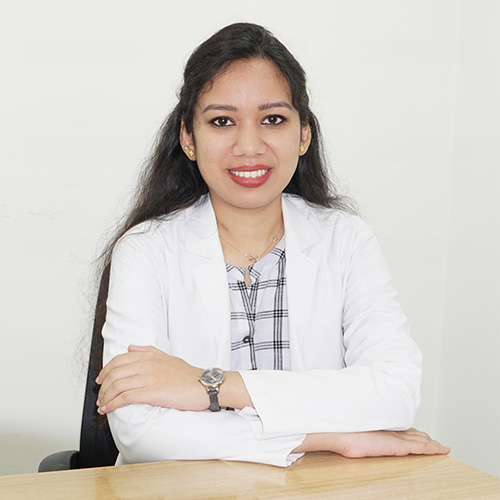 Dr. Shaik Noor Fazal
Consultant - Dermatologist
MBBS, MD - Dermatology, Venereology & Leprosy Dermatologist
Reg No. 05653
Dr. Shaik Noor Fazal is an experienced Dermatologist with 5+ years of experience in Dermatology, Aesthetic Dermatology, and Trichology. She is an MBBS graduate from Dr. NTR University of Health Sciences in 2016 and an MD in Dermatology, Venereology, and Leprosy from Kaloji Narayana Rao University of Health Sciences.
She is always keen to learn and implement. Her treatment methodology is unique and liked by her patients because of the quality of results. Dr. Shaik currently works at Oliva Skin and Hair Clinic at the Gachibowli branch, Hyderabad. Her success is noteworthy and an inspiration in every aspect.
Services
Laser Hair Removal
Acne Treatment
Acne Scar Treatment
Hair Fall Regrowth Treatment
Skin Lightening Treatment
Pigmentation Treatment
Dull Skin Treatment
Skin Whitening Treatment
Anti Ageing Treatment
Dermal Fillers Treatment
Stretch Marks Removal Treatment
Mole Removal Treatment
Wart Removal Treatment
Melasma Treatment
Weight Loss Treatment
Specializations
Dermatologist
Trichologist
Aesthetic Dermatologist
Education
MBBS - Dr. NTR University of Health Sciences Andhra Pradesh - 2017
MD - Dermatology , Venereology & Leprosy - Kaloji Narayana Rao University of Health Sciences - 2021
Registration
Telangana State Medical Council - 2018
Client Reviews
Read below what our esteemed clients have to say about us and what makes us the premier provider of skin and hair care services.
Good experience
I have been getting LHR treatment at Oliva for more than an year now and I am happy with their services. Doctors and therapists at Oliva are well trained and exhibit professional behavior. Shravani is my therapist. She is a trained professional and does a good job with all the steps that are part of an LHR session. These sessions are lengthy but she is actively focused and pays attention to the client's concerns and feedback throughout the session. Dr. Sravya also is an experienced professional and actively responds to client's questions during the consultation sessions and possess a good understanding of various possible conditions and provides her suggestions accordingly. Overall, it has been a good experience with Oliva skin clinic so far. more
Cares about the comfort of the client
Dr. P. Jyoti is very careful about the comfort of the client and she maintains hygienic conditions during anti-ageing procedures. She is an experienced dermatologist and I had heard a lot about her.
The treatment works like a charm
The technicians are very cordial and answer every query you might have. The treatment works like a charm if you follow all the instructions given by the doctor. My dull skin was a big issue which was dealt in the most efficient manner, thanks to the modern facility and the latest technology.
Best for LHR treatment in Gachibowli.
The clinic is located very conveniently. Doctors are eminent and approachable. Best for LHR treatment in Gachibowli. Oliva is sure the leading clinic for the top-quality service it offers.
Had no issues during the treatment
I got Intragen treatment done at Oliva. Last week was my first session. It went well and I had no issues during the treatment. The doctor took all necessary safety and cleanliness measures as per the protocol. I am looking ahead with much confidence to complete all sessions successfully.
Visit Oliva for skin related issues.
The doctor and the staff have been real motivators for me to get the best results and helped me to have a positive mindset for the chemical peel treatment. I would surely encourage anyone to visit Oliva for skin related issues.
Amazed by the results
Oliva Gachibowli is very hygienic and offers very safe and effective acne scar removal treatment. I am amazed by the results I got from laser treatment for acne scars.
Doctor was extremely polite
Oliva has a line-up of very highly qualified doctors who are transparent and meticulous about the check-ups and treatment procedures. The doctor was extremely polite and I am glad that I visited Oliva
Beautiful facility with fabulous staff
Beautiful facility in Gachibowli with fabulous staff. The doctors are well trained, and I loved the overall experience at the clinic. I signed up for acne scar treatment, waiting for the treatment to get started.