How To Treat Temple Hair Loss?
Your hairline is a frame for your face. When the hair loss starts to occur, particularly patterned hair loss the frontal hairline begins to recede and widens the forehead. Most people find it alarming when their hair starts thinning at the temples because they realise they are suffering from acute hair loss and there is no way to hide it even with styling. When it comes to this, it requires a medical solution.
What Is Temple Hair Loss?
Temple hair loss is one of the earliest signs of androgenetic alopecia or male pattern baldness. Hair begins to thin across the scalp, and then the temple region appears to be balding. It may affect one or both sides. A receding hairline or a widow's peak usually accompany temple hair loss. This condition affects men more than women and its severity increases with age. It can become irreversible if you do not seek timely treatment.
What Are The Causes Of Hair Loss At The Temples?
If you are beginning to bald around your temples, it is most likely due to male-pattern baldness. Apart from this condition, a few other factors may be responsible for it.
Male Pattern Baldness (MPB) – Androgenetic Alopecia is a medical term for MPB, a genetic hair loss condition that affects men. It occurs as a result of the increased sensitivity of hair follicles to the Dihydrotestosterone (DHT) hormone. Studies show that 58% of men in the age group of 30-50 years suffer from male pattern baldness; it affects their temple areas first.
Other Causes – Some other causes of temple hair loss include the following:

Alopecia Areata: Alopecia areata is a condition characterised by sudden and patchy hair loss all over the scalp. People suffering from alopecia areata may have thinning and patchy hair loss in temples.
Scarring Alopecia: The medical term for this condition is primary cicatricial alopecia. It refers to a group of hair loss disorders that cause irreversible destruction of the hair follicles and a replacement by fibrous tissue.
Stress: When our body goes through undue stress, it leads to the interruption of hair in the growth phase (telogen), leading to telogen effluvium. The hair strands in the growth phase move more quickly to the resting phase, and the hair follicles shed more rapidly than usual, leading to hair thinning around the temples.
Stress-related temple hair loss commonly occurs in women because of:
Postpartum Hair Loss: Postpartum, women experience diffuse hair loss, which can be more in the temples.
Traction Alopecia: When women style their hair into tight ponytails and buns, they put undue physical stress on the hair follicles, straining the hair at the temples and leading to thinning.
#PRP is a safe non-surgical treatment that would be effective for controlling hair loss at the temples. Watch this video to learn more#
Symptoms Of Temple Hair Loss:
Here are some of the signs associated with the condition:
Hair thinning
Receding hairline at the temples
Scalp showing through in the temple area
Hair damage, brittleness and weakness of hair strands
Development of a widow's peak
Can You Treat Hair Loss At The Temples?
Yes, balding temples are treatable, but it is advisable to consult a doctor sooner rather than later. During the early stages, there is a chance that the hair follicles are still active. Once the hair follicle opening is fibrosed, non-invasive treatment cannot reverse it.
Your trichologist may suggest a treatment for your temple hair loss after evaluating its underlying cause and the severity of the condition. The doctor may recommend the use of a combination of medications, topical gels, and foams. Once your dermatologist identifies the cause and pattern of your hair loss, he or she may even recommend Platelet-Rich Plasma Therapy, a procedure that effectively treats androgenetic alopecia.
What Are The Treatments For Hair Loss At Temples?
You must seek early medical help to treat thinning hair at the temples as home remedies may not work. Early diagnosis and intervention help in attaining better treatment results. Your trichologist may recommend the following options –
Platelet-Rich Plasma (PRP) Treatment: PRP is a safe non-surgical treatment that would be effective for controlling hair loss at the temples. It uses platelets extracted from the patient's blood to stimulate new hair growth. This therapy works well to delay balding in both men and women substantially.
Minoxidil: Popularly called Rogaine, Minoxidil is an FDA-approved drug for hair growth. It is available as a topical foam or solution that helps treat temple hair loss. Dermatologists often prescribe it to both men and women to sustain the results of PRP therapy.
Finasteride: This is also an FDA approved topical treatment for different types of hair loss. However, doctors prescribe finasteride for men and women in their menopausal age group to treat genetic hair loss.
Temple hair transplant: This treatment option is avoidable in the early stages, as there are chances for male pattern baldness to develop during the later years. Instead, this surgery is a last resort when nothing else works.
Also Read: What Is PRP Hair Treatment & How Much It Cost?
Temple Hair Loss Before And After Results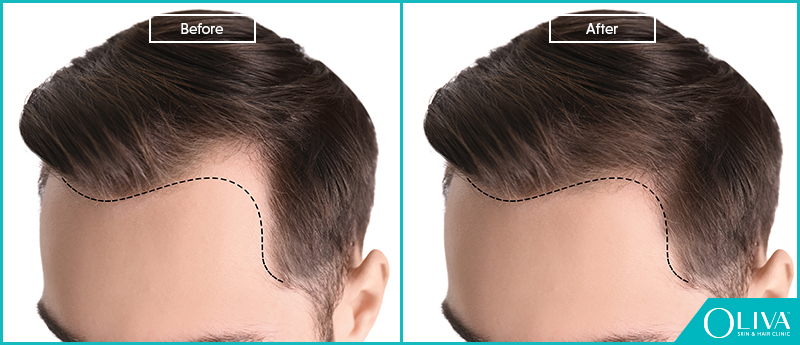 FAQ'S
Will Thinning Hair On Temples Grow Back If I Shave My Head?
Shaving the head does not affect the hair follicles. It merely cuts the hair at the scalp's surface. Hair at the temples will grow back the same way. If you notice a drastic decrease in hair growth and you observe bald patches, consult a dermatologist immediately.
Temple Hair Loss is reversible. It is merely an indicator of an underlying condition. See a dermatologist at the earliest to identify a suitable treatment option and attain best results.