Healthy Meal Plan For Weight Loss: Selection Tips
When trying to lose weight, it is crucial to have a meal plan to create the energy deficit required for effective weight loss. Having a go-to meal plan guide also helps save time and keeps you motivated. The article will help you plan your meal for weight loss based on science-backed tips and expert dietary advice to make the most of your weight loss journey.
How to Plan Meal For Weight Loss?
While creating a healthy daily meal plan to lose weight, one should focus on individual daily calorie requirements based on how much weight one wants to lose. For example, if you reduce your daily calorie intake by roughly 500 to 750 calories, you can lose around 1 to 2 kgs per week. Eating fewer calories than you have to burn will help create a calorie deficit.
The most common weight loss calorie goal is 1200 calories per day. Remember that your meal plan should cut down on calories but not nutrition. So, create a calorie deficit while including nutrient-dense foods to meet your daily nutritional requirements. You should include foods with high protein and fiber content, fewer carbohydrates and fats while avoiding refined, processed, unhealthy, and sugary foods or beverages in your meal. Let us now read about few other tips to create a balanced meal plan.
Must Read: Fibers That Can Help You Lose Weight
Tips For Meal Planning Successfully


These valuable tips will help create an easy and successful meal plan for weight loss –
Set Aside Time To Plan Meals –

Set aside at least 30 minutes for meal planning each week. Create a schedule of your meals for an entire week and make a shopping list accordingly.

Shop And Cook –

Shop and stock an entire week of healthy food items and organize them ahead to cook your meals quickly.

Prep Meals In Advance –

Meal preparation will save you time and make it easy to put together meals right on time.

Set Healthy Reminders–

Set healthy reminders to keep you motivated for healthy eating in the form of post-it notes on the refrigerator or where you see it every day.
Now that we know the tips for successful meal planning, let us read about the steps to make a healthy meal plan for weight loss.
Must Read: How to Burn Calories Fast?
How To Make A Meal Plan For Weight Loss?
Here are the steps to make an easy healthy meal plan for weight loss –
There are many ways to plan your meals. First, pick the plan that fits your personal routine best. You may prepare batches of meals on the weekend for a hassle-free week. If you decide to prepare meals daily, make sure to stock and prep your ingredients in advance.
Consider using a meal plan template or an app to keep track of your weight loss recipes and use it at any given time.
Check your weekly social calendar to determine how many times you will eat outside. It will help you get a good idea about the number of meals and portions of each meal you need to prepare each week, depending on whether it's breakfast, lunch, or dinner.
Snacks are essential to avoid overeating. Make sure to snack mindfully by picking snacks that are best suited to your weight loss plan.
Focus on a variety of food to meet your nutritional requirements.
The last step is to stick to a routine to speed up your meal prep time. The routine includes – making a shopping list ahead of the week, stocking up, picking compatible recipes, and scheduling your cook time by starting with the meal that requires the longest to cook.
If you are making meals for an entire week, make sure to store and heat properly to retain the nutritional value and dispose of any old food beyond four days.
Must Read: Healthy Eating Habits For Weight Loss!
Sample Meal Plan For Weight Loss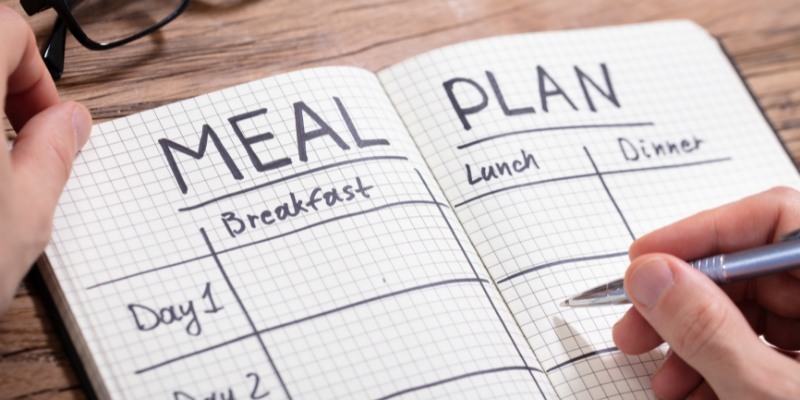 Day 1

Breakfast- 1 cup steel-cut oats with fruits + honey + chia seeds
Lunch- 1 cup chicken salad with avocado + homemade yogurt dressing+ 2 slices multigrain bread
Snacks- 1 cup green tea + 2 oats cookies
Dinner- Red lentil curry + 1 cup mixed vegetable + 2 bajra rotis + 1 cup brown rice + salad

Day 2

Breakfast- 1 cup boiled quinoa with veggies + 1 cup mixed fruits
Lunch- 1 cup lightly fried tofu with lentil curry + brown rice + salad
Snacks- Peanut butter toast with banana
Dinner- 1 cup low-fat paneer curry + 2 multigrain rotis + moong sprouts + salad

Day 3

Breakfast- 1 cup green smoothie with 2 poached eggs and 2 multigrain bread slices
Lunch- 1 oven grilled fish + broccoli + sides of sweet potato fries + salad
Snacks- Hummus with carrot sticks
Dinner- 1 cup lentil soup + beetroot and feta salad

Day 4

Breakfast- 3 egg white omelet + 2 slices of multigrain bread + 1 apple
Lunch- 1 cup tofu curry with boiled chickpeas salad + brown rice
Snacks- 1 cup watermelon salad
Dinner- 1 chicken lettuce kale wrap with lemon mustard dressing + salad

Day 5

Breakfast- 3 multigrain idlis + vegetable sambar + coconut chutney
Lunch- 1 cup chicken or tofu curry + 2 bajra rotis+ brown rice+ salad + chaas
Snacks- 1 string of cheese + green tea
Dinner- Chicken or chickpeas spinach pasta with basil pesto sauce and walnuts

Day 6

Breakfast- Avocado Toast with chia seeds + 2 poached eggs
Lunch- Quinoa with broccoli and carrots and black beans + salad
Snacks- Greek yogurt with blueberries or strawberries
Dinner- Roasted Mediterranean vegetables with brown rice and tahini dressing

Day 7

Breakfast- 3 Besan pancakes with homemade mint chutney
Lunch- Hummus and chicken wrap with roasted vegetables + 1 cup buttermilk + salad
Snacks- Boiled egg with coffee (less milk and less sugar)
Dinner- Fish or chicken tacos with vegetable salad or coleslaw
This balanced meal plan is rich in all essential nutrients and can quickly help you achieve your weight loss goals. But paying attention to the frequency of your meal is equally important.
Must Read: 30 Days Diet Plan For Weight Loss
How Many Times Should You Eat In A Day To Lose Weight?
Optimizing your meal frequency also makes a big difference in your weight loss regime. For example, starting with a fulfilling breakfast sets the tone for the day and prevents having a big lunch. If you had a good breakfast, you can have a portion-controlled lunch and skip the mid-morning snack.
An evening snack will help you avoid overeating your dinner. Ensure that it is light and not greasy or fried. Dinner should also be light with controlled portion size. You can also try intermittent fasting to improve weight loss results and improve your blood sugar over time.
Conclusion
Meal planning helps you get organized while saving time and encourages you to follow your weight loss diet plan to stay on track. By sticking to a set meal plan, you can expect to reach your goal weight faster and track your progress for long-term weight maintenance. Ensure to follow the meal plan tips to get you started and incorporate healthy food choices for best results.
For a comprehensive and customized diet plan, Visit Oliva Skin & Hair Clinic today to get your precise weight loss diet based on your health condition!