Acne And Scar Treatment In Pune
When it comes to dealing with a pimple and acne scars, people are always searching for solutions to get rid of them quickly. This is because these pimples and scars not only cause skin damage but also have a negative impact on our aesthetic style.
Pimples & Acne Scar Solutions
Although pimples and acne scars are a prevalent problem, the good news is that there are different topical and oral medicines and treatments available to help you overcome these problems.
Doctors at Oliva treat different types of acne that affect both men and women across all age groups. They specialise in managing hormonal acne and PCOS acne. Based on their evaluation they may classify your acne into the following types and provide customised solutions-
These pimples disrupt the smoothness of skin and often result in inflammation or scars. These acne scars can occur on individual parts of the body such as the face, chin, forehead, arms, scalp, back, chest, neck, hands, legs, shoulders, torso, etc.
Available Treatments For Acne And Scar 
Both pimples and acne scars have different kinds of treatments.
Acne Treatments
Medication – Oral and topical medication is prescribed for treating superficial acne.
Chemical Peels – For mild acne problems, the dermatologist can prescribe chemical peels which remove damaged layers of skin.
Extraction – For pimples which are deeply embedded within the skin, extraction is performed. A pimple is extracted from the skin with the help of special medical tools.
Read More: Pimple Treatment At Oliva
Scar Treatments
Pixel Laser Resurfacing – An almost painless treatment, this method is used for treating boxcar scars. The laser helps in stimulating collagen production, which in turn, makes the scar less visible.
MNRF – Collagen production is stimulated with the help of low voltage current.
Chemical Peels – Chemicals of different strengths, especially deep chemical peels are used for treating flat or pigmented scars.
Scar Excision – A pen-sized punch is used to remove deep acne scars.
Intralesional Injections – In order to flatten and stunt the growth of keloid and hypertrophic scars, intralesional injections are used.
Subcision – Special needles are used to reduce the depth of the acne scar.
Fillers – One of the quickest ways to treat acne scars, they are filled with hyaluronic acid.
Here Is The Procedure For Acne Scar Treatment.
Benefits Of Acne And Scar Removal Treatment
Acne Treatment Benefits:
Pus removal
Visible reduction of swelling and inflammation
Skin improvement
Acne Scar Treatment Benefits:
Visible reduction of the scar's appearance
Stimulates collagen production
Improvement in the treated area
Who Is A Right Candidate?
Any individual suffering from pimples or acne scars can opt for the treatment, except for pregnant and lactating women, and people who are in their puberty.
What Kind Of Results Can Be Expected?
Some of the changes that you will notice post-treatment include:
Less visibility of the scar
Lack of pus
Decrease in swelling
Improvement in the treated area
On average, it can take 4-6 sessions for the results to show and the number of sessions depends on the treatment type, area to be treated, the equipment used, body area, etc.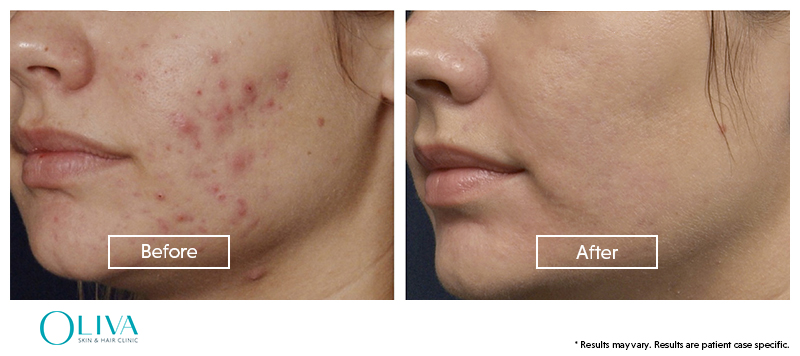 Pimple And Acne Scar Treatment Cost In Pune
The cost of pimple treatment in Pune starts at Rs. 2,000 per session. The total cost of treatment will depend upon the number of sessions required, the cause and severity of the acne breakout, etc.
Different scar removal treatments have different costs. Chemical peels will cost you Rs. 3,000 per session and advanced laser treatment for acne scars are priced upwards of Rs. 7,000 per session.
The actual cost of your treatment depends on the body area being treated, treatment type, equipment, etc.
Must Read: How Much Does Laser Acne Scar Removal Cost In India?
Why Choose The Oliva Skin And Hair Clinic In Pune?
For the best pimple and acne scar treatments in Pune, one should visit Oliva Clinic, because they have:
US-FDA approved equipment
Highly experienced dermatologists and technicians
Procedures with a high-quality standard
Strong ethical values
1 lakh+ satisfied and happy clients
How To Get Started?
If you have been dealing with pimple breakouts and acne scars, it is time to have these problems eliminated by booking an appointment with the Oliva Skin and Hair Clinic. You can either book an appointment through our website or call us on our toll-free number 1800-103-3893.
With effective treatments available, individuals no longer have to suffer from their pimples and acne scars. Heal and rejuvenate your skin by consulting a dermatologist today!