Is Hair Transplant A Permanent Solution For Hair Loss?
Is hair transplant permanent? – Does this question come to your mind whenever you worry about baldness. If your hairline is receding and your scalp has started showing a hair loss pattern, then you may have all such thoughts. Though, a lot of people are confused whether hair transplant is temporary or permanent. Hair transplant is an advanced solution that can help you regain your lost hairline and confidence. And there are different ways to perform a hair transplant procedure.
What Are Hair Transplants?
Hair transplant is a surgical technique in which hair follicles are taken from a donor area and are transplanted to the recipient site (balding areas of the scalp) The donor area is mostly the back and side of the head where hair density is more. The recipient area could be the bald patches on your scalp. In the last decade, it has certainly become one of the most recommended solutions for hair loss.
In this way, hair follicles are grown again on the bald patches to achieve a more uniform hairline. It is a surgical approach and local anaesthesia is mostly used during the procedure. Since hair transplantation is permanent, patients can simply get back their lost hairline and sustain it for years.
Is Hair Transplant A Permanent Solution?
Yes, hair transplant is a permanent solution and will result in a more natural hair growth. If you want to get positive results, then consider getting the treatment at the right time. Visit a doctor when you see visible bald patches on your scalp to get better results. While hair transplant will provide a permanent hair recovery solution, it is not prone to ageing. With time, your hair would be lost, turn grey, and become thinner. Though, the process might take a while with respect to your age.
How Does Hair Transplant Work?
On the basis of the hair transplant procedure, it can be classified in different ways. The two most commonly followed hair transplant techniques are FUE (Follicular Unit Extraction) and strip harvesting.
In FUE, individual hair follicles are extracted from the donor site and are grafted at the site of bald patches carefully. Micro surgical tools are used to extract follicles that are later attached to the recipient area to form a natural looking hair pattern. While it takes more time, the scalp also heals quickly. There is no scarring and it is minimally invasive. It is recommended for tighter scalps when small graft insertion (of around 800-1000) is needed.
In strip harvesting of hair follicles, a strip is surgically removed from the donor area after local anaesthesia is monitored. The strip is then divided into micro pieces with thousands of grafts and harvested. Later, hair follicles are grafted to the bald patches while the donor area is sutured and left to heal. The surgery takes less time and has a higher success rate. Though, it might leave a small scar in the end from the site of strip, which I prominent in shorter haircuts.
Before And After Results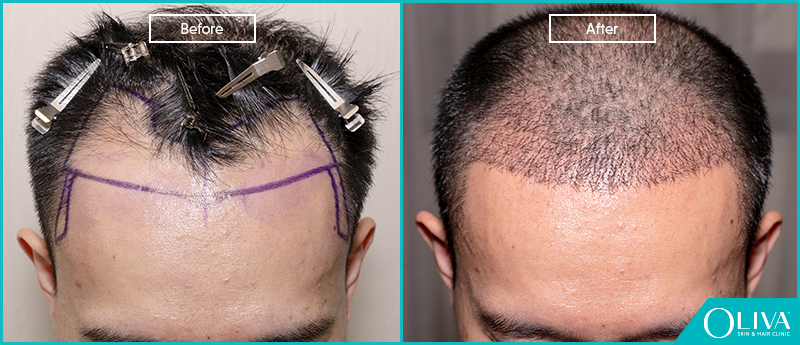 Why Are Hair Transplants Permanent?
You might be wondering, how is hair transplant permanent? This is because the hair follicles are usually taken from the donor site which usually is the back and side of the head. These hair follicles are thicker and are more resistant to a usual hair loss pattern (like male pattern baldness). Therefore, unlike the native hair follicles on your crown or temple region, the transplanted hair won't fall that easily.
The transplanted hair continues to grow and mostly results in a lifetime success. After 3-4 months of the transplant, new hair strands are produced by the follicles. In a year, patients usually see thicker hair growth, which is more natural and long-lasting.
Is Hair Transplant The Right Choice For You?
Since there are plenty of hair recovery treatments, one should do some research to know whether hair transplant is the right choice for them or not. For certain conditions treatments like PRP are wonderful as they are therapeutic, non-invasive and quicker than hair transplant. Your dermato-trichologist would be able to determine the right treatment based on your diagnosis. For suitability of hair transplant –
● Mostly, individuals undergoing male pattern baldness make the best candidates for hair transplants
● If your hair has just started thinning or if you are undergoing a genetic problem, then it might not be the right treatment for you
● The best candidates for hair transplants have a substantial amount of hair loss on the scalp with prominent bald patches that can be defined as a "recipient area"
● There should be enough hair growth on the back or side of the scalp so that hair follicles can be extracted easily from the donor site
● For people having hair loss due to an autoimmune disease, hair transplant may not be suitable.
Furthermore, one should have realistic expectations before starting the treatment. On the basis of the size of the bald patches and the number of hair follicles extracted, the overall surgery cost might vary. The average cost per graft is around INR 25-35. Therefore, the permanent hair transplant cost can be approximately INR 30 to 90 thousand (or more depending upon several other factors).
Cases Where Hair Transplant Cannot Be Done?
Not every case is suitable for hair transplant treatment. As certain factors must be first checked by an expert dermat-trichologist before this procedure is picked up for you. These factors include –
1- A person with diffuse hair loss is not the right candidate for hair transplant surgery
2- People with extensive hair loss are unsuitable as there would not be ample donor follicles to regrow the balding area
3- A person with thinning hair but no visible bald patch of hair are unsuitable as there is not enough space to insert the follicles so extracted
4- People suffering with alopecia areata may not be the right candidates for hair transplant as any part of their scalp is subject to hair loss and even the treated part post suturing or inserting the harvested follicles, is subject to baldness
5- Teenagers and people less than 25-30 years of age may not be the right candidates for a hair transplant surgery.
What Other Hair Loss Treatments Will Work?
Hair transplant is a hair restoration technique that can help you get your lost hairline back. But not in every case, as seen above, multiple other kinds of treatments must be checked for them –
• PRP Treatment –
Platelet-rich Plasma is a non-invasive and therapeutic treatment for natural hair re-growth. In this, a small amount of our blood is extracted, from the patient's own body which is carefully treated by experts. After undergoing a centrifugal process, it is converted to protein-rich growth activated and platelet rich plasma. Using micro needles, this platelet rich plasma is injected into the bald patches. This strengthens the dormant hair follicles and leads to a uniform hair growth. Usually, 6-8 sessions are needed to attain a lasting and natural hair growth.
● Scalp Reduction –
Just like hair transplant, scalp reduction is also a surgical procedure. Though, it is a more invasive treatment as the bald patches of the scalp are surgically removed by doctors. The adjacent area is stretched to cover the hair loss. In most cases, the results are long-lasting. Though, it might leave a small scar on your scalp.
● Steroid Treatment –
Steroid treatment is mostly used to control drastic hair loss. In this, certain steroids are injected into the scalp which strengthens the hair follicles. This results in the re-growth of thicker hair.
● Biotin Treatment –
Biotin is a soluble form of Vitamin B, which is extremely beneficial for our scalp. In this, our scalp is directly exposed to biotin. Not only it helps in treating inflammation, but results in healthier hair in the long run.
● Topical and oral medicines –
If you are facing hair loss due to certain infection, vitamin or mineral deficiency, hormonal imbalance, or any other medical issue, then your doctor might prescribe medicines. There are also a few topical drugs that can help you control hair loss as well. USFDA approved topical medicines like minoxidil, finasteride, etc. are known to treat certain kinds of hair loss effectively.
No all kinds of hair loss must be subjected to hair transplant. To know if you are the right candidate for a hair transplant, get your scalp examined by an expert dermato-trochologist. This will help you decide whether you should go for a hair transplant or any other hair restoration treatment.